Sirius s50 Portable Satellite Radio Review
By Jeff Cohen
Not Quite a Superstar, But Definitely No Dog
What a difference 18 months can make. In October 2004, SIRIUS Satellite Radio was a distant second-place contender in the satellite radio wars. XM outpaced Sirius in subscriptions, 4,000,000 to 600,000. Then Howard Stern announced he was leaving terrestrial radio to join Sirius starting January 2006. Cut to spring 2006 and the margin is much slimmer: 6,200,000 for XM to 4,400,000 for Sirius.
But Sirius (named after the "dog star" - the brightest star visible in the northern hemisphere) is far more than a one-man-show, despite what Howard would have you believe. As far as "brand names" go, Sirius advertising prominently features Martha Stewart™, the NFL, Eminem (Shade 45), Maxim Radio, Jimmy Buffet's Margaritaville, and more. There are also a plethora of "second-tier" performers, such as Jim Breuer (ex-SNL alum), Candace Bushnell ("Sex in the City" author), Jay Thomas (ex-Mork and Mindy cast member), and Vinny Pastore (ex-Sopranos). Vinny co-hosts "The Wiseguys" -- a celebration of life, the arts, and meatballs.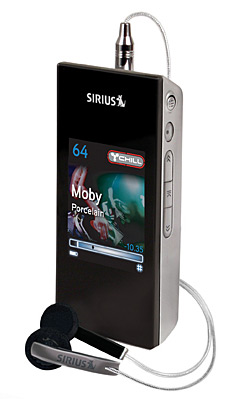 All in all, you'll get 67 commercial-free music channels, plus another 61 channels featuring talk, news, entertainment, local weather and traffic (for major metropolitan areas). Joan Jett hosts a show for Little Steven Van Zandt's Underground Garage (channel 25) and my college classmate Larry Flick co-hosts "OutQ in the Morning" (channel 106) on weekday mornings.
The Sirius s50 is the company's first "portable" device. Unlike XM's XM2go units, however (which include their own built-in antenna), the s50 cannot tune into or record live programming unless it is docked -- to either a home or car base station -- and connected to an external antenna.
On the plus side, users get 50 hours of memory (10 times the current XM2go units) that can be used to store original Sirius programming, music "saved" while listening, or MP3 files in playlists. On the minus side, once it's out of the dock, the s50 is pretty much an iPod-like device with fairly basic navigation, that puts itself in standby mode 30 seconds after you hit the "pause" button. Except an iPod remembers what was playing when it paused. The s50 does not.
At What Cost?
Even at $300, buying an s50 has been an issue for many customers, as demand has outpaced supply. It comes with a car kit as the mobile market is still Sirius' primary target. The optional home kit will set you back another $100. Once you get an s50 in your greedy little hands, you'll have to fork over an additional $12.95 per month for the Sirius service, though discounts are available for longer term subscriptions. Users can buy an annual subscription, paying for 11 months and getting one month free ($142.45) or a two-year subscription, where you pay for only 21 months and get three months free ($271.95).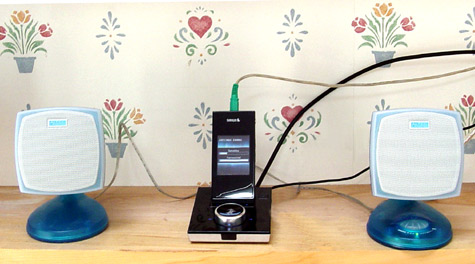 The standard activation fee is $15, but if you activate your radio online and choose an annual plan or greater, the fee is reduced to $10. As with XM, Sirius subscribers save even more when they activate additional radios, with up to three additional subscriptions per household for only $6.99 a month each. Lifetime subscriptions are also available for $500 for a single device. You can transfer a lifetime subscription to a different Sirius receiver when you upgrade or replace your radio -- up to three times -- for only $75 per radio (this offer apparently expires July 30, 2006).
The Set-Up
To enable your s50 to begin receiving Sirius programming, you can either go online or call Sirius' toll-free number. Make sure to have your s50's unique radio ID and a major credit card in hand for the activation. The s50 uses a PC-based application in order to upload recorded content from, and download MP3s to the device. The software also enables you to upgrade the firmware of the radio, when updates are available. This software comes bundled on a CD with the home kit and can be downloaded from the
Sirius Web site
. Just don't expect Mac compatibility with your s50. The Web site FAQ even states (in bold, red type):
This radio is not Mac compatible
.
First Impressions
My first impressions of the s50 were decidely mixed. I was instructed to upgrade the unit to the latest firmware, which I dutifully attempted. But from our New York City offices, I wasn't getting a strong enough signal for the radio to communicate with the Sirius service and complete the upgrade. Taking the unit home, I was able to complete the firmware upgrade, but still was not getting a signal strength above 25% to 50%. And recordings that I scheduled on the s50 for the first few days were hit or miss as to whether they worked.
The Sirius folks were very responsive in helping to debug the problem and these reception and recording problems turned out to be caused by a faulty antenna in my optional home kit. Fresh new replacement antenna in hand, I immediately started getting about 75% terrestrial signal strength from inside my office, about 20 feet (and a couple of solid walls) away from the window. At home I used an extension cable to place the antenna outside a skylight on the roof (a process that took about 40 minutes) and picked up a solid 100% terrestrial signal and a consistent 25% or more on the satellite signal.
Unlike conventional (analog) AM and FM radio, Sirius satellite radio does not get full of static if it gets less than perfect reception. If the signal strength drops below the minimum threshold required, then typically the radio will not lock to the station and the signal will disappear entirely. While this happened frequently with the bad antenna, it happened rarely if at all once we had a functional antenna.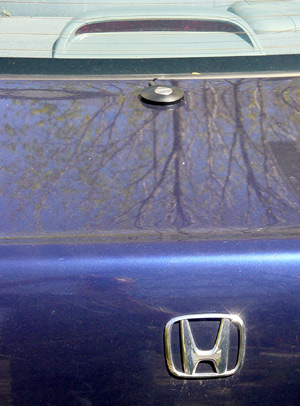 On the Road Again
While driving around town and on a few long trips, reception was nearly perfect. It's such a treat to go on long trips and listen to one station in digital clarity from start to finish. I had the magnetic antenna mounted on the car trunk where it had a clear view of the Sirius bird in the sky as well as supplemental coverage from New York City's extensive network of terrestrial repeaters. Since the car kit was a loaner (for review purposes), I skipped the dashboard mount and opted for the removeable vent clamps instead. This way, the s50 mounting pieces can "vanish" when you park in a questionable neighborhood.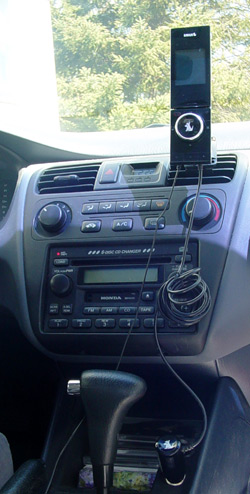 One of the best features on the s50 is the 30-channel "Favorites" pre-sets. P1 was immediately "Kid Stuff" (channel 116), which my five-year-old son adores, to the point of reciting the between-song promos. P2 became the "Coffee House" (channel 30), a favorite of my lovely wife, which features a mix of Dave Matthews to Beth Orton. Other favorites include "Classic Rewind" (channel 15) and "Sirius Disorder" (channel 24), billed as "adventurous music for grownups."
A very nice touch on the s50 is that the menu options and station IDs are delivered aurally, that is to say there are spoken announcements that accompany each menu function and radio station. This is quite handy when you're fiddling with the radio while operating heavy machinery (namely, a car). You can make your way through menus and prompts using just your senses of touch and hearing, leaving your eyes free to concentrate on staring at your cell phone screen or (heaven forbid) the traffic around you.
Gotta Get Myself Connected
Car and home use of the s50 were pretty trouble-free. My main issues with the s50 came into play when the device was not connected to a home or car dock. Need to pause to speak with someone? Make it a quick conversation. The unit powers off after 30 seconds. So if you were 90 minutes into a two-hour recording, you'll wear out your fast-forward button. For this reason, I recommend back-to-back recordings of one hour each. The gap between consecutive scheduled recordings is minimal (just a few seconds) so you won't need to worry about missing much.
Since my primary Mac computer was an unfit host for the Sirius software, I set up the software in the Big Picture Big Sound lab to connect to the Sirius Web interface. Sirius segregates downloaded songs and MP3s that you import from CDs or your computer. So toggling through or creating set lists was a bit of a nuisance for me, since all my music was on my Mac, which was not connected to our PC network.
I also had some difficulty deleting content. Once you've recorded a block of programming, you can save individual musical selections to the device and to your Sirius playlist on your computer. The s50 then shortens the length of the saved block by that amount of time. But trying to delete a whole block of saved programming without wiping out everything else wasn't intuitively obvious to me. But after a friendly reminder from a Sirius rep to RTFM (read the freaking manual), I got it all figured out.
As you may have guessed, Sirius is my satellite service of choice because of Howard Stern (channels 100 and 101), although I learned to like the rest of the programming as well. For Stern fans, scheduled recordings are a must. How else am I going to hear a show that starts every morning at 6 AM and runs right through my morning commute? Once I resolved the bad antenna issue, scheduled recordings worked like a charm.
I am still trying to determine, however, why the s50 switches itself off only half the time after a scheduled recording ends. The other times? I found the unit still powered up - but playing to an empty room. I would then manually turn the power off. Not a major gripe, just a little odd.
Final Thoughts
In terms of the Sirius service itself, the commercial-free music and other entertainment options are a relative bargain -- well worth the subscription price. Throw in Howard Stern, and the choice becomes a no-brainer for Stern fans like me. Competition with XM may be what is keeping subscription rates low on both carriers. I do envy XM customers who get Major League Baseball. To hear the New York Mets, I'll have to stick with conventional "old fashioned" local radio. We'll see what happens when the MLB/XM contract comes up for renewal.
Ultimately, the benefits of the s50 easily outweigh its shortcomings. It offers a sleek, eye-catching design, and it allows you to easily use one device (with one subscription fee) in the car, the home, the office and everywhere in between (with pre-recorded content, anyway). For most people who just want the simplicity and savings of a single device for multiple locations, with the added benefit of mobile playback, the s50 will be a welcome addition to the family.
But frankly, I'm more demanding - I want true portability - recording and live playback while disconnected from the tethers of the home or car kits. When I'm running for the train, or on the train itself, I'd like the option of getting live programming. For my purposes, a dock is for recharging and for integration with your MP3 playlists. It shouldn't be a required component you need to move from house to car or office, or keep in all three locations just so you can receive live programming.
My son will be sad when we don't have Sirius around -- he announced, "Browse presets" (one of the s50's spoken menu prompts) when we were listening to a CD in the car. But my son doesn't have quite enough in his piggy bank to cover the monthly programming fee so I'm holding off on bringing Sirius into my life for now. Once the new truly portable player offering from Sirius comes out later this summer, I'll check that unit out with great expectations and, if it delivers on the promise of true portability, I may just become a willing and ready SIRIUS disciple.
Where to Buy:
Features/Specifications (from the manufacturer):
List Price (including car kit): $299 ($50 rebate available as of May 17, 2006)

Over 125 channels of satellite radio featuring digital-quality music, sports, news and entertainment programming

SIRIUS Media Dial pauses, rewinds, and fast-forward through your favorite content

1 GB/50 hours of MP3/WMA and/or stored Sirius content

Voice feedback announces paused channel

Full color display

30 channel presets

"My SIRIUS" channels automatically generate custom content based on your listening patterns.

Sports Ticker shows scores from any play-by-play broadcast on Sirius while listening to your favorite content

Game Alert prompts you when your favorite teams play and score

One-touch access to traffic and weather reports for your city or use to tune to your favorite SIRIUS channel

3.9" x 1.9" x 0.7"

USB-Rechargeable battery lasts up to 6 hours
Car Kit (Included):
Ear buds, belt clip, USB cable, and AC adapter

Car kit with wireless FM modulator, low profile antenna, vehicle power adapter, universal mount, remote control
Home Kit s50-H1 (Optional):
Price: $99.99

Desktop cradle with Media Dial

Wall-outlet AC power adapter

Indoor/outdoor antenna

Two audio cables (minijack-to-RCA and minijack-to-minijack)
Sirius Radio Specifications (as of May, 2006):
Over 4,400,000 subscribers
Over 125 digital channels (total)

67 music channels, 100% commercial-free

61 channels of news, sports, weather, talk, entertainment and data

Subscription fee: $12.95/month for first device (multi-year discounts available), $6.99/month for each additional device in the same household
Manufacturer's Contact Information:
Sirius Satellite Radio
1221 Avenue of the Americas
New York, NY 10020
phone: 888-539-SIRIUS (7474)
web:
www.sirius.com