D'Addario Planet Waves Cable Station DIY Audio/Video Cables Review
By Chris Boylan
Need Custom Length Audio/Video Cables? Roll Your Own
As I am constantly evaluating new electronic equipment, I can never get enough good quality audio/video cables. My wife thinks it's a fetish, but having all these random length cables in the lab (and in the house) is actually a
necessity
(really honey). Yet no matter how many cables I have on hand, I'm always looking for something just a little bit longer, or just a little bit shorter.
When a new DVD Recorder comes in and I want to place it right under the component video switcher, it would be nice to have a 1-foot long component video and coax digital audio cable to connect the two devices. Or how about that new DISH receiver that needs exactly 10 feet of coax cable to connect to the dish feed coming from the middle of the living room wall?
Sure, I could use standard 1-meter or 4-meter cables, but I really dislike having loops of unused cable sitting around behind our equipment rack. It's just one more thing to trip over and it spoils that nice neat aesthetic to which I strive so diligently. So what's a poor gear-loving audio/videophile to do? Why, roll your own cables of course, and this is where
D'Addario's Planet Waves Cable Station
solder-free cable-making system comes into play.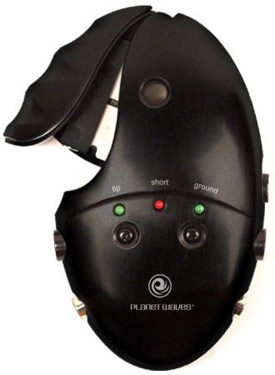 Rollin', Rollin', Rollin'
People have been "rolling their own" for years - cigarettes that is. Whether to save money, to alter the um... "ingredients" or simply for the joy of building (and smoking) something you've made with your own fingers, there's something immensely satisfying about rolling your own. But rolling your own Audio/Video cables has heretofore not been something for the faint-hearted.
Typically, you have to be good with a soldering gun, a wire-cutter, a stripper and/or a crimper in order to assemble your own cables. If you do it wrong, you'll end up with a short (which can be
very
bad for your equipment) or you'll get a cable that lasts for a while, then fails over time with repeated plugging/unplugging. D'Addario's
Planet Waves
DIY cable system is designed to solve all that by enabling quick, simple, nearly fool-proof cable assembly. It's a remarkably simple system that even the less-than-handy can embrace, but one which is ideal for the custom installer as well.
D'Addario's background is in the musician/pro sound space. Their customers (professional musicians) take their cables and other gear on the road and subject them to all manner of abuse - spilt beer, repeated yanks and tugs, perhaps the occasional stage dive. And through it all, the cables are expected to work. So if anyone designs a cable to hold up to the rigors of repeated use, D'Addario does. Back in my own gigging days, there was nothing more frustrating than plugging in a cable just before a show, and finding that it was not making any sound. We didn't have too many options - toss it out and buy a new one.
One of the coolest things about the Planet Waves cables is that the connectors, be they RCA, 1/4-inch, BNC, or coax, are removable, and reusable. In the unlikely event that your termination gets frayed or shorted, simply unscrew it, clip the cable an inch shorter or so, then twist and screw the connector back on the end - voila, good as new!
But I'm getting ahead of myself...
The Ingredients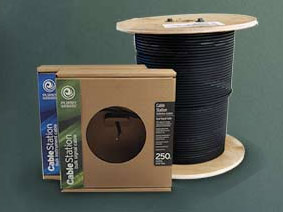 The Planet Waves system is comprised of two basic ingredients: cable and connectors. The cable is a USA-manufactured, full bandwidth 75-ohm cable capable of carrying high definition video signals and full bandwidth digital and analog audio. The conductor is premium Oxygen Free Copper, and the shielding includes 100% coverage with 95% tinned copper braid and a tin foil shield. The insulation between conductor and shield is nitrogen gas-injected Foam PE dielectric. The cable is available in a number of colors, in single strands or bundled in 2, 3, 5 or 6-wire strands. Spools are available in 250-foot and 1000-foot lengths.
Planet Waves "HD Series" connectors all feature 24-carat gold plated contacts and a sleek black chrome finish. All of the connectors we tested felt heavy and solid in the hands with a smooth and stylish fit and finish. These are high-end connectors, without a doubt. The available flavors of connectors include RCA type (straight and right angle) for composite video, component video, analog and digital audio use, F-type connectors for cable/antenna/satellite feeds (both screw-on and leaf-spring push-on types), BNC connectors (straight and right angle) as well as 1/4-inch male connectors, Because S-video requires four conductors, Planet Waves also offers an RCA to S-video Y-adapter that uses two length of RCA-terminated cable to carry the S-video signal.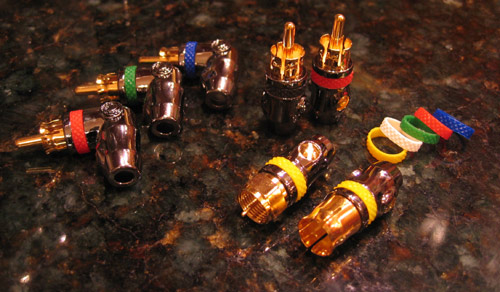 Planet Waves also includes an assortment of color-coded rubber rings (white, black, red, orange, green, yellow, blue) with each pack of connectors. These sit nicely on the connectors in order to label them for each specific use. D'Addario recently introduced a more affordable "Ni" series of connectors featuring nickel-plated terminations which should offer similar performance for a lower cost.
Tools of the Trade
Although the Planet Waves cables require no soldering, stripping or crimping, they do require cutting, and a clean cut is important. The cable comes with a basic razor-blade cable cutter with a hole to slide the cable in for cutting. It's also a good idea to test the cable after assembly - to ensure you've got a solid clean connection for both the conductor and the shield. To this end, Planet Waves also offers cable testers which can be used to verify the mechanical connection of the connectors. Simply insert the connectors into the tester's jacks and press two buttons (one for ground, one for tip). If the lights turns green, then you're good to go, if the light doesn't illuminate or the red "short" light glows, then the connection is bad and you'll need to re-do the assembly.
Planet Waves also offers a combined cutter/tester that is handy for the custom installer who wants to carry around as few tools as possible. The only other tool you'll need is a small flat-head screwdriver, which you'll use to screw in the set screw that attaches the connector to the cable. That's it.
The Assembly Process
I had both the single-strand coax cable and triple-strand cable on-hand for testing. I opted to use the triple-strand cable to create a 20-inch long component video cable. The only slightly confusing part of the assembly was figuring out how to cut the length of triple cable from the spool. The cable cutters cut individual cable strands but they do not accommodate the width of a triple cable bundle. I opted to use a heavy-duty pair of Fiskar scissors to cut the cable from the spool, then used the Planet Waves razor cable cutter to neatly trim each individual cable on both ends. Apparently D'Addario is also aware of this issue, as they have just introduced a new triple-cable cutter as well.
Assembly went something like this:
Cut each cable
Twist the connector onto the cable until it would not go any higher
Screw the set screw, securing the connector onto the cable.
That was pretty much it. About 15 minutes after I had taken the cable spool and connectors out of their packages, I had a length of component video cable, neatly labeled with red, green and blue rubber rings.

I tested the cable with the cable tester, found that both the ground and tip had good connections, and plugged the home-made cable between my Pioneer Elite DVD player and Integra receiver, replacing a length of Monster Cable component video cable that had been there. The picture quality was superb, with no noticeable degradation from the swap. Colors came through accurately and video detail was exceptional, with no hint of distortion or interference in the signal.
Next I moved onto a length of coax cable to see if my luck would hold up. It did. Just as simply as with the RCA connectors, the F-type connectors twisted on the cable ends easily and the set screw made a clean connection with the shield for a perfectly clean connection. I used this between a UHF antenna and High Definition DVR, so I could tune in my free over-the-air HDTV channels. the cable carried the signal perfectly, again without any noticeable distortion. The F-connectors are rated for indoor use only, however, so don't plan to use these for outdoor cable runs to a satellite dish or roof antenna. Use standard RG6 cable, crimp connectors and weather-proof boots for tasks like that.
I went on to test the cable for audio as well, making up a 6-cable RCA connection to connect the analog outputs of a DVD-Audio/SACD player up to the analog inputs of our Integra receiver. This allowed me to enjoy some high-end multi-channel recordings (e.g., Supertramp, Queen and Pink Floyd) in all their high resolution goodness. In this case, having all those multi-colored rubber rings made it easy to differentiate each of the six cables between source and receiver, rather than having to use masking tape labels on three stereo pairs of cables.
At one point, I experimented with the right-angle RCA cables, but found these awkward for my specific purposes. I was able to unscrew the right-angle plugs, trim about an inch off each cable with the cable cutter, then attach straight RCA plugs instead in less than 5 minutes. No muss, no fuss, no bother and no mess.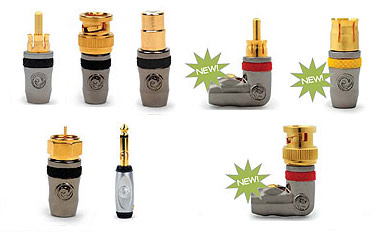 In all of my testing, I only had one "bad" connection (the shield was fine, but I got no signal on the tip). This was simply due to not pushing and twisting the cable into the connector far enough. I removed the connector, re-twisted it until I could twist/push no more, re-screwed the connector on, and this time it tested clean.
General Observations
The Planet Waves cables and connectors exude quality. In all of our testing, I never had an issue with distortion, video or audio interference, nor did I have any mechanical problems with the cables. The cable and parts are not inexpensive, but compared to some ultra high-end cable, they're actually quite reasonable. For example, at full retail prices, a 3-foot long component video cable, comprised of the triple conductor cable and six of their gold-end HD series RCA connectors cost a total of $35.27 in parts. And a 25-foot coax video cable with HD series F-type connectors would only set you back around $38.50.
And with Planet Waves, the quality shows. Each package of connectors comes with extra gold set screws (in case you lose one) as well as extra color-coded rubber rings. I love that the ends can be re-used, and the cables re-terminated at a moment's notice. This is probably more useful for musicians whose constant unplugging and re-plugging of a cable between instrument and amp puts a lot of strain on the connector. But as a reviewer, with a constant stream of new components coming in, I do a whole lot of plugging and unplugging as well. It's nice to know if I get over-eager and yank a cable out too quickly, all it will cost me is a few minutes to re-terminate the end.
But so far, over the course of several weeks, I have noticed no additional give or play in the connectors. Even with frequent plugging and unplugging, the connectors stayed nice and solid. And speaking of solid, the RCA connections have a snug, solid feel when being plugged into a device. The tension between male connector and female jack is snug, without feeling
too
tight like some name brand high-end cables. I always felt that the Planet Waves cables were secure, but without worrying about damaging the jacks they were plugged into upon removal, which sometimes happens with excessively tight cables.
Final Thoughts
If you've got custom cable length requirements, and you're looking for a high-end solution that is amazingly simple to assemble and install, D'Addario's Planet Waves custom installation cables will give you what you need. Although the cables and connectors are not inexpensive, I can't imagine a simpler to use, more secure system, which also happens to offer high-end audio and video performance. Highly recommended for all geeks, equipment collectors, home theater-philes and custom installers.
Retail pricing - Planet Waves HD Series
Connectors:
10-Pack Bulk RCA Connectors (RCAP10): $44.99

50-Pack Bulk RCA Male Connectors (RCAP50): $219.99

5-Pack Right Angle RCA Male Connectors (RTRCAP5): $39.99

5-Pack Bulk BNC Connectors (BNCP5): $39.99

5-Pack Right Angle BNC Connectors (RTBNCP5): $49.99

5-Pack Bulk RCA Female Connectors (RCAFP5): $24.99

5-Pack Bulk F Connectors (FP5): $29.99

5-Pack Bulk Push On F Connectors (FPP5): $29.99

1/4-inch Male Mono Connector (PW-GPT-2): $12.49
Cable:
250' Single Bulk HD Coax (CXSCHD250): $264.99

1000' Spool of Bulk Black HD Coax (CXSCHD1000): $899.99

250' Dual Bulk HD Coax (CXDCHD250): $519.99

250' Triple Bulk HD Coax (CXTCHD250): $699.99

250' HD 3 Wire HD RGB (RGB3HD250): $769.00

250' HD 5 Wire HD RGB (RGB5HD250): $1,199.99

250' HD 6 Wire HD RGB (RGB6HD250): $1,499.99

250' HD 5 Wire w/CAT 5e (CRGB5HD250): $1,299.99
Tools:
Remote Cable Tester for BNC, F and RCA Plugs (CBLT01): $39.99
Cutter/Tester (CCT-CI): $39.99
Mini-Cutter (PW-CCM): $5.99
Manufacturer's Contact Information:
D'Addario and Company, Inc.
595 Smith St
Farmingdale, NY , 11735-1116
Phone: 631-439-3300
FAX: 631-439-3336
Web sites: