Monster AVL300 Home Theater and Lighting Controller Review
By Cliff Darroch
Monster Takes Control
There's a Monster in my home theater, but don't be alarmed. I'm talking about Monster's
AVL300 Home Theater and Lighting Controller
- Monster's current top of the line entry in the hand-held universal remote market.
While preparing to review the new remote, I read through an earlier review of mine on Logitech's Harmony 670. There really wasn't much to fault in that remote, given its price point and advanced functionality, but I did mention that those in search of RF (radio frequency) capabilities and a high-resolution color screen would probably be happier with the 670's big brother, the Harmony 890, which shares the 670's simple programming and ease of use. Well now there are some new relatives in town...
Kissing Cousins
Monster Cable, best known to most of us as the purveyors of high quality cables and interconnects, and more recently, power conditioners, decided last year that the time was right to get into the Home Theater automation and control market. Their efforts have brought forth the birth of the "AV" family of remotes, the AV100 Home Theater Controller and the AVL 300 Home Theater and Lighting Controller. Oh, what beautiful babies they are!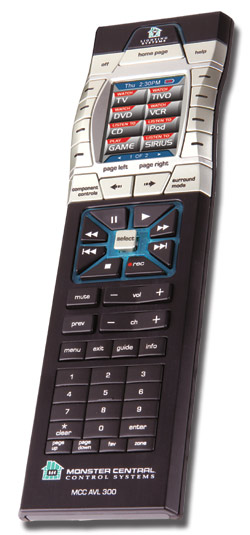 So, what has this got to do with my Logitech Harmony review, you ask? Well Monster decided not to reinvent the remote wheel, and went to Logitech to license their intuitive activity-based remote programming wizard and extensive device database. They made some modifications to the layout and added lighting and zwave controls, but at its heart, the Monster remote shares much with the Harmony remotes, and this is, in my opinion, a very good thing. Monster brings to the table their reputation as a solid vendor acquainted with the demands of home theater clients and their distribution through custom home theater channels to reach a market that was more elusive to Logitech.
And away we go...
For the purpose of my testing, I am using the AVL 300 with two of Monster's IlluminEssence™ Remote Controlled Light Station Dimmer and a single IlluminEssence Remote Controlled In-Wall Light Dimmer System 600 as well as the OmniLink RF (Radio Frequency) module for conversion of RF to IR (Infrared) signals.
Right out of the package, I noticed that that this wasn't just a rebranded Harmony. The design is more traditional in layout and shape. The remote itself is rectangular in shape about the size of an elongated Hershey's chocolate bar. It is flat for the most part other than a small hump near the top of the remote which mates with the included charger to keep the included Lithium Ion battery pack charged for use. The unit itself has a very solid feel and the automatic illumination of the color screen when you pick up or move the remote is definitely a great feature.
The included OmniLink module is the heart and soul of an RF-enabled environment. You'll need to use this if you want to hide your equipment behind a solid wall or cabinet door, or if you simply don't want to worry about which direction the remote is pointed when in use. Although the basic package comes with a single OmniLink module, additional modules can be added to the environment in case you want to control equipment in other areas of the house. The OmniLink unit is about the size of a pack of playing cards, and has four individual ports on the back to accept "IR Mice" (ControlLink™ Extender IR emitters) cables for transferring the RF command from the remote into the appropriate IR signals. Each of the "IR Mice" has two tails and can send signals as part of an overall group send, or discretely to allow control of multiple related products from a specific vendor (e.g., independent control of two different Panasonic DVD players, which use the same IR remote codes).
Setting up the AVL300 is where its Harmony lineage begins to shine through. Initial definition of the equipment is very similar to any of the Harmony products. Simply install the included software, plug your remote into your PC, Mac or laptop's USB port, and the Monster application automatically connects you to their web site to walk you through the installation.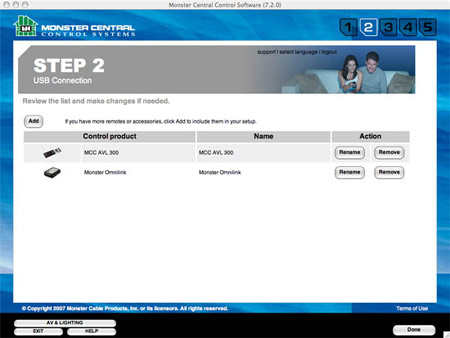 Be Prepared...
After setting up an account, you are presented with a screen to tell the remote what equipment you have and how you want to use it. The best advice I can give you to make the programming effort successful is to
be prepared
. Have all the model numbers for the AV equipment written down; decide which equipment will be controlled by IR and which will be RF. Have an open power outlet available for the OmniLink and any plug-in lighting modules. This preparation might seem obvious, but there will be points during the installation where modules will have to be powered up and available. I found myself at points running from my office to the family room to activate the wall switch RF control.
Be careful to use the included USB cable when connecting the remote to your PC. I ran into problems when I inadvertently used one of the many USB cables hanging around my office. I'm not sure if it was the cable or the remote, but I can surmise that the remote and OmniLink are sensitive to the connection, so it's better to be safe than frustrated.
After telling the Monster Wizard which devices you own, you'll then be asked to set-up activities. Just like the Harmony remotes, Monster's activities may include complex start-up and control sequences, but none of this has to be seen by the end-user or programmer. When you set up an activity to "Watch HDTV," the Monster Wizard will ask you which devices need to be turned on, which device should be used to control the volume and change channels, and which input each device needs to be set to. Set it once and it takes care of the rest. Behavior of programmed activities with standard CE devices was flawless, just as it is on the Harmony remotes. No complaints there.
And then there is Z-Wave...
I could probably write an entire additional article just on Z-Wave. I think that a quick run through the website will save my fingers the typing...
www.z-wavealliance.org
. In a nutshell, the "Z-Wave Alliance" is a consortium of manufacturers who have all agreed to adopt a common protocol for home automation. Z-Wave-enabled devices include computer peripherals, home lighting, drapery and screen controls, consumer electronics gear, appliances - basically any device associated with home automation. By including Z-Wave support on the AVL300, Monster has opened the remote to more than just DVD players and TVs.
I can tell you that the two Z-wave based lighting modules I used work great. They sync'd up well with the remote, installed easily, and work flawlessly. Both of the modules that I used for the reviews are of the dimmer variety. At no point did I notice a hum, feel a heat build-up or any of the common problems associated with inferior electrical components. An excerpt from the Z-Wave Alliance website hints as to the reason...
"Each Z-Wave product must pass a stringent conformance test to assure that it meets the Z-Wave standard for complete interoperability with all other devices and controls. The Z-Wave identity mark assures consumers, integrators, dealers and manufacturers that their products will reliably perform with any other Z-Wave device."
The plug-in modules are a cinch to install, and the wall-mount light switch was also very easy for this do-it-yourselfer to install, but please check the electrical code where you live or call a licensed electrician if this task seems too daunting.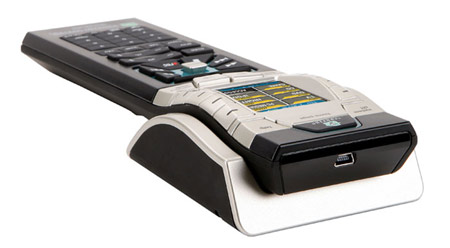 Random Thoughts on Usability
Where is my DVR button? Monster did a great job of adding some new "hard buttons" for frequently used features... But still no DVR button! This was a complaint of mine on the Harmony 670 and I'm sorry to see trend continued on the Monster remote. If you use a Tivo, DVR or PVR you know that the single most used button after volume and channel selection is the DVR button. This button provides access to the DVR features and previously recorded shows. I know that this button can be easily added as a soft button through the software interface, but it seems strange to me that as "Tivo'ing" is becoming as ubiquitous as the VCR record feature more remote manufacturers haven't added the generic hard button. It's a small peeve, but I needed to find something.
I am also reminded about the annoying little power adapter plug for the OmniLink. It fits as required, but there is a little rubber piece surrounding the female receptacle which seems to put up enough resistance to continually eject the male part to the plug. Also, Monster: we need more styles with options for the font size used. I did find that I had to be careful in the naming of components or activities on the display, or they would scroll onto the next line and appear in a different font. Additional colors in the style sheets would also be appreciated.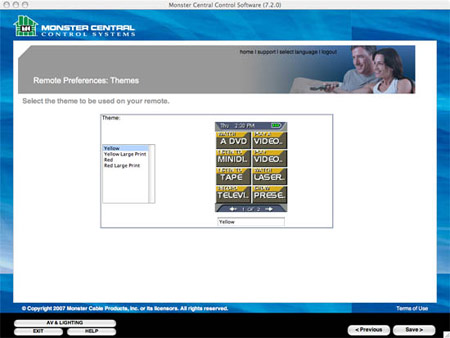 I'm beginning to realize that when you like a product you have to nitpick in order to not sound like you're gushing. Let me assure you, though, that the minor inconveniences I experienced were the result of looking for problems, and are inconsequential when contrasting them with the things this remote and lighting control system does correctly.
Final Thoughts
My editor told me that I couldn't get away with an article with three word statements, although in hindsight that is probably all I really needed.
It works great!
I like it!
So will you!
This remote did
EVERYTHING
I expected and more. It combined an easy-to-use interface for programming, with very solid components for controlling the lighting. The AVL300 is solid, simple and elegant. The charging station works and works well. And it has passed the most important tests for any object in my home theater:
Does it work?
Does my wife use it?
Will she let it sit in clear sight in HER home theater?
I can say that the answer to all of these questions with the Monster AVL300 is a definitive "Yes!" I would have to say at this point it is the best remote that I have used. With a price-point similar to its Logitech 890 cousin, I prefer the Monster AVL300 because of the feel and ergonomics. It's clear that Monster has set its sights on the home theater control market, and its first shot is a direct hit.
Where to Buy
:
System Includes:
Monster Home Theater and Lighting Controller 300
Monster Central OmniLink™
Tabletop Charging Station
Long Lasting Lithium Ion Battery
Control Link Extender Set with 4 IR Extenders (each with two IR outputs)
Manufacturer's Specifications:
MSRP: $499.95
System Requirements:

IBM or compatible PC: Microsoft Windows 98SE, 2000, Me, or XP with USB port, CD-Rom drive, and internet access
Macintosh PC: Macintosh OS X 10.2 or later with USB port, CD-ROM drive, and internet access

Dimensions: 2-5/16"W x 1-1/16"H x 8-3/16"D
Warranty: One Year
Manufacturer's Contact Information:
Monster Cable Products, Inc.
455 Valley Drive,
Brisbane, CA 94005
Phone: 415 840-2000
Fax: 415 468-0311
Web site:
www.MonsterCable.com