Best iPhone 4 Accessories: My Top 5
By Chris Chiarella
Looking for the best iPhone 4 accessories?  You're in the right place.  The iPhone has proven to be an unqualified success for Apple, with all of the entertainment prowess of the iPod touch but so much more. With the current, fourth generation model -- aka, "iPhone 4," not to be confused with a 4G version of the phone which will inevitably come at some point in the not too distant future -- Apple has added nifty features such as FaceTime video calls and the crazy-sharp Retina Display. And following much speculation, anticipation and now jubilation, Verizon is finally supporting their own version of the iPhone 4, expect to see them in the hands--and pressed to the ears--of more people than ever.
To get the most out of the iPhone 4 and its many possibilities, we need the right help. A host of thoughtfully designed accessories address the, um, limitations of the device (such as the tiny, bottom/side-mounted speaker) while others celebrate its strengths (Bluetooth stereo!)
There are some slight but significant physical differences between the AT&T and Verizon models, so while products such as docks should be universal, be sure that specific accessories such as form-fitting cases are made for your carrier's handset.  That said, here are my top 5 iPhone 4 accessories: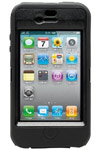 OtterBox Defender Series Case
Not sure if Verizon has the same reception issues, but I've witnessed the disappearing bars act on my AT&T model when my hand unavoidably blocks the antenna. A case is one potential solution, and while I'm at it, I want to protect the sizable investment--$300 after the two-year-contract discount--in my frequently handled phone. OtterBox's Defender ($49.99) is a two-stage system, in four pieces. Two hard polycarbonate halves snap over the phone, touchscreen and all, which is next surrounded by a soft, flexible silicone sheath for further protection from bumps and bruises at all times. The entire, slightly bulked-up iPhone can now snap easily in and out of the hard plastic belt clip. Cameras, speakers and microphone remain unobstructed, and little flaps keep the ports and switches safely covered but easily accessible.
Where to Buy:
---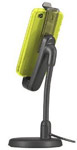 Belkin VideoStand + ChargeSync
Announcing its intentions plainly in its plus-sign-enhanced name, Belkin's VideoStand + ChargeSync ($34.95) is a lean, simple, practical cradle for the iPhone to accentuate its various uses, and needs. Atop a stable, substantial base, the phone can be secured into the rotating bracket, for movie viewing out of the corner of our eye while we "work," or a little videoconferencing front and center, all hands-free. The versatile clip system allows us to attach the phone without the need to remove certain cases, while the flexible neck provides just the right tension to achieve any angle. And the Belkin ChargeSync USB cable winds down inside the stand and out the back... so the phone can, y'know, charge. And sync.
Where to Buy:
---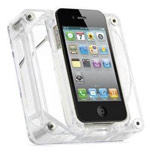 Griffin AirCurve Play
Without batteries, without wires--without electricity, got it?--Griffin's little polycarbonate apartment for the iPhone 4 amplifies the sound the old-fashioned way: acoustically. Nestled snugly within a rubber gasket, the iPhone is perfectly aligned for its wee loudspeaker to fire through the AirCurve Play's integrated, coiled waveguide and then ported out at the listener, and we can hear the ten extra decibels immediately. The clear, curious AirCurve Play ($19.99) is something of a conversation piece, which is fine if we want to position it vertically, for FaceTime or hands-free phone calls, or horizontally for video-watching. Plain old music listening works from either position of course, and the tabletop stability afforded by this passive audio dock lends itself to practical apps like the iPhone alarm clock.
Where to Buy:
---
Audyssey South of Market Edition Audio Dock
"South of Market" is the intersection of hardware (two woofers and two tweeters, all bi-amped) and software (Audyssey EQ, Dynamic EQ, BassXT, Dynamic Volume) within a small-footprint mini-tower of sorts. Named for the style-conscious district of San Francisco, this speaker dock features just the right controls up front, up top and around back, in addition to a squat eight-button remote. The onboard DSP from the renowned sonic mavens at Audyssey can also combine with the free "SoMa" iPhone app to tweak the EQ as we see fit. All of our demos rocked, full and detailed with particularly solid bass. And the Bluetooth SoMa keeps the music flowing uninterrupted even when we undock. The two built-in mikes plus voice-processing algorithms make it a great speakerphone, with USB as well for iPhone/iPod syncing, and stereo mini-plug cables included to use it as an external speaker for the PC or another portable device. ($399.99)
Where to Buy:
---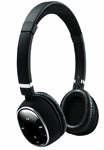 Creative WP-300 Pure Wireless Bluetooth Headphones
Creative's WP-300 Bluetooth 'phones ($99.99) look like over-the-ear cans with soft, thick cushions, only smaller, but still with enough depth to let the Neodymium drivers do their job, rendering remarkably enjoyable sound. Oh, and that pesky cord is gone, too. Rest assured, these things play loud, without distorting, thanks in part to the audio-friendly apt-X technology inside, to ensure superior wireless clarity. They boast a wireless range of up to 10 meters, so they're plenty-fine to work reliably from hip to head, or even if we leave the iPhone on the desk and wander around the house or office. The rechargeable battery fuels up via USB (cable included), with all controls--including device playback--located on the right earcup. All this in a featherweight form factor that feels great atop our dome, long after the iPhone battery runs dry.
Where to Buy:
---
...And because I can't add:
Powertraveller Powermonkey eXplorer Solar Charger
One of the only things to interrupt the fun (and hard work!) on my iPhone is a dead battery, but with the Powermonkey eXplorer ($109.95) I can tank up anytime, anywhere. All necessary components can fit into a shirt pocket, in their portable sack, and the 'monkey arrives sufficiently powered to charge my iPhone via an interchangeable Apple-approved plug, right out of the box. The LCD readout, and my iPhone's percentage indicator, let me know it's working. To refill the ergonomic outboard battery unit, I just connected the clamshell solar charger, for unlimited "free" power. It even replenished itself indoors, by a window or from room light, although I suppose the hippies might consider this latter option to be cheating. (Although the solar charger can patch directly into the 30-pin plug, the iPhone will not charge this way.) Nine additional tips are included in the storage pouch, to function with a multitude of other devices as well.
Where to Buy: