DISH Network ViP622 High Definition DVR with America's Everything Pack Review
By Chris Boylan
To Infinity and Beyond!
OK, maybe there are not an infinite number of channels on DISH Network's "America's Everything Pack" but for someone coming from the over-the-air broadcast world with about fifteen channels (eight of which were high definition), DISH Network's selection of high definition and standard definition channels seems virtually inexhaustible.
I've been a DISH Network subscriber now for just a few short months, but already I'm hooked on HGTV-HD, Discovery-HD, high definition movies on HBO, Cinemax, Vongo and Showtime plus a few specialty movie channels that used to be part of the VOOM Network, like Kung-Fu HD and Monster-HD. And this doesn't even touch the great kids channels (Noggin, Nickelodeon, Disney Tunes, PBS-Kids etc.) the local network channels in high definition or the dozens of national and regional sports channels.
Although DISH Network's programming packages start as low as $19.99/month ($29.99 for a high definition package), those who crave a little variety, including movies, sports, family channels, education channels and local programming will probably want to upgrade to something more substantial, and that 's what you will get from "America's Everything Pack" for a little under $100/month.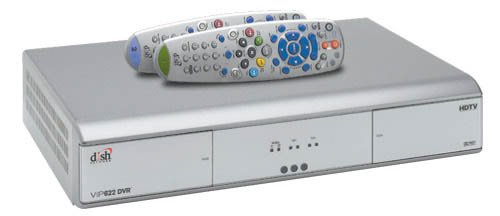 In all "America's Everything Pack" comprises over 280 channels, including 39 national HD channels plus regional sports channels (18 of which are available in high definition) and nine high definition Pay Per View channels. There's also a large selection of Sirius Satellite Radio channels available for when you shut off the tube and just chill to some music or talk radio. You can read more about the specifics of this package on DISH Network's Web site.
If you've recently brought home a high definition television, and your current cable or satellite provider suffers from a dearth of high definition content, or they tell you you'll have to pay a high installation or upgrade fee to go high definition (as recently happened with my parents), then you might consider going with DISH Network instead.
With DISH, new customers can get free professional installation, a free high definition DVR (Digital Video Recorder), with three built-in tuners (two satellite, one over the air), and connections for up to four TVs in four rooms. Did I mention it's all free? Well, at least there are no up-front installation costs. Of course, you will have to pay for the service itself but DISH rates tend to be extremely competitive so you'll probably end up paying less than you do now for a comparable package.
Here are a link for free installation of DISH Network with a free High Definiton DVR:
Don't Just Tape It, DVR It.
Once you experience a TiVo or any other hard-drive based digital video recorder, it changes the way you watch TV. Rather than rushing home to catch your favorite show live (or taping it on standard definition DVD or low quality VHS tape), a high definition DVR allows you to automatically tape all the episodes of your favorite shows with no loss in quality via a single button push on an electronic guide. And if you don't like commercials, you can begin watching a live show 15 minutes after it starts, fast forward through the commercials and catch up to the show in real time, right at the end.
And if you don't want to surf through the potentially overwhelming number of listings in the guide, you can use the "DISH Pass" feature to search the listings for specific keywords. Search for "scooby" for example and the DVR will tape all episodes of "Scooby Doo" from here 'til eternity. But it's smart enough not to tape re-runs so you won't have to worry about wasting hard drive space on epsiodes you've already recorded.
DISH Network's current DVRs include the ViP622 (which I have) and the newer ViP722. The two models are virtual clones except the color (ViP622 is silver, ViP722 is black), more hard drive space on the ViP722, and support for High Definition movies on demand on the ViP722 (enabled due to the extra storage). Both DVRs include a whopping 3 built-in tuners. This allows you to tape two different shows and still watch live TV on a completely different channel.

Two of the DVR's tuners are satellite tuners and one is an over-the-air (ATSC) tuner. The ATSC tuner is very handy in case you can't get all of your local channels in your specific area via satellite (not all areas of the country can get local channels directly from the DISH satellite yet). If you're not too far away from a local TV broadcast tower, you can hook up an indoor or outdoor UHF/VHF antenna to tune in, watch and record the local channels in high definition quality. A nifty trick if you happen to be interested in watching "My Name is Earl," "Survivor" and "American Idol" which all happen to be on at the same time (Oh the humanity!).
In addition to the tuners, you can also get programming via a broadband internet connection. The new "DISHOnline" feature gives you instant rental access to any of a few hundred movies online, from Disney family classics to adult titles, ranging from $2.99 to $11.99. This feature is enabled by simply plugging in a network cable (DHCP-enabled) which has access to the internet. We plugged in the network connection via a Corinex powerline AC Network adapter and the DISH receiver was able to connect through our router to the internet with no problems.
Infinite Recording Capacity
Although the DISH DVR proved reliable and easy to use over the course of my evaluation, perhaps the coolest feature is its ability to work with an external USB hard drive. If you're like us and sometimes go two or three weeks without watching your favorite shows and movies, you probably have to scramble so as not to lose anything when your current DVR's built-in hard drive runs out of space. For a one-time fee from DISH network of $39.99 to enable the feature, plus about $120 on Amazon.com for a 500 Gigabyte Western Digital external USB hard drive, I now have the ability to move shows over from the DVR to the external hard drive. Set-up was pretty simple: plug the hard drive into the DVR, take it through a one-time formatting routine and you're good to go. This buys you more time to watch what you've recorded.
Build Your Own High Definition Library
Need even more space? You can either watch and delete the shows to free up space on the internal and external hard drives or simply buy another hard drive and plug that one in when the first one fills up. This way you can keep your favorite shows and movies forever.
As an avid movie lover, I found myself surfing through the upcoming week's worth of electronic guide information, looking for films that I hadn't seen yet (in high definition of course), and just hitting the select button on the guide to schedule a recording. Once a week I've been moving the films over to the external hard drive and this has quickly built up a library of movies we could watch during the recent Hollywood writer's strike or over the Summer when our regular shows are off the air.
Of course, there's a "catch" - the movies on the external drive can only be used within the household (no lending them to friends). In fact, in its initial implementation, an external hard drive can only be associated with a specific DVR box. DISH reps tell me this limitation should be relaxed in the future, but still limited to sharing within a household. So hopefully you'll soon be able to bring your hard drive full of DISH shows from the living room DVR to the DVR in your bedroom or home theater and watch your recorded content wherever you like within your own home.
You can also transfer DISH network recorded shows over to a certified "Pocket Dish" portable device, such as select media players from Archos, however this transfer is currently limited to standard definition recordings only.
A Few Words About Quality
Satellite providers sometimes get unfairly bashed about picture quality (mostly by their cable and fiber competitors). More so than some land-based providers, the beams that emanate from satellite into our home have a fixed bandwidth. You can't fit an unlimited number of channels (including hundreds of local channels) into existing satellite streams without making some compromises. Compromises mean compression and reduced bit rates.
Fortunately, DISH Network now uses the MPEG4 audio/video compression codec which is much more efficient than MPEG2 codec used previously (and still in use on DVDs and some Blu-ray discs). Using MPEG4 allows DISH to squeeze more high quality high definition and standard definition channels into a fixed "pipe." DISH also periodically launches new satellites, or buys space on other satellites to increase their broadcast bandwidth. But even so, it is sometimes possible to see slight degradations in image quality when compared to over the air high definition broadcasts (which are much less compressed).
The times these were visible to me were fairly few and far between - some macro-blocking in dark scenes or a slight softness to the picture, but only really evident when compared to a locally broadcast high definition network channel emanating from on top of the Empire State Building, less than two miles from my house. But, because the DISH DVR has a built-in over-the-air tuner, this occasional quality loss was irrelevant to me. I'd simply switch over to the over-the-air feed instead. This also came in handy during the few times of complete satellite signal outage (brief periods during severe storms). While the satellite reception was impacted by the weather, I'd just switch over to the local high definition broadcasts and ride out the storm enjoying my HDTV.
Overall, even with the occasional artifact, the quality even of the standard definition channels was perfectly acceptable and the high definition channels were generally superb, particularly the high definition networks, movie channels and Discovery-HD. DISH allocates the highest bandwidth to the high definition channels that need it most, and this kept a steady stream of high quality high def movies and shows coming into my house during the evaluation.
Final Thoughts
I've never been a big fan of paying for TV, but the fact is that there are a wealth of great channels and great content that you'll never get to see if you don't sign up with a paid TV provider. Plus subscription to the various movie channels with the DVR option can actually save you some money by reducing or eliminating the need for a Blockbuster or Netflix membership. If you scan through the listings, you're sure to find some old and recent release gems that you meant to see but never got around to. Press a few buttons on your DVR and you'll soon start building up your own library of films that you can watch whenever you like without having to brave the weather or wait for discs to arrive in the mail.
All in all, I've definitely enjoyed my time as a DISH Network subscriber. But I do have one major problem - with all this recording and unlimited storage, I've amassed a pretty large backlog of great films to watch in high definition, but to do so, I'm going to have to become a more permanent DISH customer. Damn you, DISH Network, I'm hooked!
Special Sign-Up Offer for DISH Network:
Specifications from the Manufacturer:
MPEG-4/MPEG-2 technology

Recording capacity

SD: up to 200 hours

HD up to 30 hours

Two HD/SD satellite tuners

Digital off-air tuner (NTSC, ATSC)

Two independent TVs supported

TV1: HDTV or SDTV (4801, 480p, 720p, 1080i)

TV2: SDTV (480i)

HDTV digital audio/video output (HDMI x1, Component Video x1)

Two USB 2.0 ports allow connection to external storage device (with optional paid upgrade)

Ethernet port (enables guide downloads and DISHOnline programs on demand)

Name-based recording

Recorded events management

Parental locks

On-screen Caller ID with history (requires phone connection and phone company support of Caller ID feature)

Up to 9-day Picture-In-Guide with widescreen Electronic Program Guide (EPG)

Software upgradeable via satellite

DISH Comm™ compatible

PocketDISH compatible

DISH Pro Plus compatible

Remote controls (2) - 1 IR (Infrared) 1 UHF Pro (Ultra High Frequency RF)

Dimensions (approx.) - H: 3.5" x W: 16" x D: 13"

Weight (approx.): 11 lbs.

Color: Silver
Manufacturer's Contact Details:
DISH Network - Echostar
5701 South Santa Fe Drive
Littleton, CO 80120