Dennis McLaughlin - Writer's Bio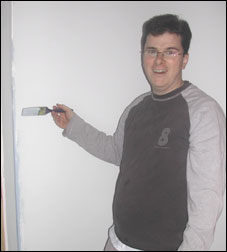 That's right. He's
the
Dennis McLaughlin.
Dennis lives in Winchester, Ontario, Canada with his wife Gina, his children Taylor and Mackenzie, and three miscellaneous animals from whom he has yet to see a rent cheque.
After studying computer science in university, he landed a few technical support and quality control gigs with a paper company and a software development firm. He's really into computers but has grown tired of the crap that often accompanies them.
A few years later, he discovered home theater. Eager to bring the theater experience home, Dennis began work on his 1,300 sq. ft. basement. With the skill and precision worthy of a Tim Allen sitcom, he finally finished his basement in the summer of 2006.
Dennis launched the Web site
DIY Home Theater Design
in an effort to help educate other DIY-minded home theater lovers. Dennis contributes to Big Picture Big Sound with similar articles for those not afraid to wield a paint roller or a caulking gun.
Dennis is currently assembling the equipment needed to complete his new theater. He's eagerly waiting for the required funds to materialize so he can buy that big screen television.
In the meantime, he continues to watch wide screen DVD movies on a 7-year-old 25" Sanyo television.
His friends can't believe it either.
View Dennis' articles on Big Picture Big Sound
E-mail Dennis McLaughlin