Chris Chiarella, Editor At Large - Writer's Bio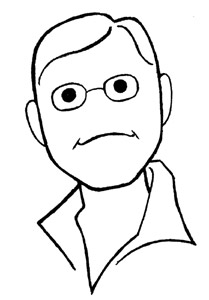 After being a movie buff and consumer electronics enthusiast for most of his life, Chris has spent more than a decade and a half "in the business," both as a journalist at a long list of publications and working with various studios. For the ten years prior to joining Big Picture Big Sound, Chris had been at
Home Theater Magazine
and its sister publications as Convergence Editor, where he reviewed... well, pretty much anything that ran on AC or batteries.
Most recently Chris has specialized in cross-over products that bring together home theater with personal computers, portable devices, gaming, the internet, wireless distribution and other next-generation technologies. Chris has covered DVD since its launch in the late 1990s and Blu-ray Disc since its launch in 2006, and is well-versed in all aspects and flavors of high definition. Chris also enjoys interviewing luminaries in the movie and entertainment industry to help bring the fans closer to the movie-making process.
Says Chris, "What excites me about my job, and particularly why I enjoy working with Chris Boylan and the gang at Big Picture Big Sound, is the fusion of movies and gear, the newest and best ways to maintain and even enhance the cinematic experience. They get it, and they also get (most of) my jokes."
Current Reference System:
Blu-ray: Sony PlayStation 3 (60GB, HDMI connection)
Receiver: Onkyo TX-SR606
Display: Samsung HL-T5087S 50-inch DLP HDTV (1080p)
Loudspeakers:

Cambridge SoundWorks Newton Series T500 Towers with built-in powered subwoofers (mains)
Cambridge SoundWorks MC500 Center Channel
Cambridge SoundWorks S300 MultiPole Surrounds (2)

Cables: Monster Cable including M1000HD HDMI cables
Some of Chris Chiarella's past interviewees include:
Will Smith
John Travolta
George Clooney
Bruce Campbell
The Coen Brothers
Robert Rodriguez
John Landis
John Carpenter
Richard Donner
Frank Miller