Brandon A. DuHamel - Writer's Bio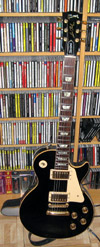 Brandon is a musician, poet, and home recordist who has been an avid music collector and audiophile since he was a teenager. In recent years, Brandon has become very interested in music in surround and thusly the area of home theater.
Only recently has Brandon decided to try his hand at writing for the enthusiast crowd, which he has been a part of for so many years. Before joining the crew at Big Picture Big Sound, Brandon's most recent adventures in journalism have found his Blu-ray Disc reviews published on Blu-ray.com.
When he is not writing, playing his Les Paul, or watching movies, you can find him listening to one of the SACDs, DVD-As, or CDs from his relatively large collection.
Brandon's Reference System:
Samsung UN55C8000 55" 240Hz 3D LED-LCD Display

Panasonic DMP-BD80 Blu-ray Player (via HDMI)

Momitsu BDP-899 Region-Free Blu-ray Player (via HDMI)

Oppo DV-980H universal player (HDMI)
DIRECTV HR-20 700 High Definition DVR (HDMI)
Sony SCD-XA9000ES SACD multichannel SACD player
Onkyo TX-SR805 A/V Receiver
Speakers: