Boynton Beach Club Review
By David Kempler
Slow Motion Sex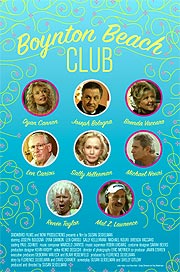 Did you ever wonder what happened to Dyan Cannon, Brenda Vaccaro, Sally Kellerman, Joseph Bologna, Len Cariou, Michael Nouri and Renée Taylor? Me neither. You have to wonder whether this sounded a whole lot better in the concept stage than it turned out
Director Susan Seidelman ("Desperately Seeking Susan") is at the wheel of this doomed ship and she probably knew it ten minutes into filming. At least I hope she did. It's co-authored by David Cramer and Florence Seidelman. For both Cramer and Seidelman it is a first stab at screenwriting. Hopefully, it will be their last. Ex-television actor Cramer apparently served as the primary writer, with Susan's mother Flo serving as the inspiration. Flo and Susan apparently thought they had struck gold with tales from Flo's life. It's not gold they've struck.
The tale centers on a planned senior's community in Florida where libidos are running wild and we are supposed to find it cutesy-wutesy. I suppose it could have been a funny film. I don't know why. I just suppose it's possible. No reason to go into the details here but a few notes would seem to be in order: Sally Kellerman still likes getting naked on screen; Dyan Cannon is downright scary looking in her first moment on screen but by the end still has a certain sexiness to her despite her nearing 70; the only scenes that resonate are Jack's (Cariou). When he is on screen there is at least a semblance of reality and some poignant moments.
An unintended consequence of "Boynton Beach Club" is that parts are downright depressing. I'm not talking about the scenes written to be that way. Other scenes also make one wish they could run to the nearest exit. I feel mean for picking on all of these seniors but they started it by putting out "Boynton Beach Club".