Christopher Dobens - Writer's Bio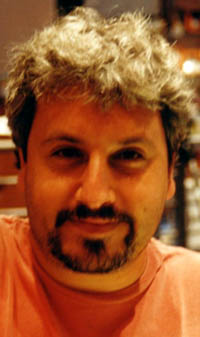 Christopher Dobens is one of America's most prolific writers. You'll find his work adorning restroom stalls throughout our nation's interstate system. He has also crafted more permanent contributions to esteemed publications ranging from
The Beer & Tavern Chronicle
to
Powder & Bulk Engineering
. And samples of his scribbles can be found at
ChristopherDobens.com
, where he showcases much of his writing and copywriting work.
Dobens also writes and publishes
The Burning Love Institute
, which one could argue is the Heaven's Gate of Webzines. This bottomless e-pit of rants and raves features additional movie reviews as well as a wealth of rage-infused manifestos on topics ranging from civil liberties to stern spankings. It can be found at
http://www.BurningLoveInstitute.com
.
Dobens resides in a well-stocked sniper's nest somewhere in Manhattan. Beyond writing, his interests include scuba diving, soccer, travel, photography, camping, beer, and brewing. He also enjoys urinating in public. His last "real" job was as the Chief Cultural Officer of the then 22nd largest public relations firm in America. Currently he works as a consultant and writes in his spare time.
View Christopher's articles on Big Picture Big Sound
E-mail Christopher Dobens