Being John Malkovich Review
By Joe Lozito
Getting into Character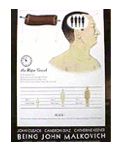 In the middle of a plague of copycat, apocalyptic thrillers, it's refreshing to see a movie which literally takes you where no one has gone before: inside the head of actor John Malkovich. Yes, seriously. Well, somewhat seriously. Courtesy of a mysterious portal in his new office on the seven-and-a-halfth floor, puppeteer-cum-fileclerk Craig Schwartz is able to spend fifteen minutes at a time seeing through the eyes of the enigmatic actor.
This is the premise that propels Charlie Kaufmanns's stunningly original screenplay which manages to sustain its absurdity with a consistency that most Hollywood films can't retain reality. Mr. Kaufmann puts his script in the very capable hands of Mtv video-whiz Spike Jonze. Mr. Jonze keeps the pace up and the plot moving past some questions which never get answered. The film is so earnest in its absurdity though that, in the end, those questions don't matter anyway.
Mr. Jonze has also put together a strong cast, all performing at the top of their respective games. John Cusack never disappoints in any film, but here he gives a surprisingly physical performance as Craig. Craig has the posture and the walk of a man who has spent his life accepting defeat and oppression with an artist's martyrdom. Cameron Diaz, finally getting a chance to bite into a role of some substance as Craig's long-suffering wife, all but disappears behind frizzed-out hair and frumpy sweatpants. And in a role Linda Fiorentino might have played in her "Last Seduction" days, Catherine Keener grabs the screen with both hands as the object of Craig's affection and the third corner of one the most bizarre love triangles ever put on screen.
The real breakout performance in the film may come from Mr. Malkovich himself. Playing John Malkovich perhaps not as he really exists, but as he is seen in the public-eye. The very idea is mind-numbing and perfectly in keeping with the tone of a film that seems to make all the right choices. From the selection of Mr. Malkovich as the subject in the title to a hilarious cameo by Charlie Sheen, this is a film that - unlike its characters - has its heart and its mind firmly in the right place.