Sweet and Lowdown Review
By Joe Lozito
Frettin' to the Oldies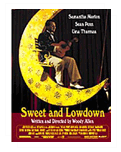 It's no secret that Woody Allen loves jazz, so the real secret surrounding his new film "Sweet and Lowdown" is why it didn't come out sooner.
In mock-documentary format, "Sweet and Lowdown" traces the career of little known 1930s jazz guitarist Emmet Ray (Sean Penn, again disappearing in a role). Emmet is a wonderfully over-the-top egomaniac (after a sexual encounter, he asks the woman "D'ya like that? Yeah, I thought you would.") and Mr. Penn's performance is nothing short of perfect. He makes Emmet's every frailty register subtly on his face. It is clear from the start that Emmet is a man who is needs to be an obnoxious loudmouth due to his own insecurity (he is paralyzed by fear at the very mention of his only competition - a French "gypsy named Django Reinhart").
There is some classic Woody Allen comedy here - when two hookers bring in a smaller-than-usual take for one evening, they remark "Whaddya want? It's a Jewish holiday" - but there is also so much love for the material at hand. There is a bittersweet quality to Emmet's inability to reconcile his love life and his life as a musical genius.
This is not Mr. Allen's most significant work, but there is a genuine heart here. Particularly in the scenes between Emmet and his would-be girlfriend Hattie (Samantha Morton). Mr. Allen has always excelled at exploring relationships, but by making Hattie a mute he finds an exceptional way to explore the character of Emmet himself. Mr. Penn largely speaks in monologues during his scenes with Hattie (which is fine with Emmet since he loves to hear himself speak), and it's wonderful to watch Mr. Penn as he single-handedly carries on a full conversation.
There could be some debate over whether the film has a misogynistic quality by having the love of Emmet's life be a mute (i.e., a woman unable to speak for herself). This concern is unfounded, however, thanks to a powerful performance by Ms. Morton ("Emma"). Mr. Allen's camera, filming in beautiful sepia tone, studies Ms. Morton's every subtle reaction. Somehow, without any words (her handwriting is "like a chicken") Hattie manages to bring out the best in Emmet by letting him bring it out in himself. These are beautiful scenes, and easily one of the most unique relationships in any Woody Allen film, and any other film in recent memory.
As usual, Mr. Allen assembles a wonderful ensemble cast. Only Uma Thurman under performs at first, somehow seeming a little too self-conscious before settling into her glamorous character. The real star of the film is the music itself, wonderfully arranged by Mr. Allen's longtime collaborator Dick Hyman. This is music that is familiar from any number of previous Woody Allen films.
Over the years, Mr. Allen has shown many different sides: cynic ("Deconstructing Harry", "Stardust Memories"), romantic ("Annie Hall"), goofball (virtually everything prior to "Annie Hall"). In the mid-eighties, Mr. Allen released a string of lighthearted comedies ("Broadway Danny Rose", "Zelig", "The Purple Rose of Cairo") and "Sweet and Lowdown" falls into that category of the Allen canon. By providing a glimpse into his love of this music, "Sweet and Lowdown" is also a rare glimpse into the lighter side Mr. Allen himself - and a very welcome one.