The Sixth Sense Review
By Mark Grady
A Cole Day In Hell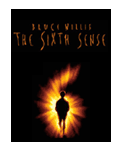 Every once in a while, there's a movie that lives up to its hype. This is one of those times.
'The Sixth Sense' is the story of Cole Sear, an emotionally disturbed boy, and Malcolm Crowe, the child psychologist who is obsessed with helping him. As we follow Dr. Crowe slowly toward a deeper understanding of the boy's distress, Cole reveals that he is actually being haunted by disturbing images of the dead. It then becomes the mission of Dr. Crowe to help Cole adjust to the 'visits' and try to live his life alongside these apparitions.
Although it was a tad difficult to accept Bruce Willis in the role of child psychologist, that can probably be blamed on Mr. Willis' resume, rather than any particular shortcoming on his part. In general, Mr. Willis turned in a solid and quietly effective performance. His character's 'obsession' with Cole's case felt a bit manufactured, as did his on again / off again interest in his seemingly failing marriage, but that is more the fault of the screenplay than the actor. His rapport with Cole however, was exceptional. Watching the relationship build between these two characters was extremely engaging.
The success of this relationship is also due to the exceptional performance of Haley Joel Osment, in the role of Cole Sear. Osment portrays Cole's confusion and fear in a surprisingly convincing manner, especially for such a young actor. His easy slide between full-voice and whisper suggested a fear that either the dead or the living might overhear his secrets, and his adept use of facial expressions was surprising for so young an actor.
Despite the few flaws mentioned above, the screenplay did a wonderful job of drawing the audience into the story. The true surprise of this film is how well the much-touted 'surprise ending' was, in retrospect, set-up. At the end, when all is revealed, the viewer looks back and realizes how many times the screenplay offered teasing clues. For this reason, a repeat viewing of this film is definitely in order.
The director is also deserving of mention for his conservative use of the dead 'characters'. The horror conveyed by these apparitions was brought home slowly and without gratuitous use of gore.
In general this film was very watchable and invited a great deal of thought afterward.