ZiiO 7-inch Entertainment Tablet Review
By Chris Chiarella
Edited by Chris Boylan
My First Tablet
For better or worse, and much to the chagrin of CE traditionalists, the Consumer Electronics Show 2011 was dubbed by many "The Year of the Tablet." For those of you living under a rock (one with internet access apparently), the all-in-one, handily-sized, does-a-lot tablet "computer" (for lack of a better surname) came of age in 2010, thanks to the game-changing popularity of the Apple iPad. Emboldened by that consumer jubilation and inspired to put their own spin on the category, a host of manufacturers have announced their take on the category.
Creative is among the first handful to market, with their ZiiO 7" Entertainment Tablet. Creative has proven successful with several portable media players under their "Zen" banner, an extension of their "NOMAD" line of MP3 players. Sound quality is typically what sets Creative products apart, be it their PMPs,  headphones or speakers, harkening back to the days the when their high-performance, well-featured Sound Blaster PC audio cards first made them famous.
ZiiO (pronounced ZEE-oh) runs the Android 2.1 operating system, with a free upgrade to Android 2.2 promised for later this week on support.creative.com or on the player's "Ziio Space" portal.  This O/S should make the ZiiO's operability somewhat familiar to users of many of the latest non-Apple cell phones. As such, Creative tenders Pure Android Audio, a sub-menu which brings together settings for the proprietary X-Fi audio processing, handily addressing the limitations of modern compressed digital sound. Crytalizer seeks to restore lost sonic detail in music, while Expand helps to render a wider, richer soundfield. Both of these effects can be adjusted with a slider, all the way down to zero if so desired. Here we will also find the Bluetooth controls, which offer the added benefit of the apt-X codec for purer audio. All together, Pure Android Audio promises "the most seamless, highest quality wireless audio streaming experience from an Android-based device" (says the manufacturer). The Home screen will also display the name of the currently connected Bluetooth speaker or headphone.
Screens, Buttons, Cables and Cards
Physically, the device is a pinch thicker than I was expecting, the all-encompassing plastic frame tapering from the TFT LCD touch screen (its fattest point) down and out to the edges. It's heavier than you might think as well, almost a pound, but I can just wrap my big man-hand around it, if I hold it vertically. There are four fixed touch-icons along the bottom edge of the LCD, handy shortcuts, but they can be difficult to make out against the brightness of the screen.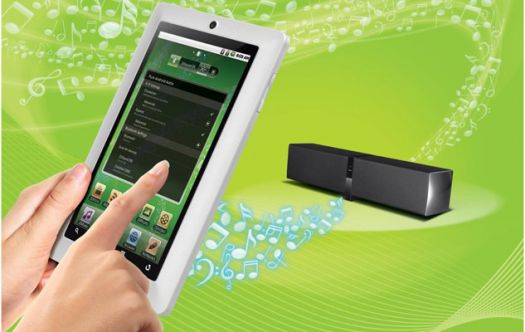 The tablet connects to the PC via a standard USB-mini cable, for data transfer. It can also charge its internal battery via USB, but I found this to be a trickle and had much better, faster results when connecting to AC power via the adapter. The ZiiO comes with either eight or 16 gigabytes of internal flash memory (Creative sent us the 8GB model to test), with a microSDHC slot to expand the available data storage. During our review we used a SanDisk 32GB microSDHC card, which essentially quintupled our capacity (not taking into account formatting, system data requirements, etc.) This added real estate can prove quite valuable especially when we load up large videos, or fat FLAC music files.
When plugged into the PC, the Ziio Tablet's eight embedded gigs appeared as "Internal" while the SanDisk card read as a Removable Disk, each with a new drive letter assigned. Loading up the ZiiO with content from my computer was quick and easy, a simple drag and drop of music and video and photos from my hard drive to my flash drive of choice. After a reboot, the ZiiO software does a lovely job of breaking out all of the fresh content into the appropriate media menus, sorting by title, album, artist and even including cover art where available.
The artsy user interface is vaguely reminiscent of the Samsung P3 Widescreen Portable Multimedia Player for the style-forward choices made. The green background is adorned with swirls of music notes, and to awaken the dormant device for example we need to drag the locked lock icon onto the unlocked lock icon. Several of the screens including Home only display vertically, although most other screens automatically re-orient vertically or horizontally. The system graphics aim to be fluid but can stutter a bit, although I was impressed by the way that a deliberate blur is applied to the background when a more urgent message appears on top. As with all virtual keyboards I forever seem to be tapping the wrong letter here, but my situation improves when I go horizontal and the keys widen.
Fill 'Er Up
As has been the trend on recent Creative players, the ZiiO does not support any Digital Rights Management (DRM) whatsoever. A complete listing of all of the officially supported formats is noted below, but really for me it was just a matter of trial and error, loading up all of the unprotected media I thought would work, including plenty that played on older Creative Zens, and crossing my fingers. In general, I had the best luck with MOV video files, while older, smaller WMV and AVI files played audio-only, and a 1080p MOV trailer played beautifully... but silently.
Thankfully all music purchases from iTunes for the past couple of years have been DRM-free, so no problem there. In a different sort of glitch however, ZiiO got a little moody on me, suddenly telling me that it "does not support this type of audio file" when, the songs in question played just fine earlier in the day. Sometimes the tablet is slow to respond, sometimes it would not respond at all and I had to use the "Force Close" button on certain applications.
The lean top edge contains a Mini HDMI (Type C) port for video output to a TV. This only works with the Zii Video mode (no photos, no surfing, no music).  This mode is activated with a simple tap of the little HDMI button on the bottom right of the screen, assuming the HDMI setting is configured as "Auto." For our testing we used a Monster Advanced Camcorder cable, mini-HDMI on one end and standard HDMI on the other. As the name suggests, it's also what I've been missing to connect my flip HD video camera to my TV.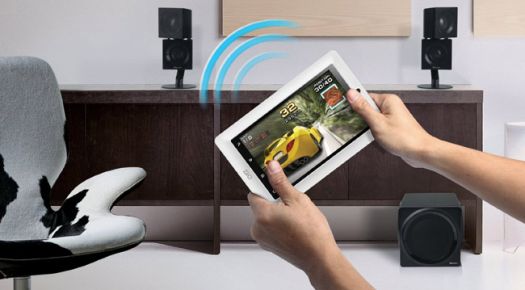 In ZII Video mode, a rudimentary array of touch screen remote control buttons appears on the screen, to control playback in the home theater. In short, we get on the TV exactly what we get on the ZiiO. If the tablet can play it, so can the TV. If not, nope. Quite interestingly, my Samsung plasma informed me that all video was being input at 720p, even crummy little MPEG-4 files, with the exception of that 1080p movie trailer, which maintained its full 1080p quality. Without audio.
Due to its limitations in both hardware and software, the wi-fi-enabled ZiiO tablet does not support the Android Marketplace for acquiring new content. Instead we sign up for ZiiO Space, an exclusive website that's the best place to manage the device, everything from warranty and firmware to recommended apps. I don't know how long they can afford to keep this up, but for now, the hundreds of Zii Apps--and books and jokes and comics--were all free. Most appear to be trial versions of popular titles, or home-brewed content.
I grabbed an assortment of interesting multimedia, entertainment and productivity doodads, but for the life of me I could not successfully install DISH Remote Access, a pity since any extension of my DISHing is always welcome. App "shopping" is a little clunky, not just waiting for the pages to load but seldom are there the big, friendly "Download Now" buttons we're used to, with lots of clinical text instead. Games like Angry Birds look good in widescreen, but classics like Pac-Man, likely created for cellphone use, only fill a portion of the LCD, leaving the bottom and right side empty and black.
Audio Gestalt, Video Halt
The lack of Flash video was perhaps the single biggest outcry against the iPad, and I'm sorry to report that the Creative ZiiO does not support Flash either. If that's a little too techie, allow me to explain: Flash is the preferred video format on the internet, and when you go to a website that features an embedded video clip, it's probably in Flash. So linking to the hot new video that everyone is talking about just won't work. And whereas the iPad sort of made up for it with the inclusion of YouTube, well, there is no YouTube on the ZiiO.
The 480x800 resolution is passable for an entry-level device. The ZiiO startup logo showed mild stair-step edges, and web text is not as crisp as I would like. High-definition clips look noticeably better than their more-compressed counterparts, but never is there a real "wow" factor to the video quality. We can resize still photographs and web pages within preset zoom parameters but can't pinch/reverse-pinch to our exactly desired size. A tiny VGA-resolution camera is mounted above the screen, facing the user, for capturing stills or video.
As expected, audio quality is a cut above the norm, not so much via the two tiny slots along the bottom edge (although these do perform much better than the iPad's integrated speaker), but through connected audio gear. Working with both a superior Bluetooth audio dock and Bluetooth stereo headphones, and with both Crystalizer and Expander set high, I found the quality to be genuinely full and clear and strong, soon limited more by the dock and 'phones than by the source. So music definitely shines, but is a tablet overkill for music enjoyment?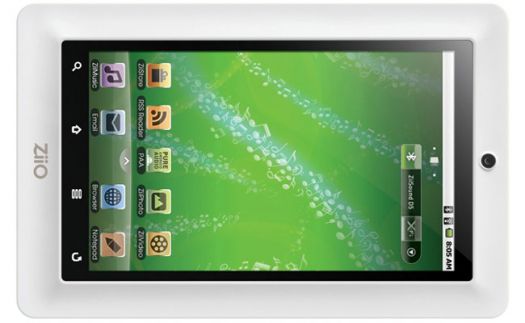 Establishing the Bluetooth linkup was a minor challenge, as different simultaneous windows told me that a particular Bluetooth device was both "Connected" and "Connecting..." but it all worked out. Battery life can vary wildly, with power saving settings offering higher performance versus longer life. A very Windows-like Task Manager tells us which processes are running in the background that we might have forgotten about, with the ability to quickly discontinue them and thereby lighten the load. In the end, I was realistically looking at as few as two hours or as many as four, both shorter than expected.
Turn-Ons:
X-Fi and apt-X audio for superior sound quality
Lots of free applications currently available
microsSDHC slot to add up to a 32GB card
Supports FLAC audio format (better-sounding than CD!)
Turn-Offs:
Short battery life and slow charging over USB
No support for DRM-protected content
Frequent glitches, hiccups and error messages
Final Thoughts
Without YouTube or Flash or support or any DRM-protected audio/video media, I am tempted to ask whether or not ZiiO should even be called an "Entertainment Tablet." Then again, most of my disappointment here is diffused by the undeniably attractive price, half that of the entry-level iPad. Of course, we're still left with the ZiiO's relative lack of elegance, but as the tablet category continues to evolve, this compact, extremely interesting device might prove to be a painless way for the curious to get their feet wet, and something we can eventually pass along to the kids.
Where to Buy:
Recommended Accessories:
Manufacturer's Specifications and Features:
MSRP: $249.99 (8 GB); $269.99 (16 GB)

Capacity: 8GB or 16GB
Color: White
Screen Size: 7" (diagonal)
Display: 16.8M-color Thin-Film Transistor, Resistive Touch Screen LCD
Screen Resolution: 480 x 800 pixels
Dimensions (approx.):  5.2" W x 8.2" H x 5.2 x 0.5" D
Weight: 14.6 ounces
Shipping Weight: 2.6 pounds
Processor: ZiiLABS ZMS-08 HD Media-Rich Applications Processor
Operating System: Android 2.1
Wireless Connectivity: 802.11b/g, Bluetooth 2.1 EDR (Enhanced Data Rate) with apt-X, A2DP & AVRCP
Video Out: HDMI (via HDMI Type C)
Audio Out: 3.5mm analog stereo mini-jack
Other: mini USB 2.0
Camera: Front-facing VGA
Built-in Mono Microphone
Built-in Stereo Speakers
Accelerometer
Memory Expansion: microSDHC up to 32GB
Audio Enhancement: X-Fi Crystalizer, Expand
Audio Support: MP3, AAC, WMA9, FLAC, OGG, MIDI, WAV, Audible Format
Video Support:  WMV9 (backward-compatible) up to 10Mbps, 720p@30fps; H.264 Baseline Profile/Main Profile up to level 4.1, up to 10Mbps, 720p@30fps; MPEG-4 Simple Profile up to 10Mbps, 720p@30fps; MOV; AVI; MKV
Photo Support: JPG, BMP, PNG
Integrates with popular email services including Gmail
What's in the Box?
1 x Creative ZiiO 7"
1 x Stylus
1 x AC Power Adapter
1 x USB 2.0 mini-cable
Documentation
Manufacturer's Contact Information:
Creative Labs, Inc.1901 McCarthy BoulevardMilpitas, CA  95035
ph: (800) 998-1000
website: www.creative.com