ZVOX Z-Base 580 Single-Cabinet Surround Sound System Review
By Chris Chiarella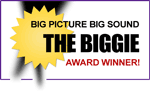 More Than a Boom Box
It's right there in our title: Folks buy fancy new LEDs and plasmas to achieve Big Picture, with little thought to the Bigness of the accompanying Sound. I still know a disturbing quantity of TV watchers who are content with the tiny stereo speakers built into the slim chassis of the display. Many don't even know what they're missing, while others don't want the hassle and expense of a full home theater setup.
And so we have seen the rise of the soundbar, often a TV-wide multi-driver speaker thin enough to be mounted on the wall directly beneath the display, sometimes with a wired or wireless outboard subwoofer for extra kick. Soundbars had a bad reputation at first, a category known more for convenience than performance, but they largely succeed in providing a step up from standard audio, and I've heard some that were better than others.
But ZVOX has always put performance first, which has led them to form factors that some might call unorthodox. Their Z-Base line demands far more real estate than a soundbar, requiring that room to house all of the necessary componentry and move all the air necessary to create a memorable sound experience, while still fitting neatly on a tabletop.  And yet, because they re designed to be placed underneath a TV's integrated stand, they may just be the perfect solution to some TV owners' audio dillema.

The Z-Base 580 Single-Cabinet Surround Sound System is the best product the company has ever made, taking their strengths to the next level and applying lessons learned from the modest criticisms of previous generations. At 33 pounds, three feet across and over a foot deep, it's big and it's proud, and it doesn't sound like any other single-speaker solution out there. Apart from the quality and configuration of the drivers, Z-Base products are renowned for ZVOX's PhaseCue technology, now in its second generation.
Phase II of PhaseCue
PhaseCue II does an even better job of modifying the incoming digital or analog audio signals, combining adjustable levels of in-phase and out-of-phase information into different speakers in order to create a spacious soundstage without rear speakers. For example, the left-most speaker in the array inside the 580 will play the true left-channel signal, into which is added out-of-phase right-channel audio, the left minus the right as processed by the system's onboard PhaseCue II circuitry in real time. We determine the extent of the PhaseCue effect, that is how much out-of-phase information is being created in real time, with three settings to choose from. PhaseCue II combines with ZVOX's "Infinite Compliance," a series of specially designed acoustic tubes that interconnect the separate speakers, and the resulting sound is much bigger (literally) than the sum of its parts.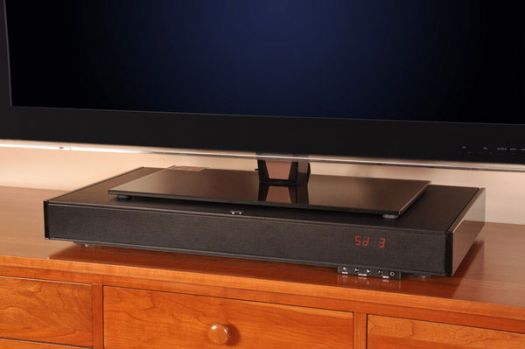 Of course they didn't overlook the convenience either, as we can set up the Z-Base 580 with just a power cord and a single audio cable. The included documentation has grown since their famous single-sheet days, as TVs and consumer demands have continued to evolve, but it's still a simple process, now illustrated with helpful color photos. There's even an extra piece of paper taped onto the top of the system's protective plastic packing bag, warning us not to put anything heavier than 140 pounds (though they now say up to 160 pounds) or with a base size bigger than 34-by-15-and-a-half inches on top of the unit.  ZVox says these size/weight guidelines should accomodate most flat panel TVs from 37 inches up to 72 inches diagonal, but we'd recommend closely checking your TV's specs (or better yet, measuring the stand) before assuming it will fit safely on top of the Z-Base 580.
We should also make sure that the 580 is stable and level, and mind that we don't incur any scratches on the textured roof of this thing, or on the tabletop beneath. To get the most out of it, I would recommend a hard wooden surface at least as big as the 580's footprint. There is also a single port on the rear left of the unit, which might take advantage of reflectivity off of the wall behind the TV. My 50-inch Samsung plasma went on top of the 580 easily, but we would also do well placing the unit on a table or A/V rack centered in front of a wall-mounted television.
There are multiple digital and analog inputs around back (and one additional analog input up front), and many ways to connect. If our television offers a digital pass-through, optical or coaxial, we can patch that signal into the 580, or if we have an older model with an analog variable audio output--which allows us to raise or lower the volume just by using the TV's remote control--that'll work, too. There are more inputs than ever on the 580, even a stereo mini-jack to mate with a TV's headphone out, or with a portable music player. Some of these options might require our own cabling, but a digital optical and RCA-type stereo cables are included in the box. Most of our testing was performed using the optical out of a PlayStation3.

Even during such a quick setup we can't help but notice the exceptional build quality of yet another ZVOX product, the cabinet constructed of medium-density fiberboard and capped on the two ends with attractive hand-lacquered panels. Inside is a new highly efficient Class D digital amplifier that typically uses less than ten watts of total power even at high volume, with standby power about one percent of that, and an auto-shutoff feature that steps down to standby mode three minutes after you shut down the TV. This leads ZVOX to call the Z-Base 580 of the "greenest" audio systems we can buy.
A horizontal array of five matched full-range, long-excursion main speakers is backed by side-by-side dual 6.5-inch powered subwoofers that hit lows down to a reported 34Hz. A sub-out port is provided, for people who insist upon an outboard kicker. ZVOX has reported some compatibility issues with certain standalone subwoofers, due to the insufficiently strong signal via the 580's sub-out, so buyer beware. But honestly I'd love to know hard numbers for who wants, needs, or actually uses an outboard sub with this booming slab.
Remote Possibilities
The ten-button remote has two more keys than the previous-generation ZVOX 575's and it seems to do a lot more. A bright orange four-digit display glows at us from behind the hard, fine black grille of the 580, concisely reporting the current setting for volume, bass, treble and PhaseCue II, as well as indicating whether Mute, Output Leveling ("OL") or Dialog Emphasis ("DE") is engaged. These last two are quite significant, as the new Dialog Emphasis circuit enhances the frequencies of voices as other sounds are minimized, a lot like what a hearing aid does. And Output Leveling works a bit of compression alchemy to make the loud softer and the soft louder, helpful when changing channels, or when commercials appear. Weak Blu-ray/DVD signals are also boosted.
The 580 has a learning mode so that we can use our current TV remote for the basic functions of power, mute, and volume up/down.  In fact, apart from the hard power switch, there's no need to really touch the unit itself once it's all set up. We can configure it so that powering up the TV will automatically turn on the 580, and, as mentioned earlier, about three minutes after we switch off the TV the 580 will go into standby mode.
Dolby Digital decoding is performed onboard, if needed, before PhaseCue II is applied. Be advised that, like many soundbars, the 580 will not work with DTS-encoded audio.  For these we will need to make other arrangements, such as switching to alternate audio on discs when available or simply setting your source device to output PCM sound for DTS soundtracks. In my case I swapped out my DTS-HD Master Audio Master and Commander Blu-ray for the Dolby Digital DVD, but I was just being lazy. The better the signal in, the better the results.  It's important to note that if you use the digital output of your TV or cable box as the source, the lack of DTS support will not come into play (TVs typically output audio only in PCM or Dolby Digital format).
Setting Sail
When the display reads "30" we've hit maximum volume, but even at only 20 the overall levels were wholly sufficient, while the bass sounded tremendous and I could truly feel it. Run at full volume, it's remarkable how well the 580 fills an entire room, without the drastic distortion we might expect. There is bass to spare on the most LFE-intensive action movies: Even when turned down to the near limit of audibility (-8), the bass still lends an imposing flair to most scenes. Generally we might find the sound to be a bit boomy, but not problematically so.
Many surround cues genuinely sounded like they were originating behind me, where no active speakers could be found. Voices seemed to call out from all over the place, lending a strong sense of off-camera action. Virtual phasing is credible too, as a character walks smoothly around the room behind us.
Treble adjustment here is a double-edged sword (there are many such blades in consumer electronics), making high details stand out from the rest of the mix to prevent their loss, but too much and they can become shrill. When we do find that sweet spot however, we can hear nuances we never noticed before, as in a quivering resonance to the bells on the deck of the H.M.S. Surprise.
On the multiple cuts I demo'd from the live Talking Heads album Stop Making Sense, the 580 lent an appreciable sense of space to the stage, as well as the vastness of the audience beyond. I noticed on cleaner, studio-recorded tracks that the ZVOX effects can introduce a slight resonance. It's not unpleasant really, and the enhancements imparted by the Phase Cue II effect outweigh any arguable detriments such as this.  But for those who disagree, a few clicks on the remote can adjust the effect level.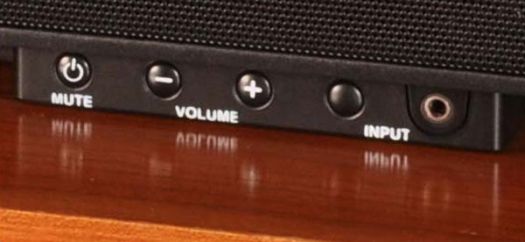 Turn-Ons
Sounds better than ever, with PhaseCue II, Dialogue Enhancement and Output Leveling
Plenty of inputs, both analog and digital

Improved remote control (or use our own) and on-device display
Turn-Offs
No DTS support
No HDMI connection/pass-through
Final Thoughts
With more inputs, improved remote control and display, and truly outstanding performance, all at a better price than its predecessor, the ZVOX Z-Base 580 is a worthy complement to that big flat-screen TV. The proprietary sonic enhancements are not hokey or phony-sounding, rather they render a believable surround illusion with audio that extends way beyond the confines of the cabinet. Highly recommended.
Manufacturer's Specifications
MSRP: $499.99
Dimensions: 36" W x 5" H x 16.5" D
Main Drivers: 3.25" (5)
Subwoofers: 6.5" (2)
Max Total Output: 120 Watts
Frequency range: 34 Hz-20 kHz
Audio Processing: Onboard Dolby Digital Decoder, PhaseCue II, Dialog Emphasis, Output Leveling, Bass and Treble Adjust
Color: Black
Net Weight: 33 pounds
Shipping Weight: 39 pounds
Warranty: 1 Year, Limited Parts and Labor
Inputs/Outputs
Digital Optical Audio input (1)
Digital Coaxial Audio input (1)
Analog Stereo input (RCA-type, 2)
3.5mm mini Analog Stereo input (front-panel, 1)
Subwoofer output (1)
What's in the Box?
Analog stereo (RCA-type) cable (2 meters)
Remote control
Power cord
One-sheet Safety Instructions and Operations Manual, Fast-setup Sheet and Remote Control Programming Instruction Sheet
Manufacturer Contact Information:
ZVOX Audio
17 Columbia StreetSwampscott, MA  01907866-367-9869
Web: www.zvoxaudio.com