Year By The Sea Review
By David Kempler
It Only Seems Like a Year
I remember thinking when I first saw Karen Allen in "Animal House" that she projected a lovely, vulnerable air as an actress. There haven't been many major moments for her in good films since then. Aside from "Raiders of the Lost Ark" and "Starman" in 1984, there hasn't been much worthwhile.

In "Year By the Sea," Alexander Janko's debut as a director, Joan (Allen) is a woman in search of herself. Janko is also the writer of the screenplay and composer of the music and none of the three tasks is a raging success. The film has such a Lifetime television quality to it that it was surprising to not have it periodically interrupted by "I've fallen and I can't get up" advertisements.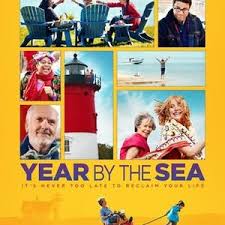 Joan is going through what could be described as a disenchantment with her life although it's difficult to tell whether it's something than has been brewing for a while or merely a moment of epiphany. Her son has gotten married and at the wedding she learns from a guest that her house is up for sale.

Her husband Robin (Michael Cristofer) has done this without telling her. This causes a confrontation with him, but not much of one. He is now going to be working in another city, but she doesn't want to go with him. Instead, she opts for a timeout from the marriage to spend a year living alone on an island off Cape Cod, so she can write.

Her place can only be reached by rowboat, gets its water from a pump, and...you get the idea. It's very rustic. She ends up meeting Cahoon (Yannick Bisson) and they become instantaneous friends. Cahoon is much younger than Joan and he's a good-looking hunk who is so nice to everyone that it's difficult to believe he is a human being. He's almost Dudley Do-Right.

Joan also befriends Erikson (Celia Imrie), a quirky local woman who spouts non-stop joyous sentiments and dances around to tunes only she can hear. She could be Cahoon's mother, but she isn't. She's just another one-dimensional character who could never survive on this planet outside of a mental health facility.

A couple of things sort of happen during the film, but they either don't matter or you won't care. Most of the time both conditions apply. There are so many things wrong with "Year By The Sea" that it almost seems to be on purpose. Perhaps the worst thing is the music, which can only be described as cringe-worthy. In the middle of dull scenes, bad songs break out. The whole thing is torturous. Thankfully, it doesn't take a year to watch, but 114 minutes is still 114 minutes too long.