Yamaha RX-V867 AV Receiver Review
By Dennis Burger
Edited by Chris Boylan
All in the Family
Despite the thousands of words of text we normally dedicate to reviews, purchasing a receiver normally isn't a terribly complicated process. You find a brand you like. If you bought a Denon last time, chances are you'll buy a Denon this time. You weigh price versus features you're interested in and the number of inputs and outputs you need. You find this year's model that best suits those opposing goals. You buy it. Bob's your uncle.
If your receiver brand of choice is Yamaha, though, you can scratch everything I just said. With four distinct families of AVRs -- ranging from the ultimate simplicity of the NeoHD line to the affordable-yet-fully-featured HTR family, up through the core RX series and the custom-install-oriented new AVENTAGE models - the company offers something for nearly everyone. But just like the family tree of life itself, there's a bit of overlap here and there, and the blurred distinctions between species in ostensibly separate genera can make honing in on the right Yamaha receiver for your needs a tricky task, indeed.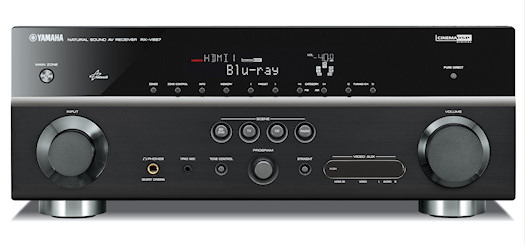 The new Yamaha RX-V867 ($899.95), under consideration here falls, obviously enough, within the RX family, and more specifically at the top of the 67 line within, which also includes the RX-V367 ($249.95), RX-V467 ($379.95), RX-V567 ($479.95), and the RX-V667 ($599.95). Keeping with the biology metaphors, that pretty high on the consumer-targeted Best Buy shelf food chain, and as such it offers just about any and all of the features the average home theater enthusiast would want (oodles of HDMI ins and outs, plenty of power for a midsized room, DTS-HD Master Audio and Dolby TrueHD decoding, auto room calibration, video upscaling, and full support for 3D, if you're into that sort of thing), and none of features they don't really need (S-Video, anyone? Good riddance).
Plug and Tinker... Then Play
Given the RX-V867's generous six HDMI 1.4a inputs (if you count the one on the front, and I do), and parallel HDMI outputs, hooking up the receiver is a cinch. Really, the only thing that might be slightly out of the ordinary for most users is mounting and running speaker cables for the front presence speakers (and I did... more on that in a bit). If you're using low-impedance speakers (I am: MartinLogan's Motion 12, 4, 2, and C, to be exact), there's an extra step to change the receiver from 8Ω to 6Ω configuration, but that takes mere seconds of poking at the front panel and a quick restart.
From there it's a matter of connecting an Ethernet cable to the back of the receiver if you want to access its networking capabilities (you do), and an optional YDS-12BL or YID-W10 iPod dock if so inclined (I'm not), and then begins the journey through Yamaha's new onscreen GUI - not always the simplest of journeys, but given how feature-packed the RX-V867, it's a hell of a lot less labyrinthine than it could be.
Still, though, I found myself referencing the owner's manual quite a bit, and if memory serves, the last time I had to crack a manual for a consumer electronics device was for Anthem's ridiculously sophisticated Anthem D2v A/V Processor.
Running through the basics is pretty easy, mind you. When you plug in the included calibration microphone, the menus for Yamaha's proprietary Parametric Acoustic Room Optimizer (YPAO) automatically pop up, making the whole process of balancing and EQing the room a snap. (Granted, like most auto room calibration tools, you might have to tinker with the subwoofer settings manually, but that's no difficult task, either.)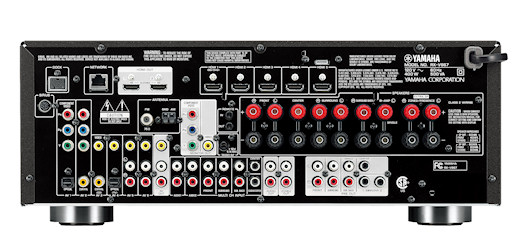 They Do It Their Way
It's when you get into tinkering with Yamaha's other proprietary settings that things can get a little confusing until you really grok the logic of how this thing works. For example, I mentioned the presence speakers before - Yamaha's tried and true take on the front-height-channel phenomenon that everyone else has only recently hopped onboard with. To these ears, Yamaha does front height better than the competition, with more consistency and less distraction, although to be fair, Yamaha's solution doesn't allow for specific, directed z-axis matrixing the way Dolby Pro Logic IIz does.
In addition to adding a convincing sense of height to the surround sound experience, those front presence speakers serve another function in the form of Dialogue Lift, a feature whose merits I can't fully convey without coming off as a slobbering fanboy. But I'll try. What Dialogue Lift allows you to do is blend the sound from your center channel (which, let's face it, is almost certainly positioned beneath your display, and not behind a microperf projection screen) up into the speakers above and to the outsides of your left and right main channels in increments. Granted, at the extreme setting it sounds echo-y and unnatural, but dialing Dialogue Lift up to 2 (out of 5) results in a perfectly positioned sonic image in my secondary system, with voices seemingly coming out of the mouths of the actors on the screen instead of from somewhere in the vicinity of their off-screen knees. I honestly never realized how distracting my lowdown center channel placement was before. Now that I've lived with Dialogue Lift for a few weeks, I'm not looking forward to living without it.
Don't go looking for Dialogue Lift in the main setup menus, though. It's in a wholly separate Options menu, found on a completely separate button on the remote. Within Options, though, you'll also find another of Yamaha's proprietary doodads: Adaptive DRC, which adjusts the dynamic range of the audio output depending upon your listening volume. It's also where you'll find access to CINEMA DSP 3D Mode, which puts the RX-V867's presence speakers to good use not online in adding height to the surround sound mix, but depth and ambience, as well, in the form of complete environment reshaping, recreating the specific acoustical properties of various sampled venues from around the world. And it works much better than you'd think it would.
Set It and Forget It

The good news is that once you've set everything up, tweaked the DSPs and various sound modes to your liking, and assigned all of your inputs, the RX-V867 is incredibly easy to use. One of the things I love most about Yamaha's latest offerings is the Scene functionality, which replaces the standard concept of inputs with something more akin to activities. If you want to use the same HDMI input for completely different purposes, like using a universal disc player for both movies and music, with all of the Cinema DSP 3D Modes engaged for one and a more direct, unprocessed approach for the other (and I do), it's incredibly easy to set up different Scenes for such.
Mind you, that's the sort of thing you could do with programmable remote macros, but I find that using Scenes not only cuts down on programming time, it also makes startup a heck of a lot faster. Hitting any of the Scene buttons (or putting the BD/DVD Movie Scene as the first step in a macro) fires up the receiver automatically, eliminating a step in the process and saving a few precious seconds that could better be spent sitting through trailers you don't want to watch and chuckle-worthy warnings about Blu-ray being such a new format that the kinks are still being worked out.
All snark aside, it's really hard to find a lot to say about the RX-V867 after the setup is done, because it's just so darned-tootin' easy to use. And again, the presence channels really add something valuable to the surround sound experience without ever causing a distraction. The destruction of the Old Bailey in V for Vendetta sounds positively huge, while the film's often obscured dialogue rings through with surprising clarity. Likewise, all of the huge action sequences in Kill Bill (yeah, I've been on a bit of a retro kick lately) sound huger still with the presence speakers in the mix, but I find myself even more impressed by the subtler elements -- like the troublesome flies buzzing around the surround sound field and above.
In terms of video processing, the RX-V867 doesn't have a lot to offer, but doesn't claim to, either. With my Denon player connected via component and set to 480i, and the receiver's output set to 1080p via HDMI, it passed the jaggies tests on Silicon Optix's HQV Benchmark DVD with flying colors, and locked onto the 2:3 cadence of the Super Speedway test segment in under a second, eliminating the moiré in the grandstands without a hitch. So if you're looking for competent upconversion of standard def sources, the RX-V867 is a champ, but it doesn't offer anything in the way of more sophisticated video processing or noise reduction.
When Worlds Collide
As I said in the intro, while when judged on its own merits the RX-V867 is an incredibly enticing receiver and well worth the coin, and it undeniably sits atop the 67 series in terms of features and performance, in many ways the RX-V867's closest competition actually lies within Yamaha's own AVENTAGE line. I recently reviewed the AVENTAGE RX-A1000 ($1,099.95), and found the RX-V867 to be a close competitor in terms of features and functionality. Granted, it lacks that line's upgrade circuitry and more refined aesthetics (not to mention its swanky binding posts), as well as Web Control and that handy AVENTAGE iPhone/iPod Touch control app, but it does boast the same networking and DLNA capabilities as the RX-A1000.
In terms of power and inputs/outputs, the RX-V867 is actually a closer to the RX-A800 ($799.95), which, at a hundred bucks cheaper, includes the upgraded binding posts and circuitry (not to mention the fifth foot) of the RX-A1000, but lacks the networking capabilities of both it and the RX-V867. So if you're not interested in the streaming functionality of the RX-V867 (and I am), the RX-A800 may be offer more bang for the buck.
Turn Ons:
Six HDMI 1.4a inputs and a pair of parallel HDMI outputs
Capable video upconversion (along with 480i passthrough to HDMI if you've got better processing in your display)
Front Presence speakers really add something valuable to the surround experience
Scene functionality makes operation incredibly easy even if you don't have a programmable remote
HDMI pass-through (and switching!) in standby mode
Robust networking capabilities
Turn Offs:
Setup can be a little daunting because the receiver has so many features
iPod connectivity requires a separately purchased add-on dock
Video up-conversion passes all of the relevant HQV jaggies and cadence tests, but does nothing in the way of noise reduction
The lack of Dolby Pro Logic IIz may be a concern to some
Final Thoughts
It's rather telling that the RX-V867's closest competition comes in the form of two different Yamaha receivers, in a completely different (not to mention luxury-oriented) line. That said, although settling on which Yamaha receiver to buy, and setting it up once you've bought it, may not be the easiest of tasks, once it's home and dialed in, this is one incredibly easy receiver to use, and its performance is spectacular.
Specifications From the Manufacturer:
Channels 7.2
RMS Output Power (8 ohms, 20 Hz-20 kHz) 95W x 7
Total Power (20Hz - 20kHz) 665W
Dolby TrueHD
Dolby Digital EX / Dolby Pro Logic IIx
DTS-HD Master Audio
DTS-ES Discrete 6.1
DTS 96/24 / DTS Neo:6
D/A Conversion: 192 kHz / 24 bit
Selectable Subwoofer Crossover (9-band)
Time Base Corrector
HDMI 3D Capable
Analog Video to HDMI Upconversion (with upscaling up to 1080p)
HDMI to HDMI Upscaling (480 input to 720 or 1080 output)
Component Video Upconversion
HDMI (In/Out): (6 / 2) Incl. front panel input
Component Video: (In/Out) (2 / 1)
A/V Inputs: 5 (Composite)
Digital Inputs/Outputs: [O: Optical, C: Coaxial] (O: 2, C: 2)
Front A/V with Digital Input (With HDMI)
Multi-Channel Decoder Inputs8-Channel
Bluetooth Compatibility (With Optional YBA-10)
Four SCENE Buttons
iPod Compatibility (With Optional YDS-11/12 or YID-W10)
Compressed Music Enhancer
SIRIUS Satellite Radio Ready
Network Receiver Functions (DLNA 1.5 / Win 7 / Rhapsody / SIRIUS Int Radio)
HDMI Audio Return Channel (ARC)
HDMI CEC (Consumer Electronics Control)
HDMI Standby-through (can change inputs in standby)
Dialogue Lift
YPAO (w/Optimizer Microphone)
Auto Power Down Yes
Surround Programs 17
+12V Trigger Output
Assignable Power Amp
Zone 2 Output (Audio Only)
Zone Power Switching [Main / Zone2 (Front Panel)]
IR Inputs/Outputs
Product Dimensions (W x H x D) 17-1/8" x 6-3/4" x 14-1/2"
Product Weight (lbs.) 24.9
Shipping Dimensions (W x H x D) 21" x 10-5/8" x 17-3/4"
Shipping Weight (lbs.) 29.8
MSRP:$899.95
Manufacturer's Contact Information:
Yamaha Corporation of America
6600 Orangethorpe Ave.
Buena Park, CA 90620
714.522.9105
On the web: usa.yamaha.com