Yamaha Makes Networking a Priority for RX-V671 Receiver
By Rachel Cericola
With so many of today's A/V products tapping into the web, it would make sense that you'd want the brains behind your system to play nice, and be able to connect as well. Yamaha is making the web a major focus of one of its new receivers, the RX-V671.
With an MSRP of $599.95, the newly announced 7.1 channel RX-V671 includes both DLNA 1.5 and Windows 7 certification. That means you can use the receiver to tap into streaming music on any web radio station, as well as services like Napster, Pandora, Rhapsody, SiriusXM Internet Radio, and content stored on all of the DLNA devices around the house.
The RX-V671, as well as the 7.1 RX-V571 ($499,95) and the 5.1 RX-471 ($379.95), also feature a new front-panel USB port, designed specifically for iPod and iPhone playback. This direct connection allows users to view song info and cover art right on the respective receiver's screen, as well as flip through everything via the included remote.
All three receivers are joined by the affordable 5.1 channel RX-V371 ($249.95). The four new models support 3D, with Audio Return Channel (ARC) and 1080p HDMI compatible inputs and decoding for Dolby TrueHD and DTS HD content.

Other features on all four include CINEMA DSP 3D technology, Yamaha's Parametric Room Acoustic Optimizer (YPAO), and the Compressed Music Enhancer. The Compressed Music Enhancer is an interesting feature, promising to restore all of the detail in your compressed digital files.
With the networking features, Yamaha's RX-V671 is the top of the new line. The receiver also has six HDMI inputs, 1080p upscaling and has assignable amplifiers for bi-amp and Zone 2 capabilities. It also supports Bluetooth, via Yamaha's YBA-10 Bluetooth Wireless Audio Receiver. The RX-571 offers all of those same features, without the networking or Bluetooth.
For 5.1 users, the RX-V471 has four HDMI inputs, while the RX-V371 offers 100 watts per channel, four HDMI inputs, and nine selectable subwoofer crossover frequencies. If you want to add an iPhone or iPod to the RX-V371, add in the optional YID-W10 dock.
All four models are expected to launch this spring, around the same time Yamaha upgrades its free receiver control iPod/iPhone App.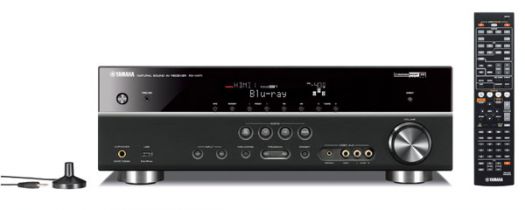 Where to Buy:
For More Information: