Yamaha Debuts BD-S673 and BD-S473 Blu-ray Players
By Rachel Cericola
Yamaha is kicking off the week with a pair of new Blu-ray players. The company just announced the BD-S673 and BD-S473, both of which promise a little web-based entertainment and an easy install.
At this point, many Blu-ray players come packing a little extra entertainment. Expect these models to come with at least Netflix and YouTube, with the BD-S673 adding in the option for the subscription-based Hulu Plus. Each one also works with Yamaha's control apps for iOS and Android devices, as well as Amazon's Kindle Fire.
These new players boast HD Audio decoding, one-touch power, front and back USB ports, and playback via those SCENE buttons that you find on Yamaha's AV receivers. The BD-S673 also supports Blu-ray 3D discs and features built-in WiFi for tapping into the aforementioned web-based services with ease.
Each one is compatible with a wide range of AV formats, including AVCHD, WMV, MOV, MP4, MPG (video), JPEG (HD), MP3, WMA, WAV and AAC (audio). The BD-S673 adds in DivX Plus HD compatibility as well.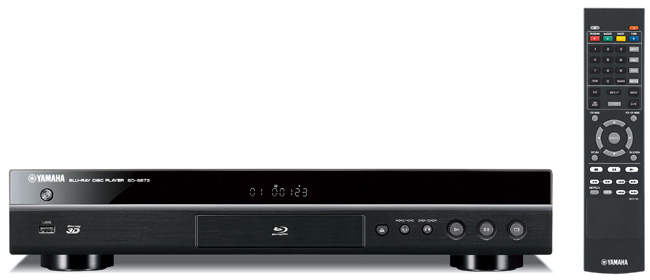 Other features include direct bitstream and multi-channel Linear PCM output via HDMI, x.v.Color and Deep Color compatibility, and 1080p playback for DVDs, photos and home movies. The BD-S673 also offers analog 2-channnel down-mixed audio output and a 192kHz/24-bit audio DAC.
Both models are designed to complement Yamaha's new RX-V "73 Series" of AV receivers.
"Our BD-S673 and BD-S473 Blu-ray players enable consumers to harness and control the large amounts of engaging content available to them from multiple sources and formats," said Tom Sumner, Yamaha's senior vice president. "These models are a perfect complement to our latest AV receivers which, taken together, provide superior home theater solutions."
Yamaha will start selling the BD-S473 in August, with an MSRP of $229.95. The BD-S673 will follow in September, for $329.95.
Where to Buy: