Yamaha Unveils AVENTAGE BD-A1020 Universal Blu-ray Player
By Ian White
Yamaha has been quite active at CEDIA 2012 with 8 new products so far including five new AVENTAGE AVRs. Friday's announcement focused on the release of the brand new AVENTAGE BD-A1020 Universal Blu-ray player which supports Blu-ray, Blu-ray 3D, SACD, DVD-A, DVD and almost every other audio/video format. The universal player also supports Netflix and YouTube Leanback video streaming.
The $449.95 MSRP throws the Japanese player into the ring with the critically-acclaimed Oppo BDP-93 which is the current reigning champ when it comes to Blu-ray playback.
$449.95 is a lot of money (amazing how times have changed) for a BD player in 2012, so the Yamaha will have to deliver on numerous fronts to sway consumers who have been migrating in greater numbers towards streaming boxes from Roku, Apple, and Boxee Box some of which are available for under $99. Your local Costco has Blu-ray 3D players from Panasonic, Sony, Samsung, and LG for less than $99 which means that Yamaha must be rather confident about the superior audio/video playback capabilities of the BD-A1020 to charge $450.
Support for SACD and DVD-Audio clearly demonstrates that Yamaha is aiming for the audiophile/videophile consumer who still listens to either format. SACD or DSD recordings are starting to become popular again amoung audiophiles who migrated to HD downloads and are using something like a MacMini as a music server connected to a external DAC. SACD never really took off as a physical format outside of the audiophile community, but the availability of DACs (most are currently quite expensive) that can decode the format has made it viable again. DSD recordings are certainly worth the effort, especially if you love classical music, but the computer download route requires appropriate software and the right hardware. The $450 asking price of the Yamaha seems cheap if you look at it as the nerve center of your home a/v system.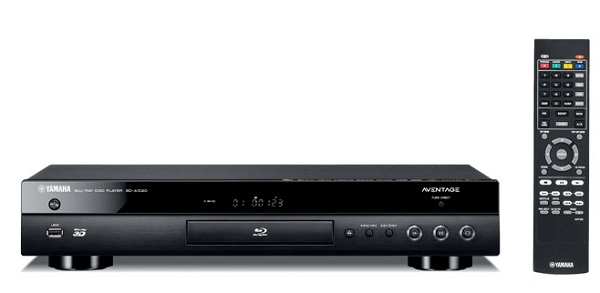 The BD-A1020 supports DivX, MKV with DivX and H.264, MPEG PS. MPEG TS, MPEG-4, VOB, AVI, ASF, AVCHD, WMV, MOV, JPEG (HD), MP3, MP4, WMA, WAV, AAC content, and FLAC. The player also features x.v.Color and Deep Color Enhancements.
Presenting all video and audio content at its best, the BD-A1020 offers full HD Audio decoding and 1080p/24Hz-compatible HDMI, as well as 2-channel down-mixed audio output. It also features a 192kHz/32-bit audio DAC, Pure Direct mode (which uses the shortest signal route for higher sound purity) and 1080p playback for DVDs, photos and home videos.
Users can view digital images via Picasa and playback JPEG slideshows with MP3 audio sound, as well as videos and music content, via the BD-A1020's dual USB ports (front and back).

Additional features include an RC-232C port for custom install integration and control, on-screen display GUI, a detachable power cable, and setup wizard which enables the system to be easily readied for video and audio entertainment. The BD-A1020 also weighs in at close to 7 pounds which is considerably more substantial than your average BD player.
The AVENTAGE is designed to work in concert with the AVENTAGE series of AVRs from Yamaha and is available now.
For more information: