Wreck It Ralph Blu-ray 3D Review
By Rachel Cericola
The Film
So now, I've officially seen all of the Best Animated Picture nominees and can honestly say that Wreck It Ralph may have been robbed. Of course, Brave was a gorgeous film. All Pixar films are gorgeous. That said, Wreck It Ralph is nostalgic, original, and just plain fun.
Arcade junkies of past and present may get a little case of twitchy eye and/or itchy thumb watching this flick. That's because it's very reminiscent of Donkey Kong. See, Ralph (voiced by John C. Reilly) is part of a Donkey Kong-esque game titled, Fix It Felix, Jr. However, this big monkey has a lot of feelings. He's happy about his steady arcade gig, but doesn't like always being the bad guy. So after 30 years and one Bad-Anon meeting, he decides to revolt.
From there, Ralph goes a little "turbo," breaking into other games in order to win himself a medal and the respect of his peers. However, he ends up in a newer game called Sugar Rush, where he forms an unlikely friendship with that game's super-sweet, spazzy outcast (Sarah Silverman).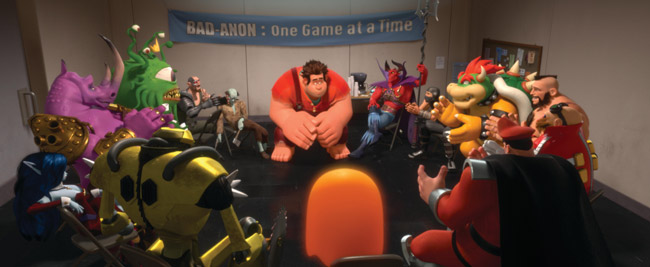 There have been movies based on Super Mario Bros., Tomb Raider, Resident Evil, Max Payne, and countless other video games. However, no one really thought to put all of these guys together. Why is that? It's fantastic. Kids will love the colorful cast of characters, while older viewers will definitely appreciate that nice little bit of nostalgia. Disney gets to etch its initials in the high score slot for Wreck It Ralph; it's a real winner.
The Picture
Don't expect any 8-bit animation here. Well actually, there is some, but it's totally intentional -- and shouldn't be anything like what your pulsating eyes remember from those old arcade days. This 2.39:1 transfer is crisp, clean and gorgeous. Outside of the actual video game, all of Wreck It Ralph's characters are detailed and the colors are plentiful and eye-popping. Before I start drooling all over my keyboard though, let's talk a little about the 3D. Why yes, it's exactly all of the fun you'd expect and more. The image has great depth throughout and there are even a few pop-out effects for good measure. However, nothing here ever feels cheap. It just really gets you into all of the gaming action. Now back to the 2D, it's really excellent -- and most evident as Ralph travels from game to game. The detail, the colors and the darkess (there's some of that, too); it's really a stunning image.
The Sound
Disney wasn't going give this blockbuster a great image without audio to match. As usual, the studio delivers -- and thankfully, Wreck It Ralph knows exactly how to use this DTS-HD Master Audio 7.1 track to its advantage. The barrage of famous voices are always crystal clear, but it's really everything else that's going to have you searching the couch for quarters. Like actual games, some moments are super-violent and scary and some are sweet and just plain loud. This track fills the soundfield to the brim, without ever getting muddled. If you were in the middle of a game, what kind of soundtrack would you expect? Get ready for booming music and great directionality, whether it's Hero's Duty's bullets, exploding Mentos, the revving of engines in the Sugar Rush race, and more.
The Extras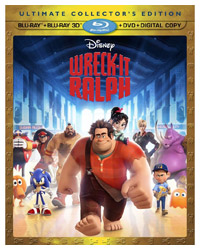 Honestly, I expected
Wreck It Ralph
to have a crazy amount of special features. It should have the type of collection that takes you days to get through. What's here is decent, but there's just not enough of it; not for this caliber of movie.
The first of the small lot is the only extra that's available in both 2D and 3D; it's the black-and-white cartoon, Paperman. If you saw Wreck It Ralph in theaters (and didn't walk in late), you should recognize this short. Since it first appeared in theaters, it's won an Oscar. It's sweet too, with a man ditching his daily grind to catch the attention of woman via paper airplanes -- a lot of them.
With so much nostalgia, technology and talent involved in Wreck It Ralph, it's surprising that the only other lengthy featurette is "Bit By Bit: Creating the Worlds of Wreck-It Ralph." At under 17 minutes, this piece does offer up some nice tidbits about the production. Otherwise, there are deleted and alternate scenes, as well as a bunch of "commercials" for the games featured in the movie.
It should also be noted that Wreck It Ralph includes the Disney Intermission feature -- and it's actually one of the release's better extras. Chris Hardwick, host of The Nerdist Podcast and AMC's Talking Dead, delivers a few movie cheats that can be shut off. Why would you want to do that though? He leaks a lot of the film's game references, as well as Easter eggs that are embedded throughout the movie.
Final Thoughts
Disney didn't need a princess or a Pooh to make a great movie. Wreck It Ralph earned the medal all on his own. It has a great story, excellent audio and eye-popping images, in both 2D and 3D. Sure, it's a shame that Disney had to wreck this one's perfect score by not giving it an equally awesome collection of extras. Don't let that spoil your good time, though. Start saving your quarters; Wreck It Ralph definitely deserves a spot in your Blu-ray collection.
Product Details
Voice Actors: John C. Reilly, Sarah Silverman, Jack McBrayer, Jane Lynch, Alan Tudyk, Mindy Kaling, Joe Lo Truglio, Ed O'Neill, Dennis Haysbert, Edie McClurg
Director: Rich Moore
Audio/Languages: DTS-HD Master Audio 7.1 (English), Dolby Digital 5.1 (French, Spanish), DVS 2.0 (English)
Subtitles: English, English SDH, French, Spanish
Aspect Ratio: 2.39:1
Number of Discs: 4
Rating: PG
Studio: Disney
Blu-ray Disc Release Date: March 5, 2013
Run Time: 101 minutes
List Price: $49.99
Extras:

Disney Intermission
Paperman: Theatrical Short (2D & 3D)

Bit By Bit: Creating the Worlds of Wreck-It Ralph
Alternate & Deleted Scenes
Video Game Commercials
Sneak Peeks
2D Blu-ray
Standard-Def DVD
Digital Copy
Where to Buy: