Wonder Woman Review
By Lora Grady
Amazon, Primed
Gallons of ink have by now been spilled - or feel free to substitute your favorite electronic metaphoric equivalent - in an effort to explore the place of the new "Wonder Woman" movie in the DC Expanded Universe (DCEU), to contextualize this female crusader within the contemporary aggregation of mostly male superheroes, and to anticipate the arrival at last, after numerous failed attempts, of Wonder Woman on the big screen, at the center of the action. How will this version of her story be received by viewers who grew up with the Amazonian icon as a personal hero, or an identity touchstone? By those with fond memories of her comic book and TV adventures? Will "Wonder Woman" meet those high expectations, while also entertaining audiences that have enjoyed an embarrassment of riches over the past decade when it comes to superhero movies?
The answer: yes. "Wonder Woman" is, in a word, magnificent. (You thought I was going to say wonderful, didn't you?) The film provides an intriguing origin story for the fierce female superhero and showcases relative newcomer Gal Gadot ("Keeping Up with the Joneses") in the role she seems born to play. Ms. Gadot's Wonder Woman, aka Diana Prince, appeared briefly in last year's "Batman vs Superman: Dawn of Justice," in a tease to whet fan appetites for what was to come. Here that promise is more than fulfilled as we learn about Diana's unearthly origins and childhood among the Amazons on a hidden island, her commitment to the ideals of truth and justice, and the full range of the powers she will wield in the ongoing fight against evil.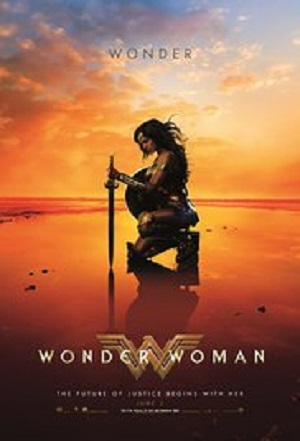 As with most origin tales, "Wonder Woman" has a lot of heavy lifting to do, and it's managed with grace and a light humor that provides insight into Diana while also moving the plot forward. The main story is bookended by a couple of contemporary moments that connect Diana's story to Bruce Wayne/Batman while teasing the forthcoming Justice League film, then we're plunged into her past growing up as an Amazon on a mist-shrouded island that's carefully cloaked from the rest of the world. There are hints of Diana's immortal provenance as her mother Hippolyta (Connie Nielsen, "Gladiator") fretfully assents to her warrior training, telling Antiope (Robin Wright, House of Cards), her sister and Diana's aunt, that she must be trained "ten times harder than any Amazon before her."
Diana grows into a young woman with great physical prowess and extraordinary reflexes, plus a commitment to fulfill the ancient Amazonian quest to destroy Ares, the God of War, thus ridding the world of discord and restoring peace. This goal seems fairly abstract until Captain Steve Trevor (Chris Pine, "Star Trek Beyond"), a US army pilot and daredevil spy, crash lands just off the shores of Diana's homeland. He's been masquerading as a German behind enemy lines, and German troops are in hot pursuit as she saves him - the first man she's ever seen - from drowning. Soon Steve is recuperating amid the Amazons and bringing everyone up to speed regarding World War I, currently raging beyond the confines of their protected island. Diana surmises that the bellicose Ares must be behind such a conflict, and soon she's persuaded Steve to take her to "the war" with a quick stop-off in London so he can complete his current mission.
The film has lots of fish-out-of-water fun as Diana adjusts to London, and vice versa. She reluctantly surrenders her sword and allows herself to be trussed up in restrictive period clothing, but she isn't cowed by the restraints of women's limited roles in early 20th century politics so she's soon shouting at a roomful of stuffy old men who are sedately working out terms for an armistice. Among them is Sir Patrick Morgan (David Thewlis, "The Theory of Everything"), who demurs out loud but quietly encourages Steve and Diana's plan to head to the front and take out German baddies General Ludendorff (Danny Huston, "Big Eyes") and Dr. Maru (Elena Anaya, "The Infiltrator"). Maru's sadistic experimentation with deadly gas has earned her the nickname "Dr. Poison," and her attempt to find an airborne toxin that will infiltrate gas masks and knock out scores of soldiers and civilians makes this a race against time.
"Wonder Woman" provides a rollicking historical adventure story with strong heroes, superbly evil bad guys (it feels refreshingly retro to root against celluloid Nazis), and a budding romance as Diana and Steve begin to fall for each other in the course of their quest. The screenplay by Allan Heinberg (The Catch, Grey's Anatomy) maintains admirable balance so the love story never overwhelms the action or feels like a plot mechanism. Mr Heinberg has primarily worked in television up to this point and he's clearly adept at managing lots of elements while skillfully moving a story forward. Additionally, he's written comics for both DC and Marvel. The solid, accomplished "Wonder Woman" script is a happy marriage of that experience.
Ms. Gadot's performance anchors the action here and she's spot-on, whether wielding the Amazons' legacy sword with two-handed ease, deftly deflecting a hail of gunfire, schooling her companions on the importance of protecting the innocent, or trading funny quips with Mr. Pine. There's a great scene during their journey to London in a small boat as the pair navigate onboard sleeping arrangements. It's funny and sweet and sharp, showing that Diana may be unschooled in the ways of the wider world but she's not naïve. Mr. Pine is perfect as the male lead who's not quite a leading man. Though he's the brave soldier and spy, he's also the one being rescued in the pair's first encounter, and the one who's caught naked climbing out of the bath a short time later. The camera lingers on him as Diana curiously asks if he's "an average example" of a man. It's a classic setup turned 180 degrees, and both actors make the most of the humorous moment while playing up what it reveals about their characters.
There's something joyous about seeing the Amazon women fiercely fighting to protect themselves and their homeland from the invading German troops. Director Patty Jenkins ("Monster") showcases their strength, grace, and athleticism in eye-popping fight scenes that are gorgeously balletic but never feel ornamental or frivolous. The same could be said for the moment when Diana first casts off her cloak and strides across a battlefield in her Wonder Woman garb: she's perfectly honed, with a deadly purpose, fighting for what she believes in. Fans have been holding their breath for years in anticipation of this moment. When it comes they will be cheering because oh, the wait was worth it.