Wisdom Audio STS Subwoofer Boasts 130dB Output
By Rachel Cericola
A good home theater needs a subwoofer. It's what gives your movies and music all of those thrills and chills, and frankly, sometimes it knocks you off your seat. Wisdom Audio wants to be the company that knocks you right on your butt, with its new STS subwoofer.
Measuring 17.75 inches wide and 36 inches deep, the unit promises some seriously big bass via two 15-inch subwoofer drivers. It boasts a 130dB output capability at 20Hz, 4kW of power and a 101dB sensitivity rating. It also has Wisdom's own Regenerative Transmission Line rear wave recovery and reinforcement system.
Because of this sub's profile, it can be pretty easy to hide. Because of it's look, it's also worth putting out in the open. In other words, you decide. No, really. The STS has a hidden installation option via a port extension, which allows the unit to be placed inside a cabinet, under the floor, or in some other secret location. Otherwise, there are plenty of other install options, since the output port can be re-positioned from the front to either side of the cabinet.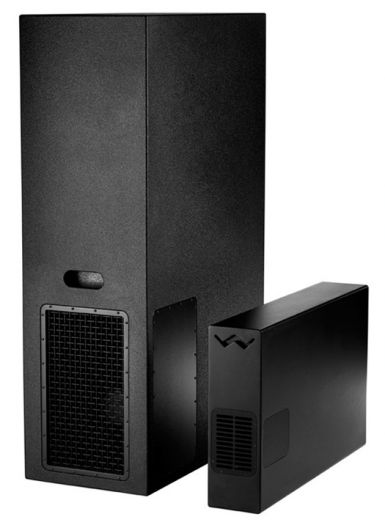 "The STS is the highest performance expression of our RTL technology which has been proven and enthusiastically embraced by our customer base in our models S90i and SCS. We wanted to provide our channel with an ultimate subwoofer, capable of unprecedented output combined with extraordinary musicality and accurate timbre," said Mark Glazier, president of Wisdom Audio. "Unlike traditional subwoofer designs, the STS sonically complements the speed and clarity of our planar magnetic transducer based speakers, and is the ideal solution for the large scale Sage systems being specified worldwide."
Available in October 2010, Wisdom Audio's STS subwoofer will have a $10,000 price tag.
For More Information: