The Auteurs Online Movie Streaming Service Review
By Jim Dooley
Who are "The Auteurs" and who's watching them?
The World Cinema Foundation (WCF) was started by Martin Scorsese in 2007, "with the goal of restoring and preserving neglected films from around the world."  This past May, in coordination with Cannes, WCF announced that it would be partnering with The Auteurs as its official online distribution channel.
But who are "The Auteurs," and who's watching them?
The Auteurs (which you can find on the web at theauteurs.com) is a self-described "online movie theater." More plainly it's a service for delivering streaming movies to your PC or Mac in high definition quality at a reasonable cost (sometimes even free). But it's also a social networking community that gives you a place to discuss what you've just watched with other like-minded film fans.
Its selection leans heavily toward independent film and art cinema, though you will find some more mainstream titles there as well. The company was founded by renaissance man, Efe Cakerel, Computer Scientist, MBA, Goldman Sachs alum, EU advisor, entrepreneur and Won Kar Wai fan. His mission? To provide a great user experience for users to view and discuss Cinema (yes, with a capital, "C") online, in the privacy of their own homes.
After building some buzz on the art film circuit, Cakerel and his team launched a beta version of the web site to the public in February 2008. A year on, this February, it boasted a team of seven employees with 40,000 registered users.
How can I say this politely? The site and business model get me hot.
The team has built a beautiful web application that recognizes the overlap between the best of Swiss School off-line and Web 2.0 on-line design. With large swaths of white space, good sans serif typography, a simple palette, clearly defined content areas, and regular, standardized photo placements, they have created a site that is elegant and easy to navigate. Content loads quickly and seamlessly, too.
The site is split into five (5) sections, "Films," "Cinematheque," "People," "Forum," and "Notebook." "Films" provides a list of available films worldwide. "Cinematheque" showcases The Auteurs' curated, on-line film festivals. "People" allows users to search and follow other users and to invite friends from facebook, twitter, or e-mail address books. "Forum" allows users to reply to blog postings or start new threads. "Notebook" is the editorial showcase, with nearly daily article postings by staff or freelance writers.

The site is built for a global audience and "Films" provides a filter for "available in my region." Using this feature and changing to "List" view (which provides a 1-page, tabulated list) I was able to copy the offerings, import them in Excel, and run the numbers. As-of 06/15/09, my local (US) results were as follows:
108 entries by 90 auteurs
107 entries I can view (Franny Armstrong's "The Age of Stupid" is for press and by invitation only – so, if Auteurs' PR is watching, the name, again, is Jim Dooley)
10 entries I can watch for free! Yippee!
10 shorts I can watch for $2 (Jan Svankmajer fans take note: seven are his)
87 entries I can watch for $5
Rentals ($2 or $5) are good for seven days. Be warned, you might want to check run times on the $2 offers. Some are as short as 1 minute. Overall, prices are reasonable and, given the small size of the library, it's reassuring that there are no membership or subscription fees.
Though 108 may not seem like much, it's a dramatic increase from the owner's own estimate in February that, "we have about 60 films available to stream in a variety of territories." While Cakarel is obviously a seasoned salesman, I hope he maintains the vision that the differentiator for this site is that less is more.
The business model does bode well. So far, the auteurs have done an admiral job partnering with regional distributors: Celluloid Dreams, Europe, 2007; Criterion, US, November 2008; and Costa Films, Latin America, 2009. In addition to licensing, the Criterion partnership included Criterion's site re-design. It's clear as soon as you visit Criterion.com that both sites are built on the same platform, and both use the Auteurs player, which streams all films in their original aspect ratio and in high definition. In February, the Auteurs announced that Marie-Pierre Duhamel Muller, who served on the 2008 selection committee for the Venice Fillm Festival, joined the Auteurs as their programmer.
As part of the recent World Cinema Foundation (WCF) partnership, Martin Scorsese has curated one of theauteur.com's current online festivals, available under, "Cinematheque." The "festival" runs from May to August 2009 and includes four films that can be streamed for free: "The Housemaid," Ki-young Kim, South Korea, 1960; "Dry Summer," Metin Erksan, Turkey, 1964; "Touki Bouki," Djibril Diop Mambety, Senegal, 1973, and "Transes," Ahamed El Maanouni, Morocco, 1981.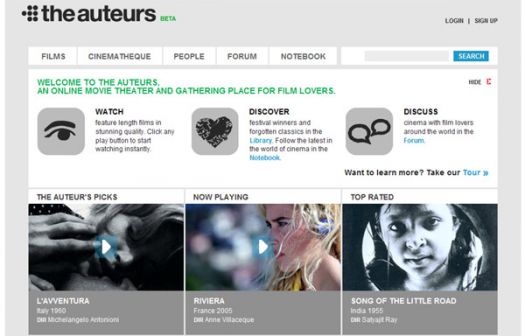 Last night, I streamed "The Housemaid" on my MacBook Pro 15" over my home network (wireless, cable modem). The player is very simple with an arguably too-small in-page view and a full-screen version. There was one preview, which looked pixilated at full screen. There then was a short wait for the movie to buffer. Once I started the film there was some evidence of buffering during the first ten or so minutes, but it was just limited to a few 'jerks' during the playback. Sound seemed low; I had to turn my internal speakers all the way up to reach an acceptable, normal volume. But the image quality was flawless and, after those few small delays upfront, the movie ran fine. Overall, the picture quality and experience were excellent.  If you can connect your PC or Mac into a large screen home theater system, you'll be in for a treat.
It will be interesting to see what other partnerships The Auteurs scores in the next few years, especially as we see more streaming content and options from Netflix and other competition. While WCF focuses on more obscure films, the Auteurs itself focuses primarily on art films, many by recognized auteurs whose films are available from other sources. Many of the films are already available on Netflix, via DVD or Blu-ray, though they may not be available yet for online streaming on Netflix.
However, if one of the selections is available for streaming from Netflix, you might not get it in HD. Unless you have a Netflix-ready device, an HDTV, component or HDMI connections, and a high-speed connection of 5Mbps or better, you won't be able to stream HD from Netflix. Remember, too, Netflix selects the "best" quality based on your connection, and you cannot override their server's selection. As far as I can tell, Netflix does not currently offer HD streaming for PCs.  The Auteurs site, on the other hand, does stream in HD to your favorite web-enabled computer.
Films make up one side of the content offered on the site. The other is editorial in the "Notebook" pages. Most of the editorial works well for the site: articles are short, focused on one observation and a short list of films by one Auteur. They offer just enough for a newbie to dig deeper or for a vet to explore. The gate keepers also do a good job providing links to "related films" after each article. Finally, while Cakarel is on record to this extent, a review of the "Notebook" confirms that the content is largely independent of the library of available "Films."
So, curated library and festivals, smart partnerships, great site design, HD streaming, reasonable prices. Not enough of a value proposition for you? Well, the Auteurs has one last trick up its sleeve: good social networking features. Users can create their own profiles, follow other members, tie updates on theauteurs.com to their Twitter accounts, create or comment on "Forum" blog posts, and comment on "Notebook" articles. This mix of "Notebook" editorial and a film library with the social networking and user-generated content should help the site serve as a film resource for Cinema newbies and vets alike.
While I may seem to be the prototypical example of exactly the non-revenue generating user a service such as this might dread, as I research directors and add their films to my Netflix queues, I am a believer that you need exposure to generate sales (don't get me started on how badly the Music Industry needs this object lesson). And, in a pinch, even this penny pincher would be willing to shell out $5 to watch something hot, now, in HD. And, here again, I have to tip my hat to Cakarel who succinctly identifies this as the business's principle challenge: "...to convince rights holders ...that making films available online is as much a viral way of marketing films as it is [a] source of tremendous income."
The Auteurs – now I'll be watching them too.
More information: