When it Comes to HDTV, Size Matters (That's What Sharp Said)
By Rachel Cericola
HDTVs come in all shapes and sizes. For Sharp Electronics, however, they're mostly just big -- much bigger than we're seeing from any other manufacturer this year.
If you read our LED TV Buyers Guide for 2012 (of course you did!), you'd know that Sharp is planning a total of four TV lines this year. The smallest model is the 42-inch LC-42LE540U 1080p LED HDTV, but it's the multiple sets in the 60-to-80-inch range that Sharp is really focusing on for 2012. While those larger sizes seem to be doing very well (NPD has the company ranked at number one for 2012 sales so far, in sizes 60 inches and up), Sharp also created some big buzz by launching new Elite models in partnership with Pioneer, in big 60- and 70-inch sizes, of course.
Bigger isn't always better, but it's pretty much the Holy Grail for TV viewers, according to Sharp.  We had the chance to sit down with Mark Viken, Sharp's vice president of marketing and he shared his opinions on the subject of the oversized screen.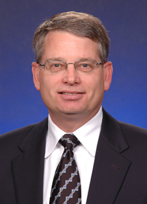 "Consumers want it," assures Mark. "They appreciate what the big-screen experience does for them."
To be clear, Sharp defines the big-screen experience to include TVs that are 60 inches and above. The company's AQUOS 6 and 7 Series both have 60- and 70-inch models for 2012, with the Quattron 8 Series adding in an 80-incher. If that's not eye-popping enough for you, Sharp says its planning another big announcement for next week, on June 18.  Details are not available yet, but we're expecting something, well... BIG!
Although some may think Sharp is putting all of its eggs into one giant high-def-enhanced basket, the company definitely seems to know what they are doing. According to The NPD Group, Sharp accounted for more than 63 percent of large-screen (60 inches and up) LCD TVs sold in the U.S. in the first two months of 2012. Sharp also snagged the number three spot for overall market share in the flat-panel category for April 2012 and in May, they jumped to the number two spot for total LCD market share. Those numbers mean that the company passed the likes of both Sony and Panasonic, during that time period.
It's an impressive feat, too, especially when you considering that the company's average selling prices are actually going up. While competitors' sale prices are flat or even slightly down, Sharp's average sale price is up from $1069 to $1559.  This is most likely due to the focus on larger and larger screen sizes.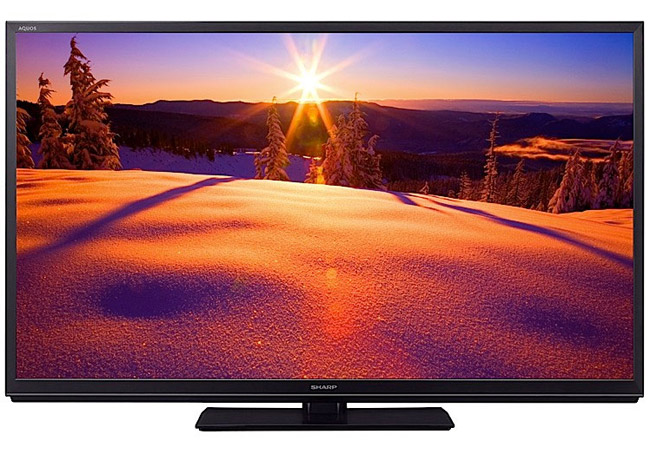 Viken says that Sharp produces quality sets and consumers know it. He goes on to say that big screens come naturally to Sharp, over many of its competitors, thanks to the company's technical abilities and its 10th-gen plant in Takai, Japan. "They can also make them reasonably affordable for people," he added.
"Sharp had the vision to see the market for large-screen televisions and that's why we made the major investment to build that facility in Japan," Viken says of the plant. "We're serving the customer and reaping the benefits of that decision right now."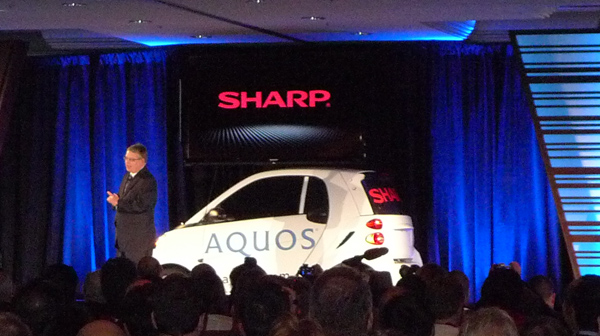 Of course, consumers still enjoy other TV perks. Viken says that 3D demand is still out there, but web connectivity is certainly a more sought-after feature. "Smart televisions with the ability to connect to favorite apps and stream content over the Internet is another driving force in the industry," he says. "That's why all of our AQUOS televisions are smart and all of them have built-in WiFi."
However, when it comes to what consumers really want, Sharp says that, yes -- size matters. "All of the research that we've done with end-users says that the number one reason people return a television is because they had regrets and wish they had gone larger," says Viken. "So they bring it back and get a bigger TV."
Where to Buy:
For More Information: