We Bought a Zoo Blu-ray Review
By Chris Chiarella
The Movie
Based upon one of those incredible, inspirational stories that could only be true, We Bought a Zoo is an almost-perfect family film, assuming we like families and, you know, animals. Matt Damon stars as an adventure journalist struggling to keep his life and his family together following the loss of his wife. He decides that a move is the best thing for all involved and they eventually find a promising new home, albeit one that comes with a zoo attached.
The business of live animal maintenance is a strange and costly one, and if they are to have any hope of making the place viable and profitable again it will take every waking moment and every dollar they have. It's a struggle, but dad's dream of giving the kids an "authentic American experience" might just reap rewards beyond any that this crew had foreseen.
In the original theatrical version, the language was a little rough for the youngsters, and the schmaltz--perhaps unavoidable on a journey such as this--might be a challenge for the grownups to swallow with a straight face. But the facts of the matter spiked with a dash of Hollywood formula make for a heartwarming tale.
The Picture
This disc packs a pleasant surprise with its gorgeous clarity, paired with deep blacks and excellent shadow detail, virtually no visible film grain and only the faintest taint of video noise. Frequent instances of text are razor-sharp. Was I not charged with reviewing the movie itself, I might just have sat and stared at the 1.85:1 image, marveling at the beauty of this master!
The Sound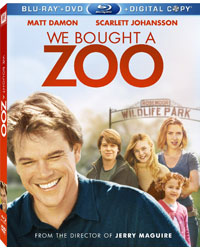 The animal sounds are great, don't get me wrong, but frankly they could have been even more prominent in the DTS-HD Master Audio 5.1 mix. For example the effect of the zoo at night can be rather subtle, and there aren't big, conspicuous 360-degree depictions of wildlife. The track displays a pleasant touch of bass, and incorporates the rears when appropriate. And because a few choice words contributed to the PG rating, an alternate, cleaned-up "Family Friendly" option is provided here, in Dolby Digital 5.1.
The Extras
Writer/director/producer Cameron Crowe joins his editor Mark Livolsi and actor J.B. Smoove for an interesting audio commentary. We are also given 20 deleted and extended scenes, more than 37 minutes' worth, some quite substantial and worth watching. The gag reel runs seven minutes, a 17-minute featurette explores the soundtrack, and we spend about a half-hour getting to know the real-life zoo hero and family man, Benjamin Mee.
The five-part "We Shot a Zoo" documentary (76 minutes total) goes in-depth, approaching the topic from many different angles. All of the video extras are in HD. An above-average photo gallery is here as well.
Disc One also supports Live Extras (BD-Live) but with no exclusive online content. Disc Two is a DVD of the movie with the audio commentary and one of the "We Shot a Zoo" segments. Disc Three carries a Digital Copy for iTunes, Windows Media and Android.
Final Thoughts
At turns touching, fun, and adorable, We Bought a Zoo now gives families a more agreeable audio option to broaden its appeal, a generous menagerie of bonus features, and a video presentation that is most certainly worth the price of admission.
Product Details
Actors: Matt Damon, Scarlett Johansson, Thomas Haden church, Patrick Fugit, Elle Fanning, John Michael Higgins, Colin Ford, Maggie Elizabeth Jones, Angus Macfadyen
Director: Cameron Crowe
Audio Format/Languages: DTS-HD Master Audio 5.1 (English). Dolby Digital 5.1 (Family-Friendly English, English Descriptive Audio, Spanish, French)
Subtitles: English SDH, Spanish
Aspect Ratio: 1.85:1
Number of discs: 3
Rating: PG
Studio: Fox
Release Date: April 3, 2012
Run Time: 124 minutes
List Price: $39.99
Extras:

Audio Commentary by Cameron Crowe, J.B. Smoove and Mark Livolsi
Deleted and Extended Scenes
Gag Reel
"We Shot a Zoo"
"Their Happy Is Too Loud"
"The Real Mee"
BD-Live
Photo Gallery
DVD
Digital Copy