War Dogs Blu-ray Review
By Rachel Cericola
The Film
Three of the last five Todd Phillips movies were part of The Hangover franchise, with the 2013 installment being the last time Phillips sat in the director's chair. Now he's back and ready to party with War Dogs.
War Dogs is a better dark comedy than The Hangover Part III. That's probably because it's based on a true story (and the Rolling Stone article "The Stoner Arms Dealers"). The film focuses on David Packouz (Miles Teller), a young guy who's trying to make ends meet in 2005, by working odd jobs. His luck starts to change after running into childhood friend Efraim Diveroli (Jonah Hill) -- but not necessarily in a good way. That's because instead of talking David into a little boozing, fighting, or other semi-harmless antics, Efraim entices him to become an international arms dealer.
The two buddies join forces and start selling weapons to the U.S. government. It's the American dream, right? Of course, that dream quickly turns nightmarish, as the two start working on a $300 million deal and cross paths with arms dealer Henry Girard (Bradley Cooper), who may or may not be a terrorist.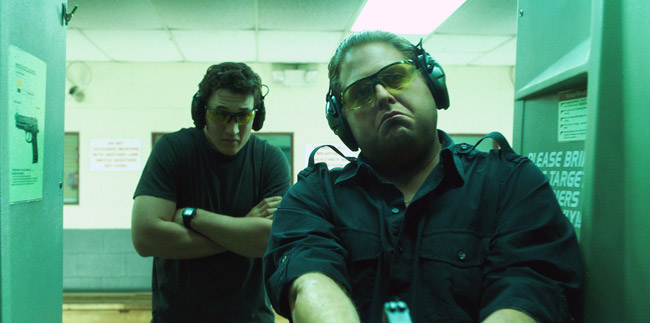 It's crazy that two twentysomethings can travel across war-torn countries, procure millions of rounds of ammunition, and make millions wheeling and dealing with the U.S. government. Well, it's not entirely without consequences, which includes a little kidnapping.
War Dogs does take liberties with its inspiration and even takes a few cues from the work of Martin Scorsese, most notably The Wolf of Wall Street and Goodfellas. Of course, Phillips is no Scorsese, but he certainly knows how to bring the party, the desperation, the fear, and pretty much every other emotion that fuels this film. Thankfully, he also brings Hill, who is a highlight as the half-crazy, all-slimy Efraim.
The Picture
While this probably wouldn't be the film you'd pull out for a demo, War Dogs does have a great 2.40:1 image. Blacks are deep, the contrast is good, and colors are spot-on. The detail presented is probably the best feature of the image, with facial hair, dust clouds, sharp scenery, and other features very evident. It's not super memorable, but there's certainly nothing to complain about here.
The Sound

The main focus of War Dogs is definitely the dialogue, which sounds great on this DTS-HD Master Audio 5.1 mix. As you can imagine though, a movie about selling guns isn't one without a decent amount of surround sound. Club scenes, music, and gunshots are certainly the best part of the track.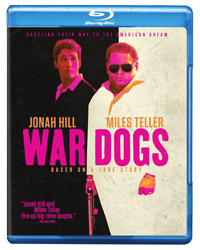 The Extras
This disc isn't packed with special features, but it does have a few interesting tidbits. The real-life Efraim Diveroli is nowhere to be found, which isn't surprising since he tried to sue Warner Bros. However, David Packouz, who also has a cameo in the film, does get the spotlight in the 10-minute "Access Granted." That's the best piece, but Todd Phillips gets a decent 8.5 minutes as well. Otherwise, there are no deleted scenes, trailers, or commentary options. However, there is a 2.5-minute short that's animated, musical, and pretty pointless.
Final Thoughts
War Dogs has its flaws, but it's still an entertaining film. Jonah Hill is definitely the highlight, but Todd Phillips keeps the film moving along at a nice pace. The special features are a bit too thin, but the audio and video are enough to elevate this release to the point where it may be worth picking up.
Product Details
Actors: Jonah Hill, Miles Teller, Ana de Armas, Bradley Cooper
Director: Todd Phillips
Audio/Languages: DTS-HD Master Audio 5.1 (English), Dolby Digital 5.1 (French, Portuguese, Spanish), DVS 5.1 (English)
Subtitles: English SDH, French, Portuguese, Spanish
Aspect Ratio: 2.40:1
Number of Discs: 1
Rating: R
Studio: Warner Bros.
Blu-ray Disc Release Date: November 22, 2016
Run Time: 114 minutes
List Price: $29.98
Extras:

General Phillips: Boots on the Ground
Access Granted
Pentagon Pie
UltraViolet Digital Copy
Where to Buy: