VR Deal: HTC VIVE VR Bundle for $599 with $100 Amazon Gift Card and Deluxe Headphones Today Only
By Chris Boylan
VR (Virtual Reality) is coming into its own, and HTC is one of the leaders in the space with their VIVE VR Headset. It's not normally something you see discounted but Amazon has a one day deal that's hard to resist. Today only (while supplies last), you can get the VIVE VR headset and controller package, along with the audio strap accessory ($100 value), "Fallout 4 VR" and a $100 Amazon Gift Card for just $599 Delivered.
Here's the link:
What is VIVE? VIVE is a VR platform from HTC which allows you to enter a virtual world without leaving the comfort of your living room (or your parents' basement). VIVE includes an immersive 360 degree headset with a built-in video display that tracks the motion of your head. With the headset on, when you look up, down and all around, you see the world of your app or game all around you. We'd recommend clearing a space so you don't trip over anything in the real world while you're out exploring a virtual world. But the VIVE headset does have a "Chaperone" feature that warns you if you're leaving your safe space.
This Amazon package also includes the "deluxe audio strap" accessory from HTC. This appropriately named accessory is an upgraded strap for your VR headset with high quality padded earphones built-in. It's designed to enhance your audio experience while also improving your comfort.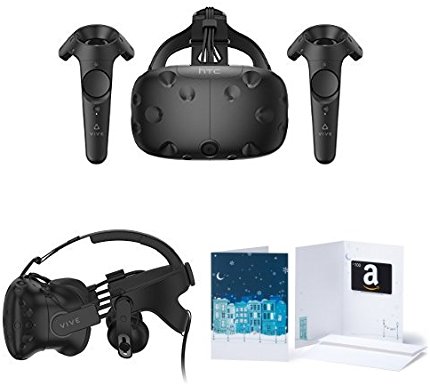 VIVE can be used while seated, standing or in a space up to 15 x 15 feet. The system uses SteamVR tracking to track your movement and translate it into game play. Steam currently offers over 1500 games made for SteamVR, so you'll havwe a good selection of VR-enabled titles. In addition to "Fallout 4 VR," your purchase comes with a free trial subscription for Viveport -- HTC's global VR app store -- plus Google's "Tilt Brush," "Everest VR," and "Richie's Plank."
What's *NOT* included? VR headsets like this do need a decent PC or Mac computer to run the game and power the headset. That is not included in this bundle. Your current PC may be up to the task, or you might need an upgrade. Steam has an evaluation tool that will check the stats of your current PC and will let you know if it's up to the task of VR. You can find that here:
This bundle is a one-day only deal and subject to inventory on hand. It may not last the full day. Check the listing on Amazon directly for updated stock and pricing:
More Deals:
Please note: all deals posted on Big Picture Big Sound are current as of the posting date and time. These deals are frequently time- or stock-limited and generally do not last. Final pricing and stock are determined by the individual deal provider, not by Big Picture Big Sound so you will need to click through on the offer link to see if it is still available. Through our affiliate relationships with many online vendors, Big Picture Big Sound may earn a small commission on any referred sale.