VIZIO LED/LCD 3D TV Will Use Inexpensive Passive 3D Glasses (XVT3D654SV)
By Chris Boylan
At the CEA Line Shows in New York City this week, TV manufacturer VIZIO is showing off two different kinds of 3D-Ready TVs.  On the near horizon, select models in VIZIO's XVT line will offer Full HD 1080p images to take full advantage of the new Blu-ray 3D format.  Similar to sets by Sony, Panasonic and Samsung, these sets use expensive active shutter LCD glasses to separate the left and right eye images.  These allow our brains to see a convincing 3D image, in full high definition resolution to each eye.
But perhaps more interesting is VIZIO's demonstration of a prototype 65-inch 3D-ready set, tentaively named the XVT3D654SV, an LED-lit 3D TV that will use passive glasses instead.  Passive glasses are not only lighter and more comfortable, but they're about one tenth the price (or less) of active shutter LCD glasses.  Having a 3D TV party for a movie viewing or a major sporting event?  How'd you like to spend $100 for 10 pairs of 3D glasses instead of $1500 for 10 pairs of active glasses?  This makes the whole social 3D TV viewing aspect a little more palatable, right?
Of course, there is a trade-off, based on how the technology works.  The passive glasses rely on Circular Polarization (CPOL) technology to create left and right eye images on the screen at the same time, with the left eye and right eye portions of the stereoscopic image polarized in opposite directions. Matching polarized lenses on the glasses allow your left eye to see only the left eye image while the right eye sees the right eye image.  Because both images are on the screen at the same time, the 1080p (1920 x 1080 pixel) screen image is split between the two images, which effectively halves the resolution, thereby reducing visible detail.  So the image will not be quite as sharp as a Full HD 3D TV.  There can also be a slightly higher production cost in the TV screen itself to support circular polarization, but this hasn't stopped VIZIO, known as the "high value" HDTV brand, from pursuing the idea.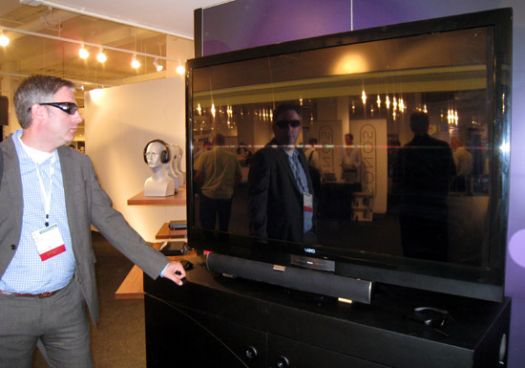 At the show, a prototype version of the TV was being shown, and while it was not perfect (hence the term "prototype"), the 3D effect was quite good.  Also, the large screen size (65 inches diagonally) helped to create a believable and immersive 3D experience that can be absent from smaller 3D screens.
VIZIO reps were not prepared to discuss pricing of the as-yet unnamed 65-inch model, but they did say that it will be "surprisingly affordable."  Considering the current top of the line 65-inch Panasonic 3D plasma TV (the TC-P65VT25) lists for $4999.99, and the Samsung top-end 55-inch super-slim LED TV, the UN55C9000 lists for $6999.99, there's certainly room for interpretation as to what is considered "surprisingly affordable." But based on past history, if anyone is going to bring the cost of 3D TV down to where it's within the reach of most consumers, it's VIZIO.
6/23 update: When prodded about the price, at the company's press conference, VIZIO co-founder Ken Lowe did say, "We don't like to price things above $3,000" so take that at as a hint.
We'll post more details about the set as we have them.  If all goes as planned, you can expect to see these sets show up at retail some time next year (2011).