Up Blu-ray 3D Review
By Rachel Cericola
The Film
After years of talking through toys, cars, monsters, animals and superheroes, Pixar released Up. The studio's most adult film to date, Up has what may possibly be Pixar's saddest opening ever. Yes, even sadder than Finding Nemo.
That's because we're not dealing with fish here. They're people -- Carl and Ellie, to be exact. This tale of two childhood sweethearts eventually gets its happy ending. However, there's quite an adventure in between.
In case you don't know the movie, most of it involves Carl Fredricksen (voiced by Ed Asner), an old coot who carries a torch for his dearly departed wife to the point where he still wears the grape soda cap pin she gave to him as a kid. That love also motivates Carl to deliver on a promise he made to Ellie a long time ago, which involves his house and a ton of balloons.
Up may not be the best Pixar film for the kids, but it's one of the studio's best. It's a touching adventure that will make you laugh and cry -- and possibly cry again. Also, if you enjoy anything about Pixar, this is one you'll want to add to your collection. It's absolutely gorgeous.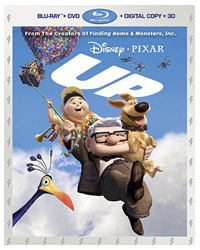 If you want to read another glowing review of the film, check out Chris Chiarella's Up Blu-ray Review.
The Picture
In case you missed the link above, yes, this is the second time we've seen Up on Blu-ray. Disney released a 4-disc set back in 2009. The big difference here is now the film is in 3D -- and it's an absolute dream. The 1.78:1 image is oozing with depth. There are a few pop-out moments, but it's really about being there. And if you've ever wanted to fly with balloons, this may be the closest you'll get.
Now, if you've seen the 2D Blu-ray, there's not much new outside of the 3D. It has the same stunning image, with insanely good detail on those sidewalk cracks, the blades of grass, the strands of Ellie's hair and the texture on Russell's Wilderness Explorers sash. Also, every single color is bright and nothing short of breathtaking. After all, how could you have anything less on a film that has balloons as a main focal point?
The Sound
Like the 2D image, Disney-Pixar hasn't tweaked Up's DTS-HD Master Audio 5.1 track -- and that's a good thing. Dialogue is excellent, with the grumble of Carl's voice getting some extra detail. Also, this is a track that is filled with immersive moments, from the sounds of the construction site and the chaos of the storm to the sound of planes and Muntz's airship.
The Extras
Besides the 3D disc, there are no new extras on this 5-disc set. Everything has been ported over from the 2009 Blu-ray. That said, it's a really nice collection, with an entire Blu-ray of extras. Of everything that's included, the Cine-Explore feature is most noteworthy. This is a detailed, interesting on-screen commentary track with director Pete Docter and co-director Bob Peterson. This set also has "Partly Cloudy" and "Dug's Special Mission," two Pixar shorts, which are also included in the recent Pixar Short Films Collection: Volume 2 Blu-ray.
Final Thoughts
With an old man as the main character and some of the saddest Pixar moments ever captured on film, Up isn't going to be for all of the little ones out there. That said, this is one of the best animated experiences an adult can enjoy -- and enjoy it you must. This set has a gorgeous image, great sound, and a bevy of extras. The 3D is the icing on the cake, and those glasses are perfect for shielding your weepy eyes.
Product Details
Voice Actors: Ed Asner, Christopher Plummer, Jordan Nagai, Bob Peterson, Pete Docter, Delroy Lindo, John Ratzenberger
Director: Pete Docter
Audio/Languages: DTS-HD Master Audio 5.1 (English), Dolby Digital 5.1 (French, Spanish) DTS-HD Master Audio 2.0 (English), DVS 2.0 (English)
Subtitles: English SDH, French, Spanish
Aspect Ratio: 1.78:1
Number of Discs: 5
Rating: PG
Studio: Disney
Blu-ray Disc Release Date: December 4, 2012
Run Time: 96 minutes
List Price: $49.99
Extras:

2D Blu-ray:

Cine-Explore Commentary
Partly Cloudy: Theatrical Short
Dug's Special Mission: All New Original Short
Adventure is Out There
Alternate Scene: The Many Endings of Muntz
Screen Saver
Sneak Peeks

Bonus Blu-ray:

Documentaries

Geriatric Hero
Canine Companions
Russell: Wilderness Explorer
Our Giant Flightless Friend, Kevin
Homemakers of Pixar
Balloons and Flight
Composing for Characters

Alternate Scene: Married Life
Up Promo Montage
Global Guardian Badge Game
Worldwide Trailers

BD-Live
Standard-Def DVD
Digital Copy