Tru3D Offers 3D TV Adapter Kit for Samsung 3D-Ready DLP HDTVs
By Peter Suciu
Owners of a Samsung 3D-ready DLP TV might have felt like they made the leap to the next generation of technology a little too far ahead of the curve. Many of the DLP sets manufactured by Samsung since 2007 have been capable of displaying 3D content since they were first released, but until recently the only real source for 3D content has been a compatible PC with the requisite video card.
Mitsubishi finally made good on their 3D promise last month by shipping the 3DA-1 3D adapter.  This set-top box converts the new 3D source components to the checkerboard output required by Mitsubishi's 3D-ready DLP TVs.  But despite early speculation, these Mitsubishi boxes do not support Samsung DLP TVs.  This has kept Samsung DLP TV owners from taking part in the new 3D revolution, with a flurry of new 3D source components such as Blu-ray 3D, FIOS, or DIRECTV set-top boxes. But now it looks like a work around has been found, as Tru3D has released a new kit that will bring Samsung DLP TV viewers into the next dimension.
The Tru3D 3D TV Adapter KIT (MSRP: $319.99) includes the aforementioned  Mitsubishi 3DA-1 adapter plus an additional component that Tru3D calls the "HDMI tool" -- this is effectively an EDID "spoofer" which allows viewers to use the Mitsubishi 3D converter with a Samsung TV. The key to this technology is the HDMI tool itself which, according to reports, fools the Mitsubishi converter box into thinking that it is connected to a Mitsubishi TV by replicating the Mitsubishi's EDID (Extended Display Identification Data) codes over an HDMI connection. From here, the rest is easy as Mitsubishi's line of 3D DLP HDTVs utilize the same "checkerboard" 3D input format as Samsung's DLP models.
Tru3D claims plug-and-play connectivity with nearly all of Samsung's 3D-ready DLP models (except models ending in "75s"), as well as all of the current 3D video source components, which include the Sony PlayStation 3, Blu-ray 3D players, Microsoft Xbox 360 and HD set top boxes offered by Comcast, DIRECTV, AT&T Uverse, Verizon FIOS, BrightHouse Networks, SKY and others.  3D glasses are not included in this kit, but you can use the Samsung DLP TVs with any "DLP Link" certified active 3D eyewear including the X102 3D glasses from XPand.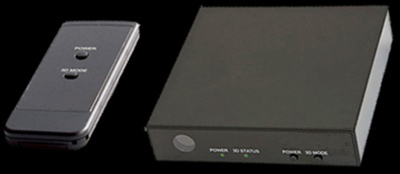 More information (including detailed model compatibility):
[editor's note: Thanks to Rachel Cericola (Electronic House) and Gary Merson (HD Guru) for the tip]