Toshiba BDX2500 Blu-ray Player Review
By Geoff Morrison
Edited by Chris Boylan
No Faff, No Fluff, Just Good Stuff
Even though I read Rachel Cericola's's review of the BDX2700, I still was rather shocked at how good the Toshiba BDX2500 Blu-ray Player is. You've got to understand, for years Toshiba was just this side of virulent talking about Blu-ray. Even after HD-DVD crashed and burned (by far the most uncomfortable press conference this side of Bill's Blue Screen of Death) they were still reluctant to even mention the word. At the next press conference, Toshiba was trying to convince us that a real HD format wasn't essential when you saw how good DVDs look with their "revolutionary" XDE processing.  And XDE was totally, no really, we pinky swear, not just a marketing term for their version of DVD upconversion. Which, of course, it was.
So where the hell did this come from? The BDX2500 is fast, performs great, and cheap? In fact, it's one of the best Blu-ray players you can get, period. Now that's how you tell the Toshiba haters to go stick it where the sun don't shine.
A Few Less Bells, A Few Less Whistles, Check.

Given its budget price, the BDX2500 doesn't have some of the features you'd find in more expensive offerings. It's only Wi-Fi ready (adapter not included), has a single HDMI output, and does not support 3D, no matter how many times you upgrade its firmware. Streaming options are also rather limited, but most of the good ones are here. You get Netflix, of course, along with Blockbuster on Demand, VUDU, and Pandora.

The Netflix interface is of the medium-old-school variety. As in, you can't add or search for titles, but you do get tabs along the top that show you similar and recommended titles. If the effort was put in to add this functionality, I don't understand why a simple search is so hard for manufacturers to implement. So the BDX2500 is better than most Blu-ray players in regards to Netflix usability, but not as friendly as an Apple TV, Sony PS3, or Samsung BD-C7900.
Unike we've seen in a couple of 3D-capable players from Panasonic, there's no chroma upsamping error (the Chroma Bug) with Netflix SD content here. Actually, there's a lot of detail in the Netflix streamed image, more than with other BD players and a lot more than the Apple TV. This occasionally makes compression artifacts more visible, but I'll actually take that trade given the added detail the BDX2500 is able to create from the SD signal.
Courtesy of VUDU, the streaming options are not quite as stark as it first appears. The VUDU interface gives access to VUDU apps in addition to some top-notch streaming in 1080p HD with 5.1 surround sound (on select titles, and assuming your internet connection can handle it). VUDU's growing list of apps includes things like Facebook, Flikr, Wikipedia, and a lot of other content.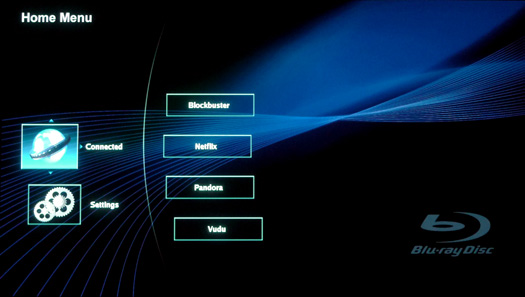 Blockbuster on Demand is a joke. There's no HD, so personally I can't see using it... ever.
The only thing you don't get with the streaming options on the BDX2500 is access to the most recent TV shows, which you would if Amazon Video on Demand or Hulu Plus were included. So you miss out on that, but the Apple TV does such a fantastic job at that, I can't say I wouldn't pick up one of those anyway.
What you do get, that most other BD players in this price range don't offer, are 7.1-channel analog audio outputs.  So if you're looking to take advance of those lossless audio codecs like DTS-HD Master Audio and Dolby TrueHD, but don't feel like upgrading your 5-year old HDMI-free A/V receiver, then the Toshiba player demands your consideration.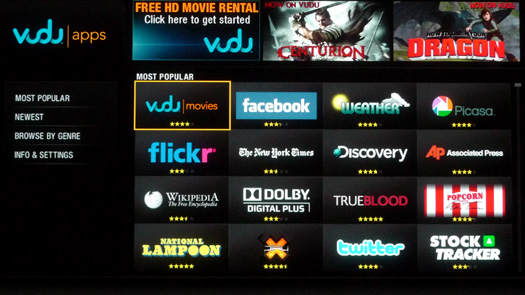 Performance
Using the Spears and Munsil Benchmark Blu-ray, the BDX2500 picks up a film-based 3:2 cadence with the 1080i with no problem. The rotating bar pattern, which tests how well a player is able to recreate a diagonal line while deinterlacing, is pretty much perfect. Among the best I've seen with no visible jaggies. The HD Ship video clip, of an old fashioned sailing ship on the water, is also very good. Not perfect, as there are some small jaggies in the nearly-horizontal rigging, but the player's performance is far above average.
The SD Bridge pattern on this disc, which is a waving flag on top of a bridge, is also very good. Again, not perfect, but well above average.
With the HQV Benchmark DVD, the SD rotating bar pattern in this disc was good, but not great. There were some small jaggies visible when the bar moved past 20 degrees. The flag pattern on this disc, which is in front of a brick building, is also good but not great. There were some small jaggies and a little noise in the bricks in the background.

With actual video material, in this case the DVD of Gladiator (the end of chapter 12) the flyover of Rome showed almost no trace of jaggies, an excellent showing. With The Fifth Element there were minimal jaggies and detail was very good. It was a touch noisier than other players I've seen, but not excessively.
For such an inexpensive player, the performance with Blu-ray and DVD (and Netflix to boot) is all really impressive.
Don't Blink or You'll Miss it
The player was also extremely fast to start up, from fully off off to when you get to the home menu was around 3(!) seconds. This is way faster than other Blu-ray players. Sadly, loading discs took a little on the long side. Loading into a non-Java Blu-ray title like Resident Evil: Apocalypse took a plodding 43 seconds. A Java heavy title like Pirates of the Caribbean: Curse of the Black Pearl took just over a minute. And the difficult to load Inglourious Basterds, chock full of BD-Java and BD-Live "goodies" took one minute, 50 seconds to fully load. Ouch.
I was more than a little excited to check out How to Train Your Dragon, as I'm a huge Craig Ferguson fan and I'd heard good things about the movie. Admittedly, from him on his show every night for months, but still. The image was sharp and noise free, with all the colors of the island of Berk (both with and without flames) vivid and vibrant. Textures of the wooden homes and the dragon's skin were both highly detailed.
A Chink in the Armor?


Sadly not all was perfect in post-HD DVD land. The troublesome
Date Night Blu-ray
hung up the player so bad, I had to unplug it to get it to reboot and start again. It hung up later in the movie as well, but after a few minutes, it started up again. While it stopped, a nauseating grinding sound came out of the player. There were no scratches on the disc, so no harm no foul, I guess. There has been no update available for the player since this disc was released, and seeing as more than one recent Fox title has caused a number of players to choke, I can't give the BDX2500 too much flak.
Turn-Ons:
Excellent processing for Blu-ray and DVD
Excellent price
Good performance with streaming services
Scaling detail is fantastic
Turn-Offs:
Limited streaming options
Lacks 3D Support
Doesn't like Date Night (then again... who does?)
Final Thoughts

I'd like to use the word "plucky" to describe the BDX2500. It's an inexpensive Blu-ray player by a company historically opposed to everything BD stands for (i.e. Sony). Yet it sports some fantastic video processing, upconverts SD with aplomb, and generally works really well. It may not have some of the features of more expensive players, or their depths of streaming content and providers, but even given that, I'd highly recommend the BDX2500.
Features and Specifications
Video Upconversion: 720p/1080i/1080p
Digital Cinema Progressive
Supported Audio Formats: Dolby Digital, Dolby Digital Plus, Dolby True HD, DTS, DTS HD, MP3, WMA LPCM
Convenience: BD-Live (Profile 2.0), BonusView
Wi-Fi Ready
Internet Streaming: Netflix, Blockbuster on Demand, VUDU, Pandora
Unit Dimensions: 16.93" x 2.32" x 8.27" inches
Unit Weight: 3.74 lbs.
MSRP: $179.99
Connectivity:
HDMI
Component Video Output
Composite
Analog Stereo
Analog 7.1
Optical Digital Audio Out
Ethernet Port
SD Card Slot
USB Port
Manufacturer's Contact Information:
Toshiba America Consumer Products, LLC
82 Totowa Road
Wayne, NJ 07470
Phone: 800-726-7864
Web: tacp.toshiba.com