Top Ten Black Friday HDTV Deals Under $1,000 (Plasma and LED TV)
By Rachel Cericola
Black Friday is something that people either love or love to hate. There are plenty of bargain hunters willing to fight over $20 off a toaster oven or a no-name $100 flat panel TV. However, we would easily trade an Andrew Jackson in exchange for a few extra hours of sleep, and really, who wants a disposable TV anyway?  When it comes to buying a new HDTV, the week of Black Friday can save you more than a few bucks on a great flat panel LED, LCD or plasma TV -- and the best part is you don't even have to leave the house.
Despite what your friends, family and strangers may tell you, there are plenty of TV deals to be had this week, without setting foot in a store. Respectable online retailers have plenty of discounts for the taking. Some are available now; some will have you waiting by the computer in your fuzzy bunny slippers as midnight strikes on Black Friday. Hey, it's better than waiting out in the cold in those same fuzzy bunny slippers.
If you want to start plotting your shopping, here's a list of the top 10 HDTV deals under $1,000 that we're expecting to go down this week (grouped by size). Just know that some of these deals are not live just yet. Scroll down for more information about each model, as well as when to expect the sales to start.  If you click on the lnk and see the right price then snag one while it lasts! One important thing to note: we do not consider a good deal on a bad TV to be a good deal at all, so we're limiting this to TVs that we would own or recommend directly to our friends and family.
Top Ten Black Friday TV Deals Under $1,000 (Smallest to Largest):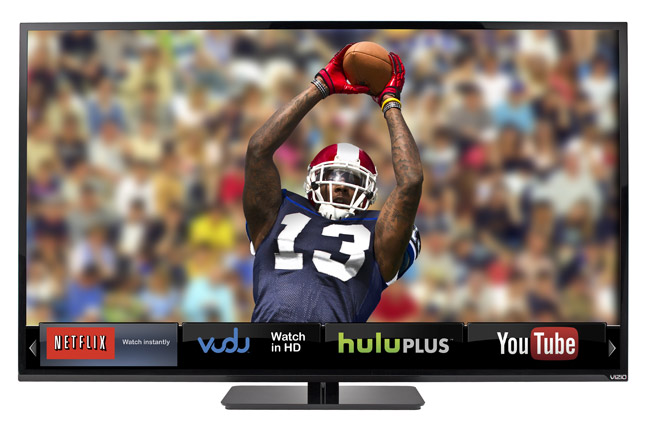 If you want something small and don't want to wait, Best Buy is discounting the Samsung 32-inch UN32EH4003FXZA 720p LED right now. This 32-incher has a 720p image, which is perfect for squeezing a little HD into the bedroom, the office, the playroom or any other small area. Other features include two HDMI inputs, component and composite inputs, and a USB port. It also has Clear Motion Rate (CMR) 60 for sharp action and Wide Color Enhancer Plus technology, which boasts bright images.  By the way, it's also available on Amazon for the same price:
If you're OK with hitting your refresh button a few times this week and want something a little larger, Amazon is planning to slash prices on the Toshiba 40-inch 40E220 1080p LCD sometime this week. We're not sure when, so you'd better be on your toes if you're looking for something a little bigger than a 32-inch but smaller than your average flat panel monster set. This no-frills set has a full 1080p HD image, a game mode, a suite of Audyssey sound features, two HDMI inputs and one USB port. It also offers two interesting tweaks to make for the best picture possible, even in those smaller spaces. The energy-saving Auto Brightness Sensor can change the brightness of the image based on your room's lighting conditions. The other perk is DynaLight Dynamic Backlight Control, which adjusts the backlight intensity based on whatever you're watching.
Samsung is planning a slew of Black Friday HDTV deals. One of our favorites is the Samsung 43-inch PN43E450 720p Plasma, which Walmart is discounting today. The model typically lists for $549.99, which means you can score a pretty hefty discount on this hefty HDTV. As part of the 450 Series, this 42-incher doesn't have 3D effects or tons of web streaming options. However, it does have a 720p HD image, 600Hz Subfield Motion technology, and improved black levels. Other highlights include ConnectShare Movie features, two HDMI inputs and one USB port.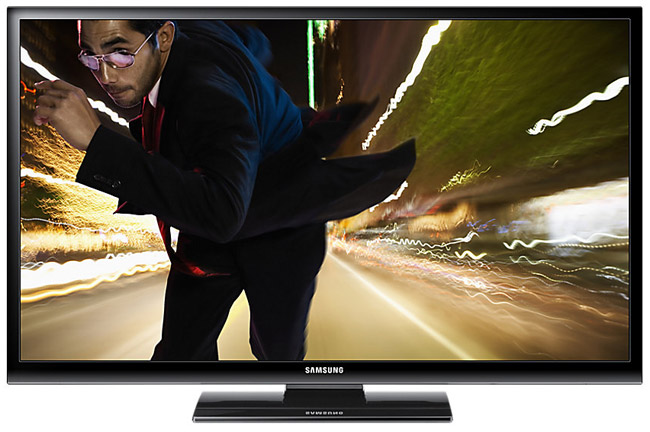 If you're looking for another excellent Toshiba deal, here's one from a different retailer. Best Buy is planning to knock $400 off the Toshiba 50-inch 50L2200U 1080p LED starting on Black Friday. However, you don't have to knock down a slew of shoppers trying to get this 50-incher to the register. This price will be available online! This 50-inch model has a full 1080p HD image, LED backlighting, and the company's slick Aero Design. It doesn't have 3D effects or web streaming, but it's certainly the type of set that you can build a whole theater around. The jack pack includes two HDMI inputs, a component connection, and a USB port, so you can add in all sorts of AV extras.
If you need a 50-incher now, Amazon has an excellent deal on the Panasonic 50-inch TC-P50U50 1080p Plasma. This model doesn't have 3D effects or web streaming, either. However, it does have a full 1080p HD image, excellent black levels, fast-switching phosphors for top notch motion resolution, two HDMI inputs and one USB port. It can also be had today, for $300 off the list price.
Best Buy is currently slashing $520 off of Samsung's 55-inch UN55EH6001FXZA 1080p LED HDTV. However, if you can wait until Friday, the price will go down to $799.99. This appears to be a model made just for Best Buy (and just for Black Friday), but it looks like a good one with a full 1080p HD image. Other features include Clear Motion Rate 240 and Wide Color Enhancer Plus technology, as well as two HDMI inputs, composite and component connection options, and one USB port.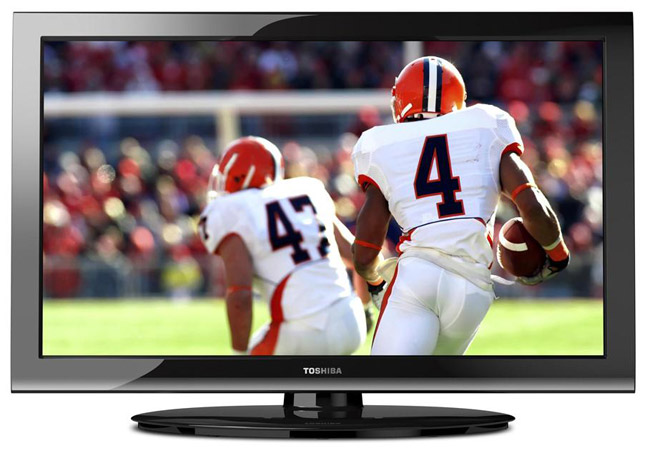 Amazon should be slashing the price on Panasonic's 55-inch TC-L55ET5 1080p 3D LED sometime this week. This is one of the company's first passive 3D TVs. Because the 55-incher uses passive 3D technology, it won't deliver a full 1080p HD image to each eye with those 3D effects. However, passive 3D does boast a nice, bright image and a  more comfortable viewing experience than what you'd get with a set that has active 3D technology. That's because the set uses polarized glasses, which don't need batteries to relay those in-your-face goodies. They're exactly like the ones you'd get at your local Cineplex. In fact, those glasses will work with this TV. However, this set comes with four pairs of glasses, which you can take to the theater for your next 3D adventure.
Other features on this set include Panasonic's new advanced LED IPS (In Plane Switching) panels for better black levels and off-axis viewing, as well as 360 backlight scanning. This set also has built-in WiFi and the web-based VIERA Connect service, with instant access to services like Netflix, Hulu Plus, YouTube, Pandora, and much more.
If you're looking for something a little larger, VIZIO's 60-inch E601i-A3 1080p Razor LED Smart TV could be the must-have HDTV of the season (or at least the best deal of the season on a 60-inch set with Smart TV features). VIZIO made this an interesting option when the company first announced the product with a $999.99 MSRP. However, Amazon is expected to have this set on sale sometime this week for just $688. Sadly, there's no word when this price will go live. If you like to know when you're sale prices will be available, know that Walmart will also be selling this same set for $688 on Friday.
It doesn't have 3D, but it's quite the bargain for such a big, full 1080p HDTV. Other features include a 120Hz refresh rate with smooth motion, Razor LED technology, four HDMI inputs and two USB ports. It also has built-in WiFi, which makes it easy to tap into VIZIO Internet Apps. That web-based platform features Netflix, Hulu Plus, Amazon Instant Video, VUDU, Pandora, and much more, all accessible through the included remote -- which has a QWERTY keybord to make surfing through all of those services, and entering your userids and passwords, a lot easier.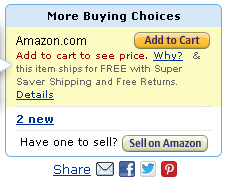 Apparently, 
Panasonic's 60-inch TC-P60U50 1080p Plasma
was so hot, it's already sold out. However, you can still snag the set for cheap; Amazon is taking orders and honoring that sale price with stock expected well before the holidays. Just make sure to add the set to your cart from Amazon.com to get the lower price (see illustration on right for a clue on how to do that).
This model is slightly no frills, but offers a big full HD 1080p image for a low price. Other features include fast-switching phosphors and the 600Hz sub-field drive for excellent moving image reproduction. Also, if you want to add in a streaming set-top box, a Blu-ray player, or one of your other AV favorites, this model has two HDMI inputs and one USB port.
If you'd prefer an LED set over a plasma, Best Buy is currently slashing $400 off Sharp's 60-inch LC-60LE600U. As part of the company's AQUOS line, this model boasts bright high-def images, thanks to a full 1080p HD image and a 4,000,000:1 dynamic contrast ratio. This is another no-frills model -- if you consider having a giant 60-inch HDTV not to be a big perk. Other features include edge-lit LED, a 120Hz refresh rate, three HDMI inputs, one composite and one component input, a PC input, and more.
More Great Black Friday and Cyber Monday Deals: