Toni Erdmann Review
By David Kempler
A Comically Damaged Father and Daughter
It's not often that I see a German comedy. While I assume there must be quite a few of them, I think it's fair to say that you probably can't name five. Can you name one? Okay, I'm exaggerating. Maybe.

One German comedy that has broken through to a wider audience wowed them at Cannes this year. It's Maren Ade's "Toni Erdmann." While it has some very funny moments, I would describe it more as an oddity than a standard comedy. This is not a knock against it. It has enough comedy for getting laughs, but its strength is that you can't help staring at it, wondering what might happen next. This is primarily because of the outstanding performances of Peter Simonischek and Sandra Hudler.

Winifried Conradi (Simonischek) is a non-stop prankster who has an air of sadness about him. When he loses his best friend, his dog, he is lost. As the prankster, he refers to himself as Toni Erdmann and dons a grizzly wig and a set of bad teeth. His somewhat estranged daughter, Ines (Hudler), also has an air of sadness about her. Her sadness is at least partially based on her struggles to climb the corporate ladder. The CEO she consults for treats her as a personal shopper for his wife, which limits her professional advancement a bit.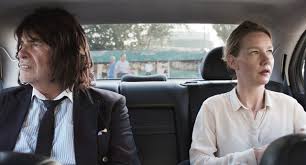 It all falls apart and comes back together in the most memorable section of "Toni Erdmann." Ines hosts a birthday party for herself that dissolves into part breakdown and part healing when she answers the door for her guests while wearing nothing but a slight smile. What follows is brilliant laughter and exquisite discomfort.

Toni Erdmann clocks in at an almost absurdly long 162 minutes. Yet, the pace never lags. While viewing the film, I never checked my watch, wondering when it would end; I just sat back and enjoyed the ride. After viewing it, I've found that it has lodged itself into my brain, in a fairly substantial way. Perhaps that's because it's not a regular comedy that constantly plays for the big punchline laugh. Rather, it builds into a touching tale of a family that has drifted apart, with both a father and his daughter having suffered noticeably from the split.

It's the balance between comedy and melancholy that comes from a dysfunctional family relationship that makes "Toni Erdmann" incredibly worthwhile. If you go in expecting a laugh riot you'll be disappointed. If you prefer a layered exposure to a damaged family, with hints of dark comedy, you're likely to enjoy this film as much as I did.