Tivoli NetWorks Radio Goes Wild!
By Chris Chiarella
A painstaking combination of technology and art, Tivoli Audio's NetWorks "Global Audio System" (also known as the Tivoli NetWorks Radio) is an exceptionally well-featured, high-performance tabletop internet radio that works without a computer. It easily locates more than 13,000 free internet radio stations worldwide by country, genre or call letters, including many HD multi-cast and DAB stations. Tivoli's exclusive SuperBuffer even extends the standard digital audio buffering time, virtually eliminating those annoying Internet radio dropouts. NetWorks can also wirelessly access the music files stored on a PC anywhere in the house, to enjoy away from the desk.
Recently unveiled were two new looks for NetWorks. The "Color Collection" consists of Earth-inspired Grass Green, Stone Grey, Ocean Blue, Carmine Red, Midnight Black and and Frost White. The "Texture Collection" meanwhile includes the modern designs Zebra, Chisel, Lines and V-Stripes. The more traditional NetWorks style is also available in furniture-quality hardwood cabinets with either a Cherry, Walnut or Wenge finish, plus the newly added Silver Ash. Classic wood on the outside and cutting-edge technology in the inside is key to Tivoli's design philosophy.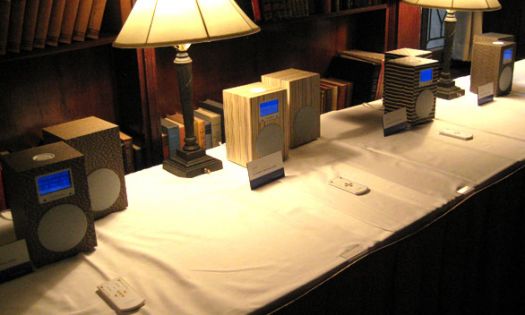 Tivoli Audio designs and builds some of the best-sounding single-speaker products I've ever heard, but the performance--and versatility--of NetWorks can be expanded with the addition of a matched second speaker, a subwoofer, as well as other source components such as a CD player. Firmware upgrades are continuously, automatically pushed (AAC/ iTunes + support, refinements to the display and alarm), with more playback tweaks coming soon. Also announced was their new online global portal, www.tivoliportal.com, to help add new stations, join the NetWorks community, and obtain news and technical assistance.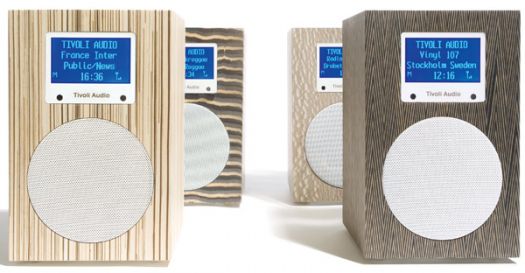 Tivoli NetWorks radios start at $599.99.
For More Information