The Site for Home Theater and Movie Reviews
Titanic Blu-ray Limited 3D Edition Review
By Rachel Cericola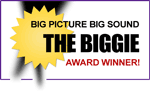 The Film
James Cameron has always been good for a few explosions, with films like The Terminator, Aliens and True Lies on his resume. Back in the late '90s, it probably seemed insane that this guy would even consider taking on a topic like the RMS Titanic. It would be like Michael Bay taking on the Titanic. There had to be at least one Hollywood executive wondering if this film was going to have a few cyborgs.
Well, Cameron released Titanic in 1997 to accolades, awards and insane box-office receipts. The film fast-tracked to $1 billion -- and was the first to do so. (It has since doubled that figure.) It also held the title as the biggest film of all-time, until it was dethroned in 2009 by Avatar, which was another Cameron effort, by the way.
Still Cameron seems to hold Titanic near and dear. In 2003, he went to view the ship's real-life wreckage and film the journey for Ghosts of the Abyss. More recently, he decided to revisit his multi-Oscar-winning epic for a 3D restoration process. Believe it or not, this was an excellent idea.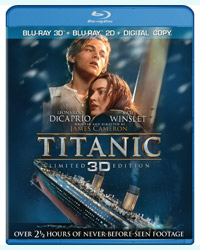 Before delving into that detail, remember that
Titanic
is a very real story, even though its main characters are not. Kate Winslet plays Rose, a girl who's betrothed to the douchey, filthy rich Cal (Billy Zane). That relationship hits its own iceberg when Rose meets Jack (Leonardo DiCaprio), a third-class passenger who won his golden ticket in a poker game. Under normal circumstances, the relationship wouldn't concern anyone outside of the duo's social circles. However, these two found love on one of the most infamous vessels of all time. Apparently love endures -- to some degree, anyway. If you're at all familiar with the film or actual history, you probably already know that (spoiler alert!), these two are not going to have a fairytale ending.
Part of Titanic's charm is how it can tug at your heartstrings -- and not just with the love story plotline. Even without Rose and Jack, the loss of life was enormous. That's not Hollywood, but fact. Titanic is a cinematic marvel, though, with lavish sets, an extra-large, interesting cast, and some historical accuracy. It also has a lengthy, climatic scene that will have you holding your breath for a good 45 minutes or so.

The Picture
James Cameron may not be the king of the world, but he's kind of the king of 3D. In other words, he's not messing up this one; not for all of the heart pendants at the bottom of the ocean. It's hard to believe that Titanic wasn't originally filmed in 3D, because this transfer is nothing short of awesome. The 4-disc set has the film across two Blu-ray 3D discs, to deliver the best image possible. Mission accomplished. Characters leap off the screen and the ship itself is a marvel. Believe me, if all 3D movies looked this good, they'd probably be a lot more popular.
As far as the quality of the image, the 3D is certainly on par with the 2D, if not a notch better. The film has a gorgeous color palette throughout. Sure, there are some dark scenes, some frantic scenes, and some scenes that make you wince. However, the colors in those outfits, the ship's lavish surroundings, and Kate Winslet's porcelain skin are all wonderful. Speaking of which, the details on those same faces and costumes are textured and just a real delight to witness. This is just an excellent presentation in any dimension. I can't gush enough about it.
The Sound
Titanic is an immersive experience right from the beginning, with the sounds of the dive. It's funny. If you have the opportunity to compare the dive sounds from this release's DTS-HD Master Audio 5.1 and the one from the recently released Ghosts of the Abyss 3D, you will see some Hollywood filmmaking at its finest -- or at least hear it. This track presents a much fuller sound. Of course, that experience continues throughout the film's entire 194-minute runtime. Once the poo hits the fan (i.e. when the ship hits the iceberg), the track is at its finest. The sounds of the orchestra, the excitement amongst the passengers, the creaking lifeboats, the water pouring through corridors, and the entire evacuation process should keep you on the edge of your seat.
The Extras
Here's where things get interesting. Paramount has released separate 3D and 2D versions of the Titanic Blu-ray. Each one has a total of four discs. If you go for the 3D, you will get one of the best at-home 3D experiences money can buy. As mentioned, the 3D set has the film stretched out across two Blu-ray 3D discs, with two additional 2D Blu-ray discs. These are the same two discs in the 2D set, which also includes the film stretched across two DVDs.
Either way, you're going to get a nice collection of extras. The 2D Blu-ray includes the theatrical film, with three commentary options. There's one with James Cameron, one featuring an insane amount of cast and crew, and a third with historians Don Lynch and Ken Marschall. All were recorded in 2005, and the cast/crew track is bits and pieces of comments cobbled together to make the track. It's not like they rented a hall or anything.
In case you think there could have been a stone left unturned, the 2D Blu-ray includes two separate documentaries, with an additional 160 minutes covering the actual events of the RMS Titanic, as well as every part of the film's production. There's also a whopping 30 (!) deleted scenes, which includes optional commentary and an alternate ending. Everything is stellar. However, once you have the wind knocked out of your sails by the sheer amount of content here, kick back with some of the Titanic parodies included from MTV and Saturday Night Live. These are a nice, lighthearted way to wrap up the set.
Final Thoughts
If you've been wondering why it's taken so long to get Titanic on Blu-ray, this set should answer your question -- and delight as well. There was obviously a lot of time and care put into this one. Even if you aren't too keen on the love story and some of the liberties James Cameron has taken with the facts, this is absolutely one worth picking up. It's a real stunner.
Product Details
Actors: Leonardo DiCaprio, Kate Winslet, Billy Zane, Kathy Bates, Frances Fisher, Bernard Hill, Jonathan Hyde, Danny Nucci, Gloria Stuart, David Warner, Victor Garber, Bill Paxton
Director: James Cameron
Audio/Languages: DTS-HD Master Audio 5.1 (English), Dolby Digital 2.0 (English), Dolby Digital 5.1 (French, Spanish), DVS 2.0 (English)
Subtitles: English, English SDH, French, Spanish
Aspect Ratio: 1.78:1 (3D), 2.35:1 (2D)
Number of Discs: 4
Rating: PG-13
Studio: Paramount
Blu-ray Disc Release Date: September 10, 2012
Run Time: 194 minutes
List Price: $44.99
Extras:

2D Blu-ray
Director Commentary by James Cameron
Cast and Crew Commentary
Historical Commentary by Don Lynch and Ken Marshall
Reflections on Titanic
Titanic: The Final Word with James Cameron
Behind the Scenes
Construction Timelapse with Optional Commentary by Ed Marsh
Deep Dive Presentation Narrated by James Cameron
$200,000,001: A Ship's Odyssey (the Titanic Crew Video)
Videomatics
Visual Effects
Music Video: "My Heart Will Go On" by Celine Dion
Trailers
TV Spots
Still Galleries
Titanic Parodies
Credits
Digital Copy
Where to Buy:
What do you think?
| | |
| --- | --- |
| Overall | |
| Video | |
| Audio | |
| Movie | |
| Extras | |
Explore Big Picture Big Sound