TiVo Premiere HD DVR Review
By Rachel Cericola
Edited by Chris Boylan
TiVo+OTA=DVR JOY
Over the past year, we've talked a lot about cutting the cord to paid TV programming. That's probably one bill that wouldn't be missed. The entertainment, on the other hand, is something else entirely.
Well, you certainly don't have to stare at the wall or rely on the same board games for an entertainment fix. In most parts of the country, over-the-air (OTA) programming is plentiful and pretty good looking these days. There are no more rabbit ears and no more tin foil to worry about. Thanks to the dawn of digital television, the selection and quality of OTA programming is almost as good as pay TV. In some cases, it's even better -- and there isn't an outrageous bill each month.
It should be pretty easy to say goodbye to some of those pay TV channels. The digital video recorder (DVR) is where things get more difficult. For my money, the DVR is one of the greatest tech inventions since color TV. Having a DVR puts you in the programming seat, allowing you to watch want you want when you want.
From very early on (with the exception of the new TiVo Premiere XL4), TiVo boxes have been compatible with OTA programming. That means that even though you can use this box with a cable subscription, you don't have to. The $149.99 (list) TiVo Premiere can pull in OTA channels using its two integrated tuners, so you can watch one program while recording another or record two shows while watching a recording. It can also hold a decent amount of those recordings, promising 75 hours of HD and 650 hours of standard-def stuff. The Premiere also includes a few partner perks, such as access to Netflix, Hulu Plus, Amazon Instant Video, YouTube, Rhapsody, Pandora, and more -- and it can support 1080p from those services, where available.
Now even though the TV programming is free, TiVo's guide is not. To get the guide, which is essential for the full operation of the DVR, you will need TiVo service. That costs $14.99 per month. A one-year commitment is required;  then, the service goes month to month. There's also the option to go whole hog, pay $499 for a lifetime fee, and be done with fees forever, but only for one specific device.  If that one breaks, you better fix it, because these fees are not generally transferrable.
Is it worth such a large investment, either up front or over time? Let's take a peek at how the Premiere pairs with OTA TV and see.
A Box is a Box
Out of the box, the TiVo Premiere has the size and appearance of a standard cable box. Yeah, it's sort of boring, but it does come with the famous TiVo remote, as well as an Ethernet cable, an HDMI cable, a composite A/V cable, and the power cord.
If you're looking to add the TiVo Premiere into your cable service, you're going to need a CableCard from your provider. Since we're looking at the TiVo Premiere with OTA, a card wasn't necessary or used for this review.
The back of the TiVo Premiere features slots for the CableCard and an optional E-SATA drive, component video, analog audio and HDMI ports, an Ethernet jack, a digital audio out, and two USB ports. There's also a spot to hook to the cable and/or OTA antenna. At this point, I'm sort of an HDMI snob -- one with a rats' nest of wires behind the AV cabinet. Having the option to just add the one cable is one that's appreciated, and is how this box was hooked to an Onkyo receiver, with the receiver's HDMI output connected to a 1080p Panasonic plasma HDTV.
A start-up screen sat for about five minutes, which was just enough time to add in the TiVo Wireless G USB Network Adapter. TiVo was kind enough to send one of these $44.99 (MSRP) devices, which allows the TiVo Premiere to connect to your home's wireless network. Looking like an old-school flip-phone, the adapter connects to one of the TiVo Premiere's USB ports via an included USB cable. TiVo also has the Wireless N Network Adapter available as well.
TiVo's Guided Setup took the promised 25 minutes, walking through everything from format settings and location to network setup and a channel search. Once the entire setup was complete, there was an on-screen message stating that the DVR would have access to two weeks' worth of programming info within two hours.
Welcome to TiVo
After installation was completed, there were 24 crystal-clear channels, all absolutely free. This was a handful less than previously received through my DISH Network ViP 722k box, but four more than the Channel Master TV could provide. Besides that free programming, there was the TiVo interface that TiVo fans are completely rabid about.
TiVo Central is the main menu, which can be accessed by the little TiVo icon at the top of the remote. From there, you'll find six categories, which feature a mind-numbing number of options designed for the ultimate viewing experience. It really is a lot, which is appreciated, but requires a bit of a learning curve.
My Shows is a one-stop shop to everything that's not live TV. This includes DVR recordings, TiVo Suggestions (more on this in a bit), Hulu Plus, Netflix, and YouTube. Unless the DVR is packed, this is easy to navigate. Once things start getting a little crowded, there's options to sort shows alphabetically, by date or by group. Also, if the DVR starts filling up (really?), you can delete some of your stored TiVo Suggestions. These are shows that magically appear on your DVR because TiVo thinks you might like them based on your preferences. Sometimes they are welcome, sometimes they are embarrassing, but they aren't harming anything, don't take up much space, and are easy enough to delete.
If that's not enough, you should be able to spend days browsing through what's available under Find TV, Movies & Videos. This allows users to search for content by title, actor, director or a channel. There's also the option to Browse TV & Movies, which takes viewers to a menu with a variety of different categories such as Top Picks, Best Baseball Movies, KidZone, and more. These categories group together a ton of TV and movie selections. For example, under Fun for Foodies, Foodie TV found a variety of TV shows through the services TiVo can access, including the OTA channels. Foodie Movies was more limited to pay services and even had two selections that weren't currently available anywhere. That said, there was a hearty collection available for viewing. Also, it should be noted that this section can take a bit of time to load. After all, there's a lot of graphics and programming options going on.
Other options include instant access to YouTube, Hulu Plus, Netflix, Amazon Instant Video, as well as saved WishList searches. WishLists can be created using actor names, titles, directors, keywords, and more. For instance, my Jon Hamm WishList found viewing options from The Late Show with David Letterman and 30 Rock. From there, users can opt to record programs or just keep the WishList for later use.
Music & Photos provides access to Rhapsody, Pandora, Live365, Podcaster, Photobucket, Picasa, and videos from Music Choice. Showcases & Apps is a bit of a catch-all. It has a little bit of advertising, with the option to buy movie tickets, play a few preloaded games, and access/add TiVo-compatible apps.
Manage Recordings & Downloads is pretty much what it sounds like, as is Settings and Messages.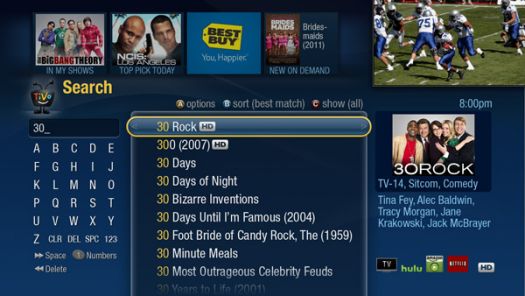 Free-for-All

Viewers should be able to appreciate how many services TiVo adds into the OTA mix. However, we're here for free TV and free TV you shall receive. As mentioned, TiVo delivered 24 clear OTA channels from my rooftop antenna, many with HD-quality imagery and even 5.1 surround (on select content).
Another perk to TiVo service is how you'll navigate through those channels. TiVo has a new, slick user interface that may require some getting used to -- mainly because there's so much to do and it's so darn cool.
Watching TV is the easiest thing you'll do with this box. During live playback, the remote's Guide button will show all of the available channels, as well as what's currently playing (when the info is available). If you click on a specific channel, you can scroll through everything that will be available on that channel in the near future. Some of those channels will have information for the week and beyond; it's really up to the individual broadcaster. While all of this is going on, you can still view live TV in a small corner window.
Recording content is also insanely easy and convenient, thanks to the DVR's dual tuner. Since the big red record button is pretty universal, there should be no surprises here. However, it's worth mentioning (again) that having those dual tuners means that viewers can record a TV program, while viewing another live program at the same time. If that's not enough, you can also record two live programs while catching up on Netflix or previously recorded shows.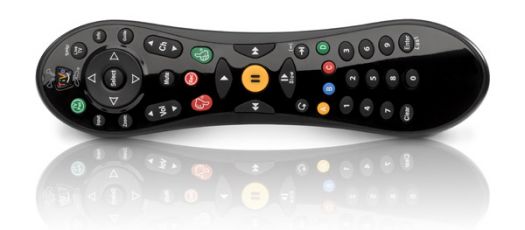 More Please!
Besides OTA programming, the TiVo Premiere offers up hours of additional entertainment. Of course, a lot of people go the OTA route to cut down on costs. For when you're in need of a splurge, though, the Premiere has plenty of options. Services such as Hulu Plus and Netflix will require an additional monthly fee. However, YouTube and Pandora are totally free. The other interesting option is Amazon Instant Video, since it does offer a pay-per-view option (rent or buy), with a wealth of premium new releases and other titles.
When it comes to searching for something to watch, TiVo includes all of the above services into the mix. For instance, a quick search for Mad Men found the drama available through Netflix and Amazon Instant Video. Going for something slightly more broad, such as 30 Rock, found options to watch the show on live TV, Hulu Plus, Amazon Instant Video and Netflix.
All of those services produced great images, with YouTube being considerably more variable in picture quality (as user-generated content can be). The streams were perfect with the wireless dongle, but the image on most YouTube content was just passable on my 50-inch plasma. As with all YouTube content, the image will depend on the source and may be limited in quality by the speed of your internet connection.
Remote Options
The TiVo Premiere comes with a remote that will be extremely familiar to TiVo users. Helmed with the TiVo Central button at the top, all of the other buttons will be self-explanatory and easy to use. Two buttons worth noting are the Thumbs Up and Thumbs Down options. These aren't just a way to get you to stop yelling at your TV. If you use them wisely, TiVo will actually make those aforementioned programming suggestions based on your preferences.
Now back to the remote overall. It's a good one and is easy to work. That said, with all of the available features on the TiVo Premiere, it's seriously lacking a QWERTY keyboard. Aha! That is an option, but it's going to cost you another $39 for the TiVo Slide Remote. TiVo also sent one of these for the review, and it definitely makes the experience more seamless.
If you aren't quite ready to invest in another remote -- or more TV-related equipment -- TiVo also has a free app for Apple or Android devices. I actually found the Apple app (installed on my iPhone) to be a great alternative, at least until you buy that Slide Remote. It's easy to move through, provides instant gratification, and includes most of the same features available through the standard remote.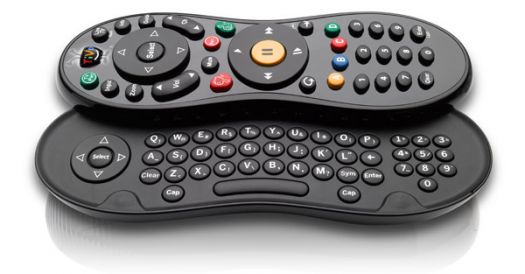 Turn Ons
TiVo interface is unmatched
Netflix, Amazon, Hulu, Pandora, and more added entertainment

Hearty hard drive holds up to 75 hours of HD
One-time lifetime subscription fee is available
Turn Offs
Slight lag during searches
WiFi will cost you extra
QWERTY-enhanced remote is extra
$14.99 monthly fee may irritate those trying to avoid monthly fees
Final Thoughts
Breaking up with pay TV is hard to do. The TiVo Premiere can certainly ease some of that pain. While some may scoff at the monthly fees, you get a lot for your money -- and it's still certainly cheaper than any cable or satellite provider. Having those DVR features and the added web content makes the price and the bite of dropping full pay TV a lot easier to swallow.
Manufacturer's Specs:
Manufacturer's Contact Information:
TiVo Inc.
2160 Gold Street
P.O. Box 2160
Alviso, CA 95002-2160
On the web: www.tivo.com