Three Billboards Outside Ebbing, Missouri Review
By Matthew Passantino
Grief and Anger Take Center Stage in 'Three Billboards'
"Three Billboards Outside Ebbing, Missouri" opens in the aftermath of a personal tragedy for Mildred Hayes (Frances McDormand). Less than a year prior, her daughter was raped and murdered, and there has been no movement on the case or any indication that the authorities are closing in on whoever took her daughter away from her.
Mildred is angry, and she is fiercely devoted to finding justice for her daughter. She is headstrong but vulnerable. As written by writer-director Martin McDonagh and brilliantly portrayed by McDormand, Mildred is complex, complicated character who is never easy to be around but knows that her daughter deserves justice. Just because her daughter is gone does not mean she stops being her mother.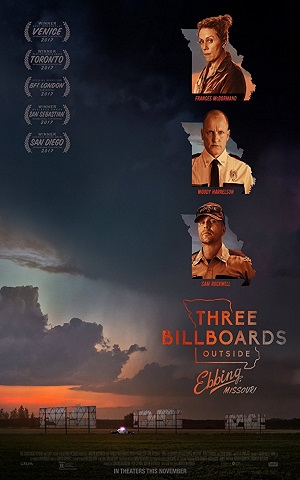 In an unconventional form of vigilantism, Mildred purchases three billboards just outside of the town, declaring war on police Chief Willoughby (Woody Harrelson). "RAPED WHILE DYING," "AND STILL NO ARRESTS," "HOW COME, CHIEF WILLOUGHBY," the blood-red billboards read. Stunned by the public act of frustration, Willoughby tries to reason with Mildred, only to find that doing so isn't that easy.
The movie features a terrific ensemble cast - including Lucas Hedges as Midlred's son, John Hawkes as her ex-husband, Peter Dinklage, Abbie Cornish and Caleb Landry Jones - but Sam Rockwell delivers one of his best performances as Office Jason Dixon. He is Willoughby's go-to guy, despite having a terrible record of violence against African Americans and a temper that often can't be contained. Jason is more than a hotheaded loser still living with his mother. Rockwell gets a lot of room to move within the character, bringing an affecting arc to a character that could have come off as simplistic.
Rockwell and Harrelson are equally terrific and could pick up some Best Supporting Actor notices along the awards trail, but "Three Billboards Outside Ebbing, Missouri" is McDormand's film start-to-finish. There is so much anger within Mildred, and McDormand skillfully knows when to suppress her rage or bring it to the surface. There is no one else who could have brought Mildred to such vivid life as McDormand. She gives a performance worthy to be mentioned in the same breath as her work in "Fargo," which won her an Oscar. She just might be getting a bookend early next year.
"Three Billboards Outside Ebbing, Missouri" is the culmination of what McDonagh does best as a filmmaker. He is the wonderfully deranged maestro behind "In Bruges" and "Seven Psychopaths" - both great movies - but his latest feels like his most complete. His signature dark themes and over-the-top shocking violence are both present but this feels like his most grounded movie with relatable characters. His exploration of grief and loss will resonate even if someone is getting their face bashed in a few scenes later.
Bold and layered, dark but often quite funny (my screening audience at this year's Toronto Film Festival was howling at points - myself included), "Three Billboards Outside Ebbing, Missouri" is a wonder, a daring mix of tones and themes that always work concurrently rather than against each other. It's one of 2017's finest achievements.