This Week on Blu-ray: The Impossible, Jurassic Park 3D, Mr. Selfridge, and more!
By Rachel Cericola
This is looking like a pretty good week for Blu-ray, and not just because the big creatures from Jurassic Park are celebrating a big birthday, as well as a brand new Blu-ray 3D set.
There's something for everyone this week, thanks to a stellar amount of new Blu-ray releases. However, we opted to give Naomi Watts her due, by putting a spotlight on The Impossible. Her heartbreaking performance as a mother and wife dealing with unthinkable tragedy in this indie drama is worth the purchase price all on its own. Of course, pairing her up with Ewan McGregor doesn't hurt at all, either.
If you're not in the mood to cry, this week's releases run the gamut of emotions. There's plenty to make you laugh (some unintentionally) and scream. There's even a few that should keep you perched on the edge of your seat.
Did we miss one of your favorites for the week? Have something to say about one of this week's new releases? Sound off in the comments below. Otherwise, all of these titles are out as of April 23, 2013, except where noted. Enjoy!
---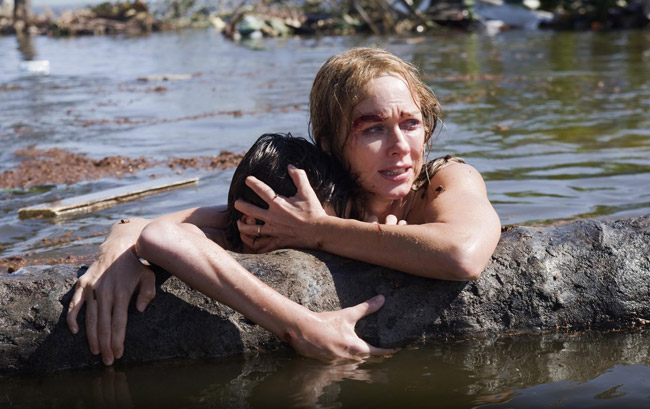 The Impossible
Many thought Naomi Watts was robbed of an Oscar for her performance in this harrowing drama. She and Ewan McGregor play a married couple who decide to take the family on a winter vacation to Thailand. That probably wasn't the best choice, since the clan gets caught up in the action and devastation surrounding the 2004 Indian Ocean tsunami.
Summit is giving this indie a 2.35:1 image and a DTS-HD Master Audio 5.1 track. Also, despite just getting a single-disc release, there's a decent collection of extras, including deleted scenes, a pair of featurettes, and audio commentary with the writer, producers, and director J.A. Bayona. [Summit Entertainment]
---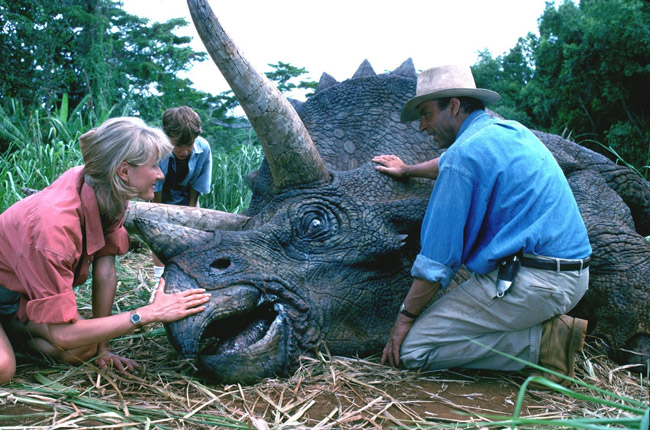 Jurassic Park 3D
Still haven't caught the 3D bug yet? Studios are bent on getting you hooked. If you don't bite on one of the newer blockbusters, several filmmakers are going back into the editing room to restore a few classics -- and there's nothing with bigger bite (or at least teeth) than Jurassic Park. Steven Spielberg's classic dinosaur tale is coming back to Blu-ray, with a larger-than-life 3D release.
This new 3-disc set has a Blu-ray 3D disc, as well as the previously released Blu-ray and DVD discs. Universal has included all of the 2D extras, as well as the brand-new 8-minute 3D featurette, "The World of Jurassic Park 3D." Also expect the Digital Copy and the UltraViolet Digital Copy to be packaged in this anniversary set. [Universal]
---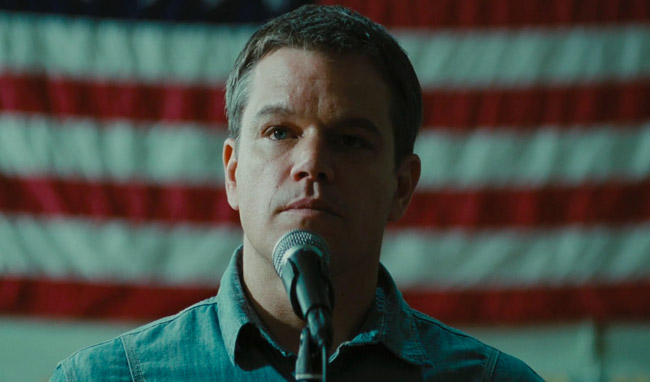 Promised Land
With Matt Damon writing (along with The Office's John Krasinski) and Gus Van Sant directing, this should have been the next coming of Good Will Hunting. Not even fracking close. Instead, things take a slightly cheesy turn somewhere in this story about an energy company employee (Damon) trying to get farmers to turn over land rights for drilling. Krasinski, Frances McDormand, Rosemarie DeWitt and Hal Holbrook also star.
Promised Land isn't the type of film that will keep you on the edge of your seat in any sense, but it certainly has a pleasing 1.85:1 image and an equally fitting DTS-HD Master Audio 5.1 track. However, with so much talent packed into one Blu-ray, the special features section is insanely slim, with one measly extended scene and 11 minutes of "The Making of Promised Land." [Universal]
---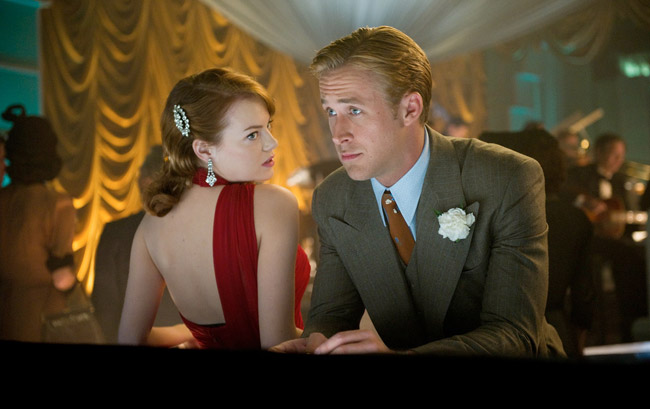 Gangster Squad
This all-star crime drama made headlines shortly after the 2012 shooting in Aurora, Colorado. It ended up getting pushed and just never generated any additional buzz. Maybe it was Sean Penn's fake schnoz or the fact that our own Lexi Feinberg called it "campy" and "corny." That said, it's got a pretty remarkable cast, including Ryan Gosling, Josh Brolin, Nick Nolte, Emma Stone, Anthony Mackie, Giovanni Ribisi, Michael Peña and Robert Patrick.
Despite mixed reviews, this is a new movie that's busting with A-listers. In other words, Warner Bros. is making it look (and sound) real nice, with a 2.40:1 image and a DTS-HD Master Audio 5.1 track. There's also a decent collection of special features, including deleted scenes, audio commentary by director Ruben Fleischer, 47 minutes on gangster Mickey Cohen, and tons of other featurettes. The real gem of the lot is a picture-in-picture track titled, "The Gangland Files," which has interviews, optional featurettes, trivia and other tidbits. [Warner Bros.]
---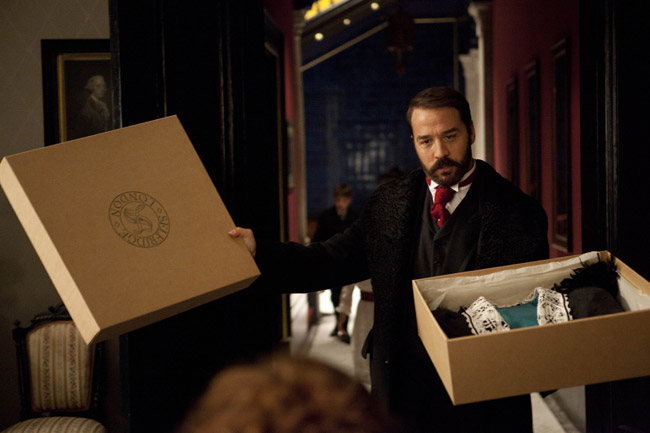 Masterpiece Classic: Mr. Selfridge
Less than two years after the end of Entourage, Jeremy Piven is hugging it out with PBS audiences as Harry Gordon Selfridge, owner of the London department store Selfridge & Co. Much like Downton Abbey, this British period drama is gaining quite an audience, as well as its first Blu-ray.
This 3-disc set includes all 10 episodes from the first season, with a 1.78:1 image and a DTS-HD Master Audio 2.0 track. However, there's just one lone featurette that invites viewers "Behind-the-Scenes at Selfridge's." [PBS]
---
Richard III: Criterion Edition
If Shakespeare isn't enough to sell you on this classic, the cast certainly will. Sir Laurence Olivier directed himself in the title role of Richard, a man so crazed with jealousy, it leads to murder. The cast includes plenty of other British acting royalty, including Sir Cedric Hardwicke, Sir John Gielgud, and Sir Ralph Richardson.
That sort of cast makes this title ripe for a Criterion edition. Expect a 1.66:1 image, a lone LPCM 1.0 track, and several interesting extras. That lineup includes a nice booklet, a 1966 interview with Olivier, behind-the-scenes production stills and posters, a 12-minute (!) trailer, and audio commentary with playwright and stage director Russell Lees and John Wilders. [Criterion]
---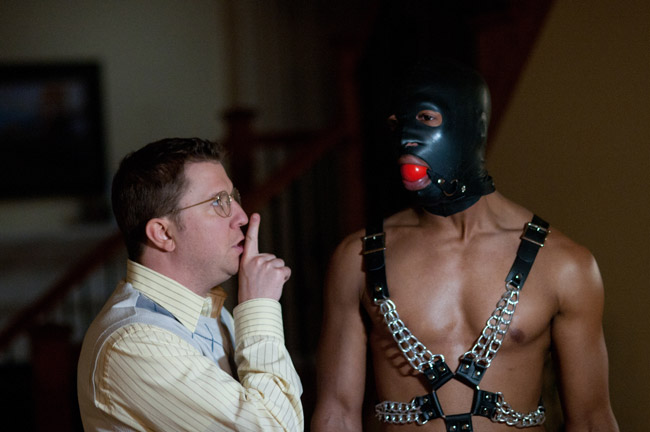 A Haunted House
About 12 years after ditching the Scary Movie franchise, Marlon Wayans settles into another horror spoof. This time, he takes on the "found footage" genre, which includes Paranormal Activity and The Devil Inside. Despite dismal reviews, a sequel is in the works. Enter at your own risk, but know that this one also stars Essence Atkins, Cedric the Entertainer, Nick Swardson, David Koechner and Dave Sheridan.
Those found-footage flicks aren't known for their great looks. That said, you can expect a decent 1.85:1 image and a DTS-HD Master Audio 5.1 track. Thankfully, no one really bothered with special features, leaving this 2-disc release with a 2-minute featurette on "How to Survive a Paranormal Presence," as well as the DVD, a Digital Copy and an UltraViolet Digital Copy. [Universal]
---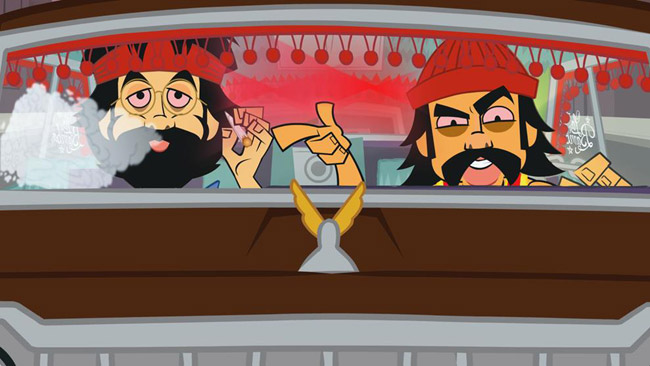 Cheech & Chong's Animated Movie
Dave's not here, man -- and neither is an Up in Smoke Blu-ray. However, Fox wants viewers to know that Cheech and Chong are alive, well, and animated. Of course, the original stoner duo has been pretty animated since the '60s. Here, however, they are really animated, as in a couple of cartoons. Does it matter if there's an actual plot? This should please fans that want to pair this 84-minute release with a few favorite munchies.
Fox is sparking up this animated release with a 1.85:1 image and a DTS-HD Master Audio 5.1 track. There's also multiple commentary tracks, including one with Cheech Marin and Tommy Chong, one with Branden Chambers, Eric D. Chambers and Lou Adler, and a third with Chong and his son, Paris. Other features include a "Low Maintenance Listening Mode" if you want to get mellow, a photo gallery, and Blind Melon's recording session for "Medical Marijuana Blues." [Fox]
---
Also New This Week: