This Week on Blu-ray: The Hobbit, James Dean, The Right Stuff, Grown Ups 2 and More!
By Rachel Cericola
Are you ready to stuff some stockings? After a couple of slow weeks, it looks as though some of the studios are planning a flood of Blu-ray releases from now through the entire holiday shopping season. And yes, that season has officially begun!
We know that many of you will have this week's spotlight on your wishlist this year. Yes, it's kind of hard to commend Warner Bros. for giving us another version of The Hobbit: An Unexpected Journey. Didn't we just buy that Blu-ray? However, they're making this one gift-worthy, adding an extra 14 minutes to the film and entire Blu-ray's worth of special features.
If you aren't ready to upgrade that title just yet, there are tons of other ways to spend your Blu-ray budget this week. James Dean and Twilight are getting separate box sets, The Right Stuff is celebrating a birthday, and there are countless other releases across pretty much every genre imaginable. (Sorry, horror, you had your time.)
Did we miss one of your favorites for the week? Have something to say about one of this week's new releases? Sound off in the comments below. Otherwise, all of these titles are out as of November 5, 2013, except where noted. Enjoy!
---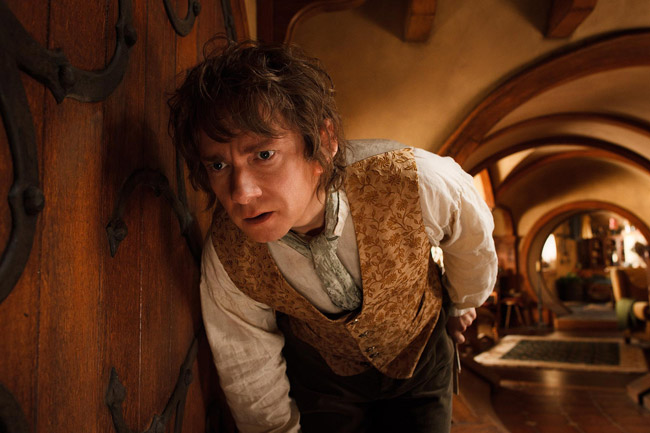 The Hobbit: An Unexpected Journey: Extended Edition
For Hobbit fans, the release of The Hobbit: An Unexpected Journey on Blu-ray was a must-have, even with all of its faults. As our own Greg Robinson points out, the March release had a stunning AV presentation, but seriously lacked in the extras department. That's probably because Warner Bros. was holding out for this "extended edition." Following in the footsteps of the Lord of the Rings trilogy, this latest version has the 182-minute cut of Peter Jackson's epic, as well as a ton of new extras.
Warner Bros. is giving viewers 2D and 3D options for this release. Both have the same stellar 2.40:1 image and DTS-HD Master Audio 7.1 from the last set, as well as the Digital Copy and UltraViolet Digital Copy. However, each set drops the standard-def DVD and picks up a whole extra Blu-ray with nine hours of bonus features. That lineup includes featurettes on the locations, the design, the characters, star Martin Freeman, the dwarves, the songs, and more. Also worth noting is "The Appendices Part 7: A Long-Expected Journey," a 14-part documentary that chronicles various parts of the movie production. Both the 3-disc Blu-ray and 5-disc Blu-ray 3D set also have a commentary track with director/writer/producer Peter Jackson and writer/co-producer Philippa Boyens. [Warner Bros.]
---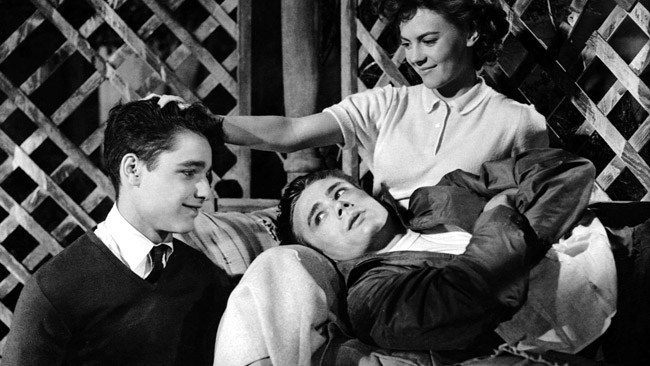 James Dean Ultimate Collector's Edition
It's been a staggering 58 years since James Dean died. Despite having just three major film roles on his resume, the actor has been given iconic status -- but no Blu-ray releases. This week, Warner Bros. is correcting that, by making East of Eden, Rebel Without a Cause and Giant available as stand-alone releases, as well as in one big box set.
While there's no word on audio formats, it looks like Giant will come with a 1.85:1 aspect ratio with the other two getting 2.55:1 images. All three also include several interesting features, including commentary, interviews, screen tests, deleted scenes, and more. The box packages up all three films and those extras with three DVDs, a 40-page book, movie posters, memos from East of Eden and Rebel Without a Cause, photos, and more. [Warner Bros.]
---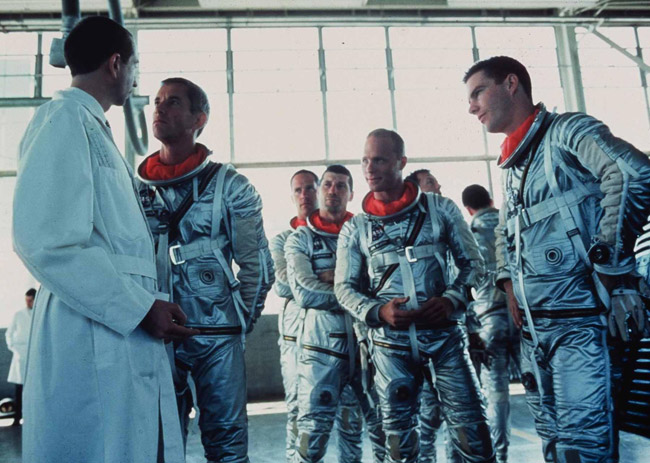 The Right Stuff: 30th Anniversary Edition
With Gravity currently burning up the box office, this Blu-ray could not be timed more perfectly. Based on the Tom Wolfe novel of the same name, this classic lines up the likes of Ed Harris, Scott Glenn, Sam Shepard, Fred Ward, Dennis Quaid and Barbara Hershey to tell the tale of the early days of the space race in the U.S.
After 30 years of waiting, it's nice to see Philip Kaufman's stellar film gets its own Blu-ray. However, it's hard to say it's worth the wait. The set does include a 1.85:1 image, a Dolby TrueHD 5.1 track and a 40-page Blu-ray book. However, Warner Bros. sort of dropped the ball on including any new tidbits. Instead, the Blu-ray is packaged up with the DVD and all of its previously released extras. [Warner Bros.]
---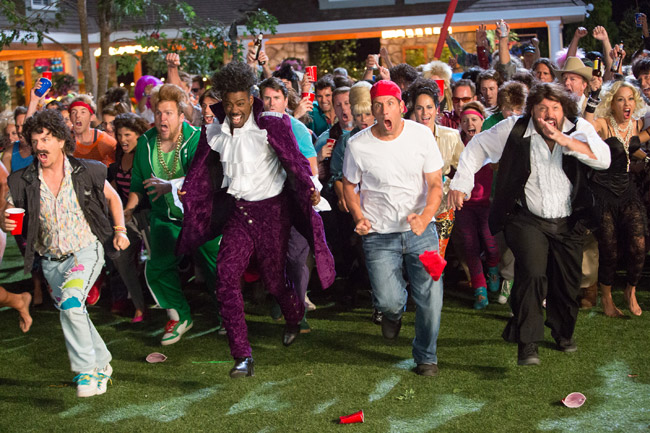 Grown Ups 2
It's hard to imagine anyone needing more after 2010's Grown Ups, but here we are. Laugh all you want (not at the movie, of course), but the sequel actually raked in $238 million at the box office. It finds Adam Sandler's Lenny returning to his hometown -- but for good this time. Once he moves, the wacky antics seem to follow, as he's dealing with the locals and seeing his childhood friends (Kevin James, Chris Rock and David Spade) on a regular basis.
You may want to shield your eyes, but Grown Ups 2 actually has a sharp 1.85:1 image, with a nice matching DTS-HD Master Audio 5.1 mix. Otherwise, there are deleted scenes and four featurettes specifically designed for the short-attention span. The 2-disc set also makes taking Grown Ups 2 on the road a very scary reality, throwing in a standard-def DVD, the Digital Copy, and an UltraViolet Digital Copy. [Sony]
---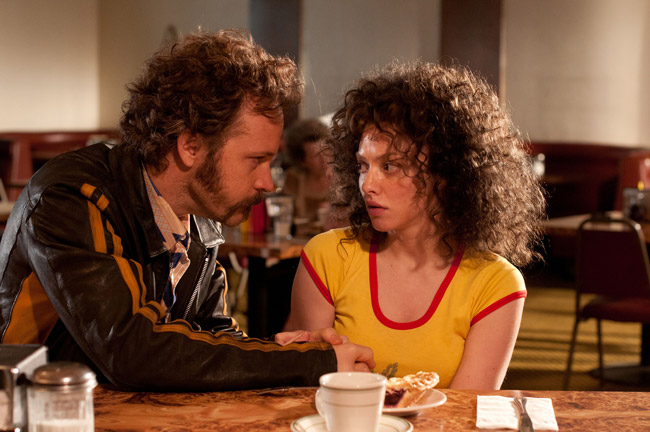 Lovelace
For all of the hype that surrounded this biopic, it turned out to be a total downer -- and not just in the way you'd expect it to be. Amanda Seyfried is great as the title character. However, the film never delves into much of Linda Boreman's life before or after her iconic role in 1972's Deep Throat. That said, it's hard to look away, given the subject matter and the cast, which includes Peter Sarsgaard, Hank Azaria, Wes Bentley, Adam Brody, Bobby Cannavale, Chris Noth and James Franco.
Lovelace doesn't have a great 1.85:1 image, but it depicts the time period and subject matter perfectly. Otherwise, this single-disc release comes packing a DTS-HD Master Audio 5.1 track and the lone featurette, "Behind Lovelace." [Anchor Bay]
---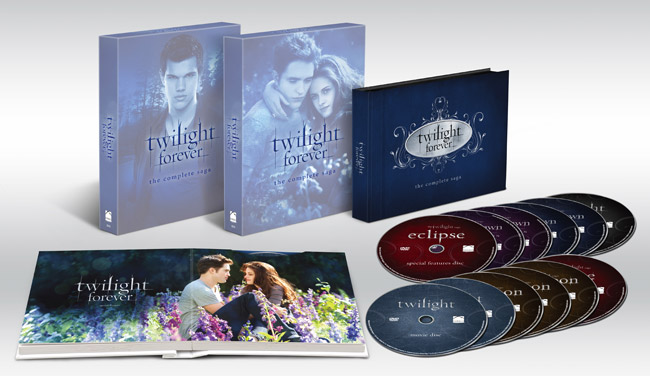 Twilight Forever: The Complete Saga Box Set
Summit Entertainment doesn't want Bella and Edward's love to die -- or its billion-dollar franchise, for that matter. Get ready to dust off your "Team Edward" T-shirt because the supernatural love story is getting another release. This time, the studio wants to entice fans by packing five films into one box, with two hours of brand-new extras.
Twilight Forever: The Complete Saga is a 10-disc set with all five of the previously released Blu-rays and the corresponding extras. Each film has a 2.40:1 image, with only the first three getting a DTS-HD Master Audio 5.1 soundtrack. After that, Summit boosted Breaking Dawn Part 1 and Part 2 to a DTS-HD Master Audio 7.1 mix. Besides each film's previously released extras, this set has a whole extra disc with five additional featurettes. That may not seem like a lot, but each one is pretty in-depth. Both Edward and Jacob get almost two hours to themselves, with a "Cast Retrospective" getting another 65 minutes. And just in case you don't know how big this series actually is, there's a 35-minute "Twilight FAN-omenon Featurette." [Summit Entertainment]
---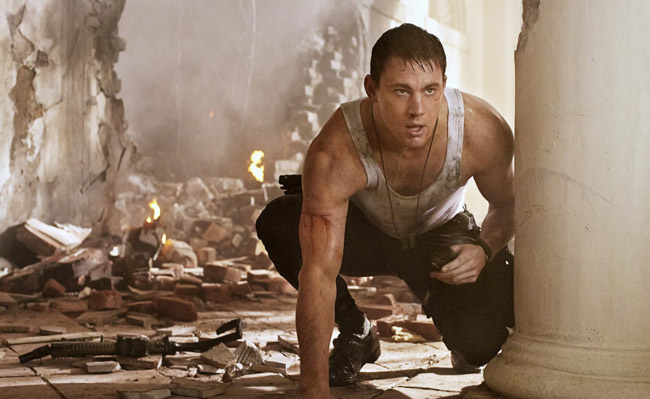 White House Down
Earlier this year, Olympus Has Fallen gave us Gerard Butler, Aaron Eckhart, Morgan Freeman and the promise of a good old American ass-kicking to save our beloved White House. It crapped out at the box office, but for some reason, director Roland Emmerich thought he could do the exact same story better. Channing Tatum, Jamie Foxx and an extra 11 minutes apparently didn't help.
While it's no Independence Day, Emmerich sure knows how to blow stuff up and make it look pretty. Expect a 2.39:1 image and a DTS-HD Master Audio 5.1 mix to shake the room. The set also includes a lengthy list of short featurettes about the stunts, the special effects, the cast and crew, the sets, and the various scenes in the movie. In case that's not enough, there's also 5 minutes dedicated to the President's limousine. The 2-disc set also includes a standard-def DVD, a Digital Copy and the UltraViolet Digital Copy. [Sony]
---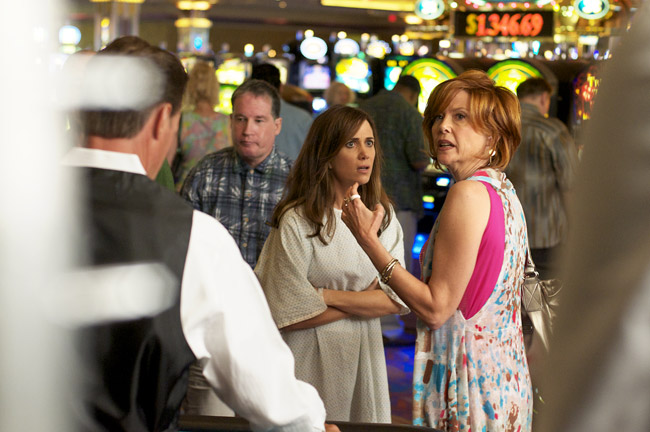 Girl Most Likely
Kristen Wiig's first post-SNL release was a bit of a downer on many levels. She stars as Imogene, a failed playwright who fakes a suicide attempt to win back her boyfriend. However, when the plan backfires, she gets put into the custody of her gambling addicted mother (Annette Bening). Laughing yet? The film also stars Matt Dillon, Darren Criss and Christopher Fitzgerald.
The single-disc release has a 1.85:1 image, a DTS-HD Master Audio 5.1 track, a Digital Copy and an UltraViolet Digital Copy. Otherwise, there's a short making-of featurette, deleted scenes, a gag reel, and 3 minutes of "Life in the Human Shell." [Lionsgate]
---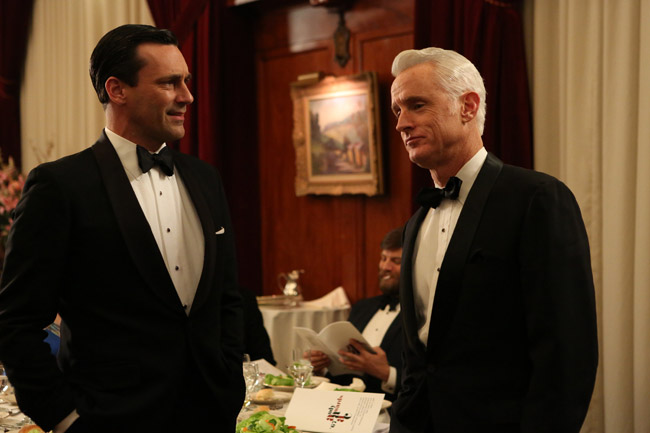 Mad Men: Season Six
It certainly seemed hard to top (spoiler alert!) the surprise departure of Season Five. However, Don Draper is as sharp and as suave as ever, Season Six definitely has its ups and downs, but ends on a high note -- for everyone not named Don Draper.
The 3-disc set includes a 1.78:1 image that perfectly depicts the show's unique style, as well as a nice DTS-HD Master Audio 5.1 track. The set's most disappointing feature is its collection of extras, which includes two shorts on the real-life time period and one that dissects the design of the actual show. [Lionsgate]
---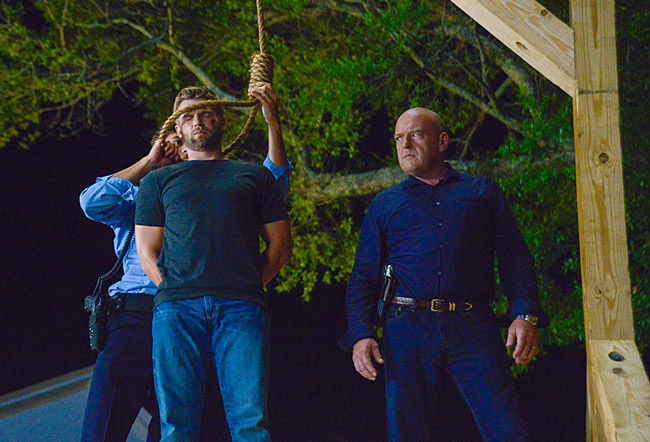 Under the Dome
Based on the Stephen King novel, this sci-fi series was supposed to be summer filler for CBS. Instead, the story of a New England town caught inside a transparent dome has become a bit of a hit. Mike Vogel, Rachelle Lefevre, Dean Norris and Natalie Martinez star.
The 4-disc set has all 13 episodes from the first season, with a 1.78:1 image and options for DTS-HD Master Audio 5.1 or Dolby Digital 2.0 tracks. Otherwise, viewers can expect a slew of deleted scenes, a short about the pilot, and several featurettes about bringing the story to TV. Also worth noting is the 12-minute piece, "Stephen King and Under the Dome," which brings in the author to talk about his creation and how it came to be a TV series.
Super-fans can also opt for the "Limited Edition" version, which includes four additional featurettes and dome-shaped packaging. [Paramount]
---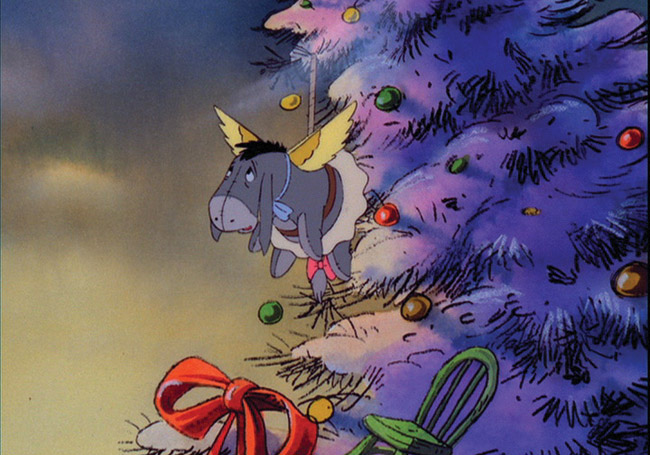 Mickey's Christmas Carol 30th Anniversary - Special Edition / Winnie the Pooh: A Very Merry Pooh Year
Despite the mounds of Halloween candy still haunting your every turn, Disney is ushering in the holiday season with a pair of new Blu-ray releases. First up is the House of Mouse's Oscar-nominated take on Charles Dickens' A Christmas Carol. If the Ghosts of Past, Present and Future can't get Scrooge McDuck to change his evil ways, perhaps he can learn about the true meaning of Christmas from Winnie the Pooh: A Very Merry Pooh Year. This new Blu-ray combines two holidays and two Pooh tales on one disc.
Despite being "special" editions, both Blu-rays are anything but. Mickey has an overly processed 1.78:1 image, while Pooh's 1.33:1 transfer is plagued with other problems. Both also have a lone Dolby 2.0 track, as well as special features ported over from each title's respective DVD release. [Disney]
---
Also New This Week: