The Incredible Hulk on Blu-ray Review
By Chris Chiarella
The Film
While Ang Lee's artsy 2003 big-screen Hulk was not a flop by any means, it was much-maligned by critics for its inappropriate style and outright weirdness (a naked Hulk beating a trio of Hulk-dogs to death…?). The fans meanwhile had a field day tearing it apart, particularly for its failure to give The Hulk a worthy, classic villain to fight. Time for a new, action-friendly director, Louis Leterrier (The Transporter 2) and an entirely new cast, headed by Oscar nominee Ed Norton as scientist Bruce Banner, who's been known to transform into a certain raging green monster.
The Incredible Hulk essentially picks up where the last movie left off, with Banner already afflicted with his Hulkdom and on the run down in South America, hiding from the U.S. Army forces that want to capture and study him for their own top-secret ends. He's desperately researching a cure, while also struggling to maintain inner peace, lest his loosed anger trigger the dangerous--and highly inconvenient--metamorphosis. The results here are a satisfying blend of Hollywood thrills made more resonant with honest explorations of the characters' various plights. There's more humor and more homage this time around too, some quite subtle, such as a posthumous cameo from TV Banner Bill Bixby
Check out Karen Dahlstrom's take on The Incredible Hulk theatrical release.
The Picture
Leterrier's keen cinematic eye combined with his high-def savvy have resulted in one of the great Blu-rays to hit this year. There's a lot of movement in his 2.35:1 frame and yet a real crispness to the image, outstanding detail in the faces, right down to the different complexions, even splotchiness. The Hulk himself is entirely computer-generated, and the minute touches are striking: I could have sworn I saw pores--toeprints--on his bare feet, and the special effects are always well-integrated with the live action. Realistic textures are plentiful and colors are amped up throughout for a bold feel. I detected very rare, very mild softness in a few shots, and just a little compression artifacting on tough material like a misty long shot of a dense cityscape. But in general, this one is an HD crowd-pleaser.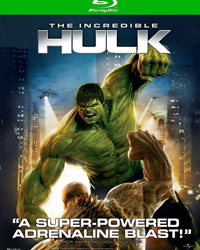 The Sound
The DTS-HD Master Audio 5.1 track is a marvel of power and precision, loud but effortlessly so, with ample bass that helps keep us engaged even when nobody green is smashing anything. A post-Hulk-out Bruce wakes up in a sprawling, living rainforest, thunder rumbles, cities bustle, as if every environment is being firmly, quickly established. Of course the action is plentiful, with sharp gunfights and almost constant discrete multichannel use for chunks of demolished buildings and just about anything Hulkie can get his great emerald mitts on. His bellow has to be heard (and felt) to be fully appreciated, too.
The Extras
The commentary with director Leterrier is definitely worth a listen, he's every bit as much a film fan as a filmmaker, and the inclusion of Incredible Hulk co-star Tim Roth adds another dimension. The two-and-a-half-minute Alternate Opening (in high-definition and DTS-HD Master Audio!) would have been disjointed atop the actual movie, but is intriguing to watch here. In addition, more than 42 minutes of deleted scenes are collected for the disc, albeit in standard-def. All the rest of the bonuses are HD: "The Making of Incredible" (20 minutes), "Becoming The Hulk" (nine minutes, about the designing the superhero), "Becoming The Abomination"10 HD (ditto the bad guy, ten minutes), "Anatomy of a Hulk-Out" (28 minutes total, in-depth on three key sequences), and "From Comic Book to Screen," a six-and-a-half-minute animated rendition of a popular comic book scene which inspired a memorable moment from the movie.
Universal's signature U-Control in-movie features are here too. "Thunderbolt Files" details the people, places and machinery used by the army in their pursuit, in multiple layers with maps, personnel files and more. "Comic Book Gallery" is a treasure trove for fans, recalling specific art images that link page to movie, plus another chance to view the animated comic. "Scene Explorer" dissects more complicated aspects of the production, in addition to another "Picture-in-Picture" stream, and we can shift between any of these U-Control options via onscreen icons. We must create an account to log in and access the exclusive BD-Live content, namely some further glimpses of the fight choreography and the supporting players, plus the ability to chat with friends online and share favorite scenes. A Digital Copy of the movie is also provided, for Windows PCs and iTunes/iPod use.
Final Thoughts
The Incredible Hulk gives comic book movie aficionados more of what they have come to expect over the past few years, namely lots of canon-faithful action, while this high-def home video version delivers ample bonuses and some genuine showoff audio/video. He smashed my home theater, and I enjoyed every minute.
Where to Buy:
Product Details:
Actors: Edward Norton, Liv Tyler, Tim Roth, William Hurt, Tim Blake Nelson, Ty Burrell, Christina Cabot, Peter Mensah, Lou Ferrigno, Paul Soles
Director: Louis Leterrier
Audio Format/Languages: DTS-HD Master Audio 5.1 (English), Dolby Digital 2.0 (English), DTS 5.1 (French, Spanish)
Subtitles: English SDH, Spanish, French
Aspect Ratio: 2.35:1
Number of discs: 2
Rating: PG-13
Studio: Universal Studios
Release Date: October 21, 2008
Run Time: 112 minutes
List Price: $39.98
Extras:

Commentary with Louis Leterrier and Tim Roth
Alternate Opening
Deleted Scenes
"Becoming The Hulk"
"Becoming The Abomination"
"Anatomy of a Hulk-Out"
"From Comic Book to Screen"
Scene Explorer
"Thunderbolt Files"
"Comic Book Gallery"
"Picture in Picture"
"The Making of Incredible"
BD-Live
Digital Copy of the movie