The Zookeeper's Wife Review
By Matthew Passantino
Jessica Chastain is Radiant as "The Zookeeper's Wife"
Niki Caro's ("Whale Rider") latest film,"The Zookeeper's Wife" starts with a series of sun-kissed scenes, where we see Jan Zabinski (Johan Heldenbergh) tending to the animals of the Warsaw Zoo, as his wife, Antonina (Jessica Chastain) cares for baby cubs and newborn elephants. There are enough cutesy images to mistake this as a feel-good movie about animals.
"The Zookeeper's Wife" is an adaptation of Diane Ackerman's book, which tells the story of the Zabinskis, who ran the zoo but ended up sheltering hundreds of Jews amidst the horrors of World War II. The Germans drop bombs on their home, devastating their peaceful habitat, but they are quick to find another use for the zoo.
Jan sets forth a plan to enter the Warsaw Ghetto and sneak as many people out as he possibly can. Quickly and never with much hesitation, he is able to hide several people at a time and bring them home to Antonina, who stays back to care for those they have living there already. She is quick to divert the attention of German soldiers, especially the nefarious Lutz Heck (Daniel Bruhl), who drop by unexpectedly for visits.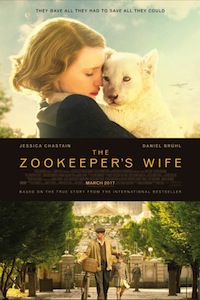 The Zabinskis were no doubt a courageous couple, who risked their lives to help others and their story is worthy of a movie. The fact that we are introduced to them through "The Zookeeper's Wife" and get to see their plight is enough of a reason to see the film. It doesn't shy away from showing the horrors of war but sometimes has trouble committing to the sense of urgency that surrounded this time period. Caro spends more time than needed in some tangential stories, shifting attention from the central focus.
Chastain remains one of our best actresses working today, creating such an empathetic and nurturing character in Antonina. She radiates warmth in every frame, offering hope to those her character is helping, especially at a time when they have none left. Also, she sure knows how to keep a consistent accent, which most actors can't say for themselves these days.
"The Zookeeper's Wife" is well-intentioned and admirable in its telling of the Zabinskis' tale and it's great to see Chastain add another fine performance to her rapidly growing repertoire. The movie could have used a little more momentum and sense of immediacy to be a truly compelling work. But as a salute to this courageous couple and all of the people they helped, "The Zookeeper's Wife" is a fine film, and definitely worth viewing.