The Tigger Movie: Bounce-A-Rrrific Special Edition Blu-ray Review
By Rachel Cericola
The Film
The most wonderful thing about Tiggers is that Tiggers are wonderful things -- so much so that they get their own movies. In The Tigger Movie, our bouncy, furry friend gets the spotlight, and he's actually kind of sad. Well, as sad as a Tigger can be under Hundred Acre Wood law.
In this family-friendly adventure, Tigger is feeling sort of down because he can't find someone to bounce with. From there, he embarks on a search for other Tiggers. Of course, all of A.A. Milne's cute little critters from the Hundred Acre Wood are all more than willing to help out, so you can expect to see Winnie the Pooh, Piglet, Kanga, Roo, Rabbit, Owl and Eeyore all involved in the journey.
It's not quite as magical as last year's Winnie the Pooh. However, The Tigger Movie still has plenty of Disney spark. Also, Pooh flicks seem to always send such a sweet little message. Consider this one a nice way to spend the afternoon with the kids.

The Picture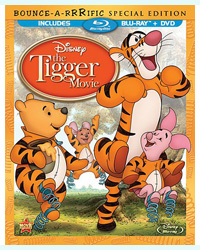 The noise at the beginning of
The Tigger Movie
may have you longing for last year's
Winnie the Pooh
. Happily, Disney isn't going to break its streak with this one; the image quickly perks up to reveal the type of release you've come to expect from the studio. Now,
The Tigger Movie
isn't as good looking as
Pooh
, but it shouldn't be. Originally released in 2000, this is an older film with a different style of animation. And with that, it still looks pretty darn good. Disney's 1.78:1 transfer has a light layer of grain, some nice detail with the artwork, and a gorgeous color palette filled bright yellows, blues, browns, and (of course) that distinctive Tigger orange. Disney never seems to disappoint, and
The Tigger Movie
is no exception.
The Sound
This DTS-HD Master Audio track is very focused on all of the sweet little voices, which come through nicely throughout the film. However, with Tiggers come a lot of hijinks. Breezes, bees and bounces go all around the soundfield, and there are a few thumps thrown into the mix to make sure you're paying attention. It's a very fun, very bouncy track.
The Extras
Disney has included a hearty selection of extras with this release, mostly for the wee ones. There's 24 minutes of Pooh cartoons, which are divided into 10 different shorts. Some are lifted right from The Tigger Movie, but it probably won't matter too much. Other than that, there's a sing-a-long, a Kenny Loggins music video, and an extremely short chat with the filmmakers titled, "A Tigger Tale."
Also worthy noting is that this disc includes Disney Intermission, which treats viewers to some extra entertainment when the feature film is paused.
Final Thoughts
When it comes to entertainment for the kids, Tiggers can bounce with the best of 'em -- better in most cases. This is some super-cute family entertainment and the Blu-ray is a nice match for the subject matter. And if my own kid's bouncing is any type of barometer, this movie is a real winner.
Product Details
Voices: Jim Cummings, Nikita Hopkins, John Fiedler, Ken Sansom, Peter Cullen, Andre Stojka, Kath Soucie, Tom Attenborough
Director: Jun Falkenstein
Audio/Languages: DTS-HD Master Audio 5.1 (English), Dolby Surround 2.0 (French), Mono (Spanish, Portuguese)
Subtitles: English, English SDH, French, Spanish
Aspect Ratio: 1.78:1
Number of Discs: 2
Rating: G
Studio: Walt Disney Home Entertainment
Blu-ray Disc Release Date: August 21, 2012
Run Time: 77 minutes
List Price: $39.99
Extras:

A Tigger Tale
Mini Adventures of Winnie the Pooh
"Round My Family Tree" Sing-Along Song
Kenny Loggins Music Video: "Your Heart Will Lead You Home"
Sneak Peeks
Standard-Def DVD