The Preacher's Wife Blu-ray Review
By Rachel Cericola
The Film
After February's untimely death of Whitney Houston, it's no surprise that Disney would want to get her last theatrical release out on Blu-ray.
Besides a showcase for the late singer, The Preacher's Wife is quite the all-star extravaganza. Houston takes the title role, with Courtney B. Vance as her husband Reverend Henry Biggs and Denzel Washington as an angel named Dudley. Yes, it's the same Washington that spent the better half of the '90s playing roles like Bleek Gilliam (Mo' Better Blues), Malcolm X, Joe Miller (Philadelphia), and Jake Shuttlesworth (He Got Game).
Washington gets to show off his softer side in this remake of 1947's The Bishop's Wife, another all-star affair. This version finds the Christmas season approaching, and the Reverend in need of help with both his flock and his family life. Dudley shows up to help out, but causes additional problems. That's probably because this angel looks like Denzel Washington -- who just happened to snag People's "Sexiest Man Alive" title this same year.
Despite such superstars, The Preacher's Wife drops the ball a lot. Even though the film has a 124-minute runtime, most of the characters and situations don't get enough screentime. It doesn't matter though; whenever you start to wonder, director Penny Marshall has Houston belt out a song. And you know what? It sort of works.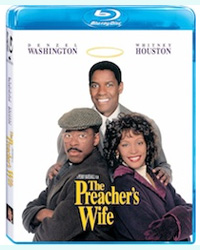 The Picture
The Preacher's Wife is wrapped up in a Christmas theme, so you can expect Disney's usual gift-wrapping on this 1.78:1 transfer. That's not to say it's like the studio's animated efforts, but it does look nice. There's a thin layer of grain throughout, with daytime scenes performing better than the ones at night or in the club. However, the film has plenty of rich colors, fair details, and a few textures in the clothing and some of the surroundings.
The Sound
According to Wikipedia, The Preacher's Wife stands as the best-selling gospel album of all time, so Disney was wise to give it a nice, full DTS-HD Master Audio treatment. It's not surprising that the track is at its best when Whitney Houston is belting out a tune -- which is most of the movie. Otherwise, the dialogue is bold and clear, and there are a few atmosphere sounds popping into those rears from time to time.
The Extras
What a total waste. Disney didn't bother to honor Houston in this section. Heck, the studio doesn't give a nod to any of the actors, director Penny Marshall, or the original film here. Instead, there's a fluffy 4.5-minute promo from the theatrical release and the film's original trailer.
Final Thoughts
The Preacher's Wife is a little sappy and sugary, but sometimes that's ok. A stellar cast makes this film fun to watch. Disney disappoints by just scooping up the DVD's extras, but a decent image and a wonderful audio track should be enough to get this into your holiday rotation.
Product Details
Actors: Denzel Washington, Whitney Houston, Courtney B. Vance, Gregory Hines, Jenifer Lewis, Loretta Devine
Director: Penny Marshall
Audio/Languages: DTS-HD Master Audio 5.1 (English)
Subtitles: English, English SDH, Spanish
Aspect Ratio: 1.78:1
Number of Discs: 1
Rating: PG
Studio: Touchstone/Disney
Blu-ray Disc Release Date: August 7, 2012
Run Time: 124 minutes
List Price: $19.99
Extras:

Featurette
Trailer
Sneak Peeks