The Office: Season Eight Blu-ray Review
By Rachel Cericola
The Film
The Office has spent seven seasons connecting you to its various cast members. Jim, Pam, Dwight, Angela, Stanley, Andy, Creed, and the rest have become like family. Actually, they've become more like co-workers. Michael Scott (Steve Carell) was probably more like family. That's because he really knew how to get under your skin -- in good and bad ways. After Carell's departure at the end of season seven, the big question was whether or not the show could survive on Dunder-Mifflin's secondary characters. More importantly, should it? The answer sort of lies in The Office: Season Eight.
When we last pulled out of the Dunder-Mifflin parking lot, a lengthy search was underway for a suitable replacement for Michael Scott. Of course, there is no such thing. However, this season kicks off with the revelation that the job went to (spoiler!) Robert California (James Spader). However, he decided (even bigger spoiler!) that he preferred to be CEO and convinced Jo Bennett (Kathy Bates) to relinquish her post. So in the end, the manager job went to (not-so-big spoiler) Andy (Ed Helms), and then eventually on to last season's reject Nellie Bertram (Doctor Who's Catherine Tate).
At this point, any show would start to feel stale. Sadly, The Office doesn't defy those odds. It's not horrible, but there are several wasted opportunities here. Spader could have been an excellent replacement, but he never really gets the chance to develop or shine. Spader seemed to agree, and opted not to return for season nine. The guy knew when to jump ship. Mindy Kaling and BJ Novak followed suit. Why Helms is hanging on is anyone's guess. The dude's got Hangover money -- Hangover money! He also has the biggest film career of the lot.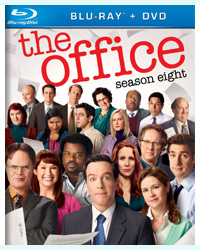 That's not to say that The Office: Season Eight doesn't have its moments ("The Garden Party" just for the glimpse of Mose, "Gettysburg," and "Christmas Wishes" are standouts). It's just shocking that a show with so many great characters, writers and possible storylines could go so awry.

The Picture
If you've ever worked in an office, you know that The Office is a fairly faithful representation of office life and its surroundings. In other words, it's not very pretty -- and neither is this 1.78:1 transfer. Of course, I mean that in a positive way. Because of the show's mockumentary style, it can be a little fuzzy, but it does have some nice details, especially in the many interviews and close-up shots. Colors are probably the set's strongest suit, even though it's mostly khakis, dark suits, and gray carpets.
The Sound
Office life isn't filled with crazy special effects or loud music (usually), so this DTS-HD Master Audio track is quiet and also pretty spot-on. Besides the show's theme and other music, the surrounds are virtually silent. A few occasional ambient noises poke through, but dialogue is the main focus here and it sounds wonderful throughout
The Extras
Universal has been cranking out a lot of TV favorites lately -- and each one is more poorly packaged than the last. I seriously thought that House: Season Eight's stacked discs would be the worse thing I would see as far as packaging is concerned. The Office: Season Eight takes the cake, though. There are three slots for five discs. Technically, they aren't stacked, though. Instead, two of the slots have half of a plastic barrier to separate the discs. Unfortunately, it's also a nice way to scratch up those discs. Getting disc two out of the package, I noticed marks. Is it so hard to have those plastic things back to back like in other sets?
If you can get past the packaging (and you will), there isn't much here to ogle. Each disc has a collection of deleted scenes, with disc five adding in bloopers, webisodes, promos, and an extended cut of the "Fundraiser" episode. You'd think they could have found someone in the cast to do commentaries or something else. How awesome would a Creed commentary be? We'll never know.
Also, Universal has made each of these discs a "flipper," meaning that the standard-def DVD version is on the opposite side of each Blu-ray.
Final Thoughts
Did you like the last season of The Office? Really? Then you will probably enjoy The Office: Season Eight. It's enjoyable from an AV standpoint. As far as the content, it's definitely the worst of the lot. If you've been collecting from the beginning, you won't want to leave a slot open in your collection. For the rest, almost every other season would be worth picking up before this one.
Product Details
Actors: Leslie David Baker, Brian Baumgartner, Creed Bratton, Jenna Fischer, Kate Flannery, Ed Helms, Mindy Kaling, Ellie Kemper, Angela Kinsey, John Krasinski, Paul Lieberstein, B. J. Novak, Oscar Nunez, Craig Robinson, Phyllis Smith, James Spader, Catherine Tate, Rainn Wilson, Zach Woods
Directors: Various
Audio/Languages: DTS-HD Master Audio 5.1 (English)
Subtitles: English SDH, Spanish
Aspect Ratio: 1.78:1
Number of Discs: 5
Rating: NR
Studio: Universal
Blu-ray Disc Release Date: September 4, 2012
Run Time: 530 minutes
List Price: $59.98
Extras:

Deleted Scenes
Blooper Reel
Webisodes: The Girl Next Door
The Office Promos: XLVI Football Championship
Standard-def DVD (Flipper Discs)
UltraViolet Digital Copy