The Incredibles Blu-ray Review
By Chris Chiarella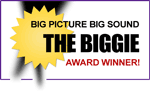 The Movie
The Incredibles is moviemaking at its finest, extremely ambitious to the point that it challenges the very notion of what an animated movie could, or should be. Many believed that this tale of a family of superheroes would be better suited to live action, but the freedom and the demands of digital execution brought out the best in everyone. Even with a running time of almost two solid hours ("for a cartoon?!?"), the pacing is brisk, as the story is dense with character and plot development. And the visual style is so dynamic, it almost dares us to blink.
In this world, superheroes are a part of everyday life, sanctioned and even aided by the federal government. But when one of the greats, Mr. Incredible, saves someone who doesn't want to be saved, the resulting lawsuit creates a tidal wave of backlash, forcing all supers into retirement. Fifteen years later, the former Mr. I. is drowning in the mediocrity of suburban life with his wife, the erstwhile Elastigirl, and their 2.5 children. But when he is invited to don the tights and do good once again, it's an offer he can't refuse, one which leads The Incredibles on their greatest adventure.
The Picture
The lighting and the textures on display in The Incredibles are exquisite. Not that this was filmmakers' intent, but certain scenes border on the look of actual physical objects, like we could reach out and touch these characters. The DVD was a high-water mark for standard definition, but I'm sure that I am seeing finer points here than were previously possible, such as the lively sparkle on Elastigirl's gloves and boots or on Frozone's ice.
Want sharp? We can now read the entire letter on Mr. Huph's desk, right down to the Insuricare website address, which just so happens to be www.pixar.com. I noted extremely faint noise in the gorgeous skies, some strobing within the 2.39:1 frame during difficult motion shots, but it's still darned-near perfect.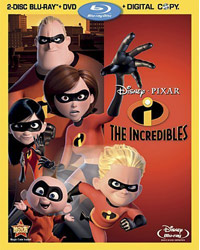 The Sound
Animation and comic book action are a match made in heaven, and a license to cut loose in inventive new ways. The rippling energy of Vi's forcefields shows a low-frequency power, while Dash whooshes and zips all around the home theater. There are also plenty of mighty explosions, along with discrete rears and traditional surrounds for the phones ringing throughout Bob's office or the noisy jungles of Nomanisan Island. Michael Giacchino's music meanwhile is aggressively mixed for its high-resolution DTS-HD Master Audio 5.1 ES debut.
The Extras
There are two audio commentaries, both repurposed from the DVD. The first features producer John Walker and writer/director Brad Bird, the other is a gathering of lesser-known artists: supervising animators Tony Fucile, Steven Hunter and Alan Barillaro, and animators Gini Santos, David DeVan, Kureha Yokoo, Dave Mullins, John Kahrs, Robert Russ, Angus MacLane, Travis Hathaway, Doug Frankel and Peter Sohn.
The Oscar-nominated short "Boundin'" is here with optional commentary by director Bud Luckey, along with "Jack-Jack Attack," significant in that it was the first Pixar DVD short to fill in a specific story gap from the movie it accompanies. It is also presented as "Jack-Jack Attack Exploded," with a running visual commentary by Bird, story supervisor Mark Andrews, character designer Teddy Newton and animator/actress Bret
Parker. This is a hoot, as much of what they discuss is collection of horribly inappropriate gags not used.
"The Incredibles Revisited" is a roundtable reunion of Bird, Walker, Andrews, Newton, Fucile, supervising technical director Rick Sayre and production designer Lou Romano, which benefits from the passage of time as they put the ordeal and success of the film into frank, pithy perspective. The shorts and all of the new video bonuses are presented in glorious HD.
Disc Two brings us more new-for-Blu extras. Furthering the recent "Paths to Pixar" and "Studio Stories" series on their discs are personal tales from a group of story artists as well as Brad's crankily clever plan to consolidate distracting office birthday celebrations. A brief featurette discusses the end credits, which might seem trivial but they are anything but. "The New Nomanisan: A Top Secret Development Plan" begins with an amusing video about Syndrome's former base of operations, and segues immediately into an interactive map with more witty bits.
The six deleted scenes--including an extensive alternate opening--have been re-created in HD for the first time. These total 32 minutes, not counting the two-minute on-camera introduction. The excellent teaser trailer is also now in HD, too.
This second platter goes on to preserve the generous bonus content from the two-disc DVD, comprehensive video vignettes (all in SD), still images and more. Even the old DVD Easter eggs are laid bare for all to find here, and there are quite a few. The Publicity gallery also holds some worthwhile goodies.
Disc Three is a DVD of The Incredibles with "Boundin'" and "Jack-Jack Attack" as its only bonus material. Disc Four carries a Digital Copy for our choice of iTunes or Windows Media.
Final Thoughts
Yes The Incredibles borrows (sometimes quite specifically) from the comic book Fantastic Four, but it hit the big screen eight solid months before The Fantastics and beat them at their own game. It revels in its unusual subject matter with brains, heart and humor, while its long-awaited Blu-ray incarnation does not disappoint.
Product Details
Voice Actors: Craig T. Nelson, Holly Hunter, Samuel L. Jackson, Jason Lee, Sarah Vowell, Spencer Fox, Wallace Shawn
Director: Brad Bird
Audio Format/Languages: DTS-HD Master Audio 5.1 ES, (English), Dolby Digital 5.1 EX (French, Spanish, Mexican Spanish, Argentine Spanish), Dolby Digital 2.0 (English, English Descriptive Video Service)
Subtitles: English SDH, French, Spanish
Aspect Ratio: 2.39:1
Number of discs: 4
Rating: PG
Studio: Walt Disney Studios Home Entertainment
Release Date: April 12, 2011
Run Times: 115 minutes
List Price: $45.99
Extras:

Audio Commentary by Brad Bird and John Walker
Audio Commentary by Tony Fucile, Steven Hunter, Alan Barillaro, Gini Santos, David DeVan, Kureha Yokoo, Dave Mullins, John Kahrs, Robert Russ, Angus MacLane, Travis Hathaway, Doug Frankel and Peter Sohn
The Incredibles Revisited: Filmmakers Roundtable
"Paths to Pixar: Story Artists"
"Studio Stories: Gary's Birthday"
Ending With a Bang: Making the End Credits
"The New Nomanisan" Island: A Top Secret Redevelopment Plan" Interactive Map with Video
"Boundin'" with optional commentary
"Jack-Jack Attack" short
"Jack-Jack Attack Exploded" with video commentary
"Maximize Your Home Theater" Disney-themed calibration tool
Classic DVD Bonus Materials:

Making of The Incredibles
"Incredi-Blunders"
"Who is Bud Luckey?" featurette
Top-Secret NSA Files on all the Supers
Mr. Incredible & Pals cartoon with optional commentary by Frozone and Mr. Incredible
"Vowellet"
Seven additional behind-the-scenes featurettes
Publicity Gallery
Easter Eggs