The Hangover Blu-ray Review
By Rachel Cericola
The Film
Ever blacked out from a night of partying? That is the premise for a lot of laughs in The Hangover, the year's most surprising (and profitable) comedy.

Along with the grand tradition of marriage, there's also the grand tradition of the bachelor party. Here, two friends (Bradley Cooper and Ed Helms) and a future brother-in-law (Zach Galifianakis) take the partying to the extreme, only to wake up the next day to discover that a tooth, a man purse, and the groom-to-be (Justin Bartha) have all gone missing. Then our characters spend the rest of the movie trying to piece together what appears to have been one helluva night.

Did this film break any new ground in the comedy genre? Well, no. However, for some reason, it broke insane box-office records, scoring about $450 million this year.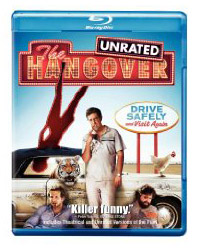 Maybe it's because it's funny. Maybe it's because the leads play so well off each other. Maybe's it's because Ken Jeong (
Community
) is funny enough to carry his own film. Maybe it's because Mike Tyson (and his tiger) appear -- and that's funny too.
If you're easily offended, you may not find extracting your own tooth, being tasered in the face, and naked Asian men in the trunk all that hilarious. For the rest of you goofs, you can bank that director Todd Philips has recreated the same dynamic that he did with
Old School
and
Road Trip
. The major difference here, of course, is that he invited us to the bachelor party instead of the post-wedding hijinks. Also, there's no Tom Green (a bonus). Drugging your best friends has never been so fun!
Still fuzzy on the merits of this movie? Check out Joe Lozito's review of the theatrical release of
The Hangover
.  
The Picture
Like the bright lights of Vegas, this 2.40:1 transfer sure is pretty to look at. The film opens with beautiful images of wedding flowers, dresses and buttercream frosting, as well as a dirty, unshaven Bradley Cooper. Each image is sharp and lifelike, no matter how bright, cluttered or crazy the backdrop might be. The skintones look great, from Heather Graham's porcelain to the sunburnt Bartha. Overall, the colors throughout the film are gorgeous and plentiful.

The Sound
Who let the dogs out? No one really. Still, there are plenty of highlights in this Dolby TrueHD track. Cars screeching and crashing and the call of the casino do come off nicely, as does the film's music. Phil Collins, The Donnas, Danzig, T.I. and others work very well, and also manage to shake you into next week. However, like most comedies, the action here sticks close to the front. Considering everything that's going on, we just expected a little more for the surrounds. Still, despite the drunken haze, the dialogue comes off quite nicely.

The Extras
Like a strip club filled with ugly girls, the extras here sound good on paper, but end up a major disappointment. The release includes the original 100-minute theatrical version, as well as an unrated cut with another 8 minutes. Don't expect extra raunch for your 8 minutes; instead, just a few scenes got extended. Most of the other extras are just a rehash of the film's memorable moments. There's an action mash-up; a Map of Destruction, which allows you to pinpoint certain scenes; and full versions of The Dan Band's "Fame" and the "Three Best Friends" song. We couldn't even figure out which photos from the boys' camera were kept behind for that segment. Weren't most in the closing credits? The only semi-worthy extras are the picture-in-picture commentary and the Ken Jeong blooper/deleted scene reel.

Final Thoughts
Despite what appears to be a series of cliches (Vegas! Bachelor party!), The Hangover works. In fact, it didn't even need the bachelor party to be a great movie about a bachelor party. This Blu-ray transfer is decent, but the extras sort of crap out. However, it's really all about the movie here. We went into The Hangover with very high expectations, and it managed to live up to every one of them. Funny stuff.

Product Details
Actors: Bradley Cooper, Ed Helms, Zach Galifianakis, Heather Graham, Justin Bartha, Ken Jeong, Jeffrey Tambor
Director: Todd Phillips
Audio/Languages: Dolby TrueHD 5.1 (English), Dolby Digital 5.1 (English, French, Spanish)
Subtitles: English SDH, French, Spanish
Aspect Ratio: 2.40:1
Region: A
Number of Discs: 2
Rating: R
Studio: Warner Home Video
Blu-ray Disc Release Date: December 15, 2009
Run Time: 100 minutes (Theatrical), 108 minutes (Unrated)
List Price: $35.99
Extras:

Theatrical & Unrated Versions
Picture-in-Picture Commentary featuring Bradley Cooper, Zach Galifianakis, Ed Helms and Todd Phillips (Theatrical Version Only)
Map of Destruction
The Madness of Ken Jeong
Action Mash-Up
"Three Best Friends" Song
The Dan Band!
Gag Reel
More Pictures from the Missing Camera
BD Live
Digital Copy