The Girl With the Dragon Tattoo Review
By David Kempler
It's a Drag Without Her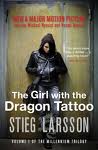 Stieg Larsson wrote the novel "Män som hatar kvinnor" which has been translated into English as "The Girl With the Dragon Tattoo", even though the literal translation would be "Men Who Hate Women". I suppose that the latter title wouldn't have been quite as palatable here in America, for a mainstream audience. But, who knows?
Mikael Blomkvist (Michael Nykvist) is an investigative journalist who is on his way to prison after being sued for libel and found guilty. The man he has libeled is millionaire Hans-Erik Wennerström. The case has garnered quite a bit of public attention and has made it to the front pages of the daily newspapers.
Before he enters prison, he is hired to solve the disappearance of a teenage girl that occurred forty years earlier. The man who hires him is Henrik Vanger, the retired CEO who once presided over a wealthy dynasty. He is the uncle to the missing girl and it is his belief that she was murdered.
At the same time, Lisbeth (Noomi Rapace) - a young, pierced, tattooed hacker who works for the security company hired by Wennerström to uncover dirt on Mikael - takes an anonymous interest in Mikael that isn't adversarial. Eventually they end up working together on the case trying to solve the mysterious disappearance of Vanger's niece.
Until Mikael and Lisbeth meet in person, "The Girl With the Dragon Tattoo" operates on two story lines. Mikael's is about his legal hassles and his work on the case he is hired to undertake. Lisbeth, however, isn't just about the case. Her character is unveiled in far more depth and she is the far stronger presence. Even when they come together, it is Lisbeth who utterly dominates the screen. Ms. Rapace gives a perfect performance and, without her, this would be a cookie-cutter mystery filled with stereotypes. There is even one scene reminiscent of the old game
Clue
. It borders on laughable even though it is meant to be taken seriously.
Director Niels Arden Oplev does an admirable, if unspectacular, job but he is somewhat shackled by having to squeeze too much in because of the nature of adapting a novel. Quite a few people have told me that they loved the book. I'm guessing that these folks will be disappointed by the screen version, but that's usually the case. See it to watch Ms. Rapace in action. That's the strongest recommendation you'll get out of me.