The Foreigner Review
By Lora Grady
Between a Shamrock and a Hard Place
Pierce Brosnan and Jackie Chan: not exactly a go-to Hollywood dream-team. In fact, the idea of the two appearing together in a new action film might be a bit of a head-scratcher. But "The Foreigner," adapted from a novel by ruggedly-monikered British journalist Stephen Leather, is a solid political thriller that's elevated by the presence of Mr. Chan ("The Karate Kid"), whose innate likeability and signature physical grace shine through this uncharacteristically downbeat role. Toss a former James Bond (Mr. Brosnan essayed the role for four popular outings starting in the mid-90s) in the mix and you've pretty much got kinetic cinematic gold, right?
Well, maybe not gold. But it's a solid bronze at least - though not necessarily for the reasons you'd expect.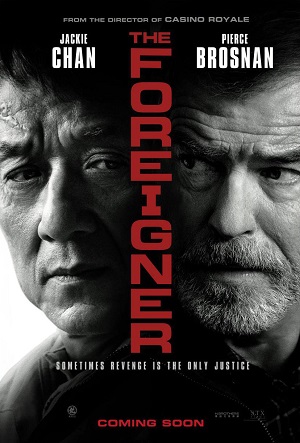 Trailers for "The Foreigner" seem to be setting up a dynamic wherein Mr. Brosnan and Mr. Chan team up to take out bad guys together, but the story here is a bit more convoluted. Mr. Chan plays Quan, a retired special-forces soldier who's forced back into action when his daughter is killed in a London bombing. He zeroes in on Mr. Brosnan's Hennessy, an Irish politician who may be able to identify the bombers, said bombing being the work of a restless faction of the Irish Republican Army intent on bringing back the hotheaded days of anti-Brit violence. It's strangely refreshing to see the IRA as the baddies after what seems like decades of Hollywood focus on villains originating in Russia or the Middle East.
"The Foreigner" is a darker turn for Mr. Chan; it's miles away from the lighthearted Hollywood material - "Rush Hour," or "Shanghai Knights" - that made him so popular with American audiences in the 90s and early aughts. When Hennessy doesn't yield to his requests for info on the bombers, Quan's initial approach of relentlessly patient phone calls and barely-tolerated visits to the politician's office ultimately escalate into a one-man terror campaign that takes out half of Hennessy's crew of flunkies while he's cornered at his many-acred country estate. It's entertaining to watch Quan meticulously construct a variety of bombs, strategize an ambush as he's hiding in the woods outside Hennessy's manor, or take on a ring of thugs in hand-to-hand combat, but it's also unsettling. As befits the role, Mr. Chan's effortless dexterity is stripped of some of its joyous bounce; his gravity-defying athletics are still a pleasure to watch, but the focus here is definitely more on martial, less on arts.
For audiences accustomed to Mr. Chan's light comic touch, it may be a surprise to see how effectively he pivots to this darker side. The shocked sorrow on his face as Quan mourns his daughter at the bombing site is piercing. The blank, bereft expression with which he mechanically goes about his activities as he preps his campaign against Hennessy and the IRA is similarly affecting, and should serve as a reminder that Mr. Chan has been in the game for five-plus decades, and he has quite a few weapons in his acting arsenal.
As to the real weapons here, be warned: "The Foreigner" is violent. Bombs explode with clockwork regularity, and the detonations are shot in a way that doesn't stint on the impact. We're in an era now where such experiences have migrated from movie screens to nightly news segments, so the real feel of the bombings, with the camera framing the percussive power and lingering on the damage to unlucky victims, is a bit of a gut-punch. But director Martin Campbell does know his way around an action scene. He's helmed a full slate of thrillers and spy flicks, including two Bond outings: "Goldeneye" during Mr. Brosnan's stint as the British superspy, and "Casino Royale," which ushered in the Daniel Craig era. He keeps things reigned in and realistic, whether it's the aforementioned bombings, Mr. Chan's hand-to-hand melees with multiple combatants, or the tense standoffs where characters confront one another about various double-crosses and misplaced loyalties.
That's all part of the story here, and it adds a layer of depth that's generally welcome though at times befuddling: those without a working knowledge of modern Irish history may be at a loss in trying to knit together the ties that bind the IRA to Sinn Fein or understand the import of the Good Friday Agreement or what's meant by the acronym "UVF" (hint: it's the Ulster Volunteer Force). The thick accents won't help. But "The Foreigner" makes good use of its Auld Sod setting, with shots that showcase narrow Belfast streets crammed with row houses or frame the mist rising off green farmland fields. And of course the proceedings are peppered with the standard roll call of basically any "damn, that's Irish!" first name you can think of.
Also effective is Mr. Brosnan's turn as the aging minister who's fighting to reconcile his renegade past with his political future. The actor is no less dashing in his sixties than he was as a suave young newcomer in tv's Remington Steele 30 years ago, though age and grey are starting to show. But both he and Mr. Chan seem comfortable with the worn-in faces they now present on the big screen, and while "The Foreigner" doesn't dodge the older-man-younger-woman cliché setup, at least it's organic to the story here.
Any movie that's based on a novel is going to be pretty thick in the plot department. Luckily you don't have to parse all of the politics here to enjoy the core story of a grieving father seeking revenge. If you go in prepared for something different from Mr. Chan and willing to accept that you're going to fumble occasional plot points due to the impenetrable brogues, by all means head to the theater to see "The Foreigner." It's worth the trip.