The Five-Year Engagement Blu-ray Review
By Rachel Cericola
The Film
The movie poster for The Five-Year Engagement delivers a lot of expectations. Labeled with "from the producer of Bridesmaids" (which is basically Judd Apatow) above a disheveled Jason Segel and Emily Blunt makes it seem like we're about to witness one wild ride to the altar.
That's not to say that the film doesn't deliver in some parts, but the title is certainly appropriate. At 125 minutes, The Five-Year Engagement is kind of long. And that's sort of strange, considering Tom (Segel) and Violet (Blunt) get engaged within the first few minutes of the movie. After a year of dating, the two are totally in love. Who isn't at that point? Well, these two seem pretty ready to take the next step. That is, until that one step turns out to be a bit more like an obstacle course.
However, it's not the type of raucous ride that one would expect from Apatow and Segel (who co-wrote the film with writing partner/director Nicholas Stoller) -- although Segel manages to (surprise!) show some skin in this flick. Other than that, it plays out like the typical rom-com, but with an extra half-hour and an extra large cast.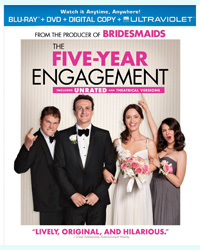 The Five-Year Engagement
could have tightened things up a little and been a much better film. The four-year engagement? Maybe even three. That said, even when it does drag, it's still enjoyable thanks to two extremely likeable leads and a roster of impressive supporting players including Chris Pratt, Allison Brie, Rhys Ifans, Mindy Kaling, Kevin Hart, Randall Park and Lauren Weedman.
Want to get to know this flick a little better before you commit? Check out Joe Lozito's review of the theatrical release of The Five-Year Engagement.

The Picture
The Five-Year Engagement comes packing a 1.85:1 image with a few issues. For the most part, colors are wonderful, except a few incidents where the fleshtones seem off. For instance, check out the happy couple during the engagement party; both look like they've had some bad shellfish or something. Otherwise, the palette is everything you'd want from a wedding-themed movie. The details are a whole different issue -- and yes, they are an issue. The movie seems to have a soft filter throughout, which kills off a good amount of the detail. There is some, but the overall end result looks a little dated.
The Sound
The DTS-HD Master Audio track kicks off with some promise, putting music, trains and the sound of revelers on display throughout the soundfield. From there, the movie goes kind of quiet. It's not horrible, but with so many opportunities for surround sound in the restaurant and during outdoor scenes, the surrounds only perk up when music is played or during the one thunderstorm scene. It's all about the dialogue, which sounds very clear here -- even when Chris Pratt is singing. This a front-heavy affair, which is pretty typical for a rom-com. Like the film, the audio could have been a little better.
The Extras
Universal is giving The Five-Year Engagement quite a party, as far as extras are concerned. There's an unrated version with seven extras minutes, as well as deleted scenes, extended scenes and alternate scenes. Also, much of the principal cast, as well as co-writer/director Nicholas Stoller and producer Rodney Rothman, all sit in for the commentary track. There's even some especially raunchy moments in the Line-O-Rama and Experiment-O-Rama cuts, and a lengthy making-of featurette. Two of the best pieces are short, however. Segel and Stoller manage to work their love of puppetry into something called "Turkey: The Making of." Also, co-star Chris Pratt gets a little love (and the spotlight) in "Top Chef: Alex Eihauer"
Final Thoughts
The Five-Year Engagement had every possible advantage, including a dream writing duo and a cast to match -- all the way down to minor appearances by Brian Posehn and Chris Parnell. It isn't a bad film. It just should have been so much better. Like the movie, the Blu-ray isn't the best thing you'll see this year, but both are enjoyable enough to make this release worth picking up at some point.
Product Details
Actors: Jason Segel, Emily Blunt, Rhys Ifans, Chris Pratt, Alison Brie
Director: Nicholas Stoller
Audio/Languages: DTS-HD Master Audio 5.1 (English), DTS Digital Surround 5.1 (French, Spanish), DVS 2.0 (English)
Subtitles: English SDH, French, Spanish
Aspect Ratio: 1.78:1
Number of Discs: 2
Rating: R
Studio: Universal
Blu-ray Disc Release Date: September 4, 2012
Run Time: 125 minutes (theatrical), 132 minutes (unrated)
List Price: $34.98
Extras:

Unrated Version
Feature Commentary with Nicolas Stoller, Jason Segal, Emily Blunt, Chris Pratt, Alison Brie and Rodney Rothman
The Making of The Five-Year Engagement
Gastrocule: The Making Of
Turkey: The Making Of
Deleted Scenes
Extended & Alternate Scenes
Gag Reel
Line-O-Rama
Experiment-O-Rama
Weird Winton
Gonorrhea Trouble
Top Chef: Alex Eilhouer
BD-Live
Standard-Def DVD
Digital Copy
Ultraviolet Digital Copy